Headliner - Romelu Lukaku (WHU)
Lukaku (9.7) is our go to man this week. Romelu had an indifferent opening to the season, with speculation over where his immediate footballing future was and with more transfer stories than dreadful Robbie Savage football columns (a lot), it made sense for fantasy manager's to err on the side of caution. For now, that has been brushed under the carpet and it appears on the surface to be happy campers between player and manager. Koeman's first task was to ground the big powerhouse's feet and with attacking points from five of his last six games it certainly seems like that is a mission accomplished. In gameweek 10, Everton face a West Ham side who still appear to be a team lost at sea, even though on paper two wins in their last two looks promising. Dig a little deeper though and a last minute winner against a side that haven't won a game all season is far from impressive. Bolasie (6.0) and Lukaku have linked up for more goals than any other pairing in the league this season (4) and should cause many problems for West Ham's un-settled defence at Goodison Park. Romelu's 12 shots on target in his last six gameweeks can be matched by only one player, Zlatan Ibrahimovic (11.3) and West Ham will face the daunting task of trying to keep the Belgian silent, something they have continually failed to achieve, with Lukaku scoring in all eight matches that he has lined up against the Hammers. Despite having tightened up defensively in recent weeks, West Ham's 12 goals conceded during the last six gameweeks ranks them joint 19th, with only Hull conceding more goals. With Lukaku also attempting more assists in the last six gameweeks (12) than any other striker, we feel there is more chance of Joey Barton being awarded an OBE than Lukaku blanking.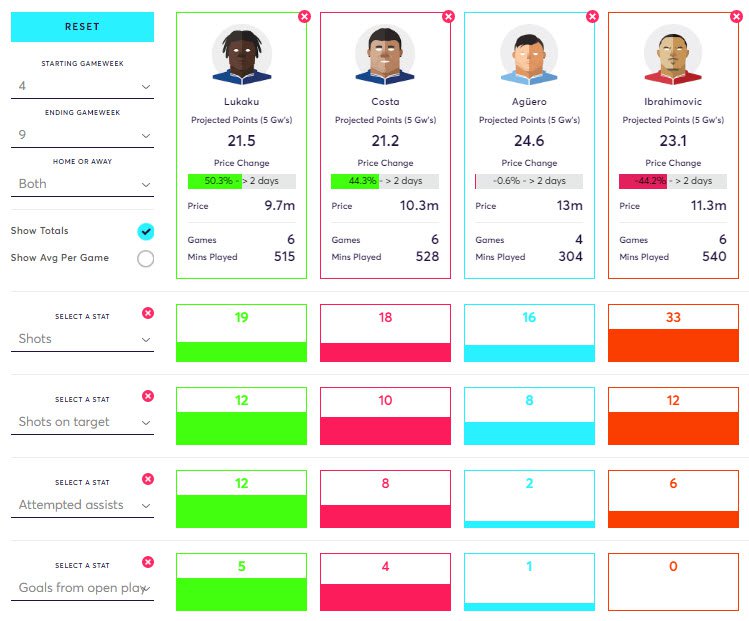 Troy Deeney (HUL)
Deeney (7.1) makes his Fix key player debut this week. Fixtures have favoured the Hornets for a few weeks now, but they have struggled to convert chances to goals over the last couple of games. Mazzarri's men have had to rely upon a solitary Holebas (4.7) effort from defence to transfer two points into four from those two fixtures. However, Deeney is Mr Watford and if anyone is going to spearhead the attack and change fortunes for the team, it's this man. After all, you won't get many captains being as punchy (no pun intended) with his post-match interviews as Troy was after the West Ham win, where he said "They stoked the fire and everyone started laying a glove on people". He's as fiery on the pitch as he is in person and while he hasn't added to his three goals and one assist over his last couple of games, he has scored in both of his last two home league ties against Bournemouth and Manchester United. No disrespect to Hull, but their team possesses fewer talented players than those two sides, so we would expect a couple of Watford goals at home this weekend. With Snodgrass (5.7) out of action, Hull's all-round danger man, Watford could find themselves with more of the ball in the opposing half and Deeney should build upon his six shots on target from the last six gameweeks. Those numbers rank second behind Austin (6.6), but ahead of other popular budget forward's such as Defoe (7.2), Benteke (7.7), Wilson (6.5), and Rondon (6.6). With a respectable 13 goals and nine assists in his debut Premier League season, you'd expect a player (that is 28 years old and therefore) in his prime to build upon that. With Hull at home, a team who have conceded 19 goals across their last five games, almost twice as many as any other team, our algorithm expects Deeney to get a little bit closer to last year's record.
Antonio Valencia (BUR)
Valencia (5.6), the slick Ecuadorean full back may be suffering an up and down season alongside his club mates at present, but he is topping his own positional stat tables. The attacking right-back is yet to return an assist this season but his four attempted assists in the last two gameweeks is more than any other defender. After an embarrassing return to Stamford Bridge for Mourinho, United will be hoping to bounce back at home against Burnley in gameweek ten. Regardless of their win over Everton in gameweek nine, Burnley have shown very little attacking ambition in their last six games, producing just 13 shots on target over that period, which is the second worst total behind Sunderland. As for Burnley's away form, it is so hideous it makes Elephant man look like David Beckham, so it makes sense to focus our attentions on United assets this week. The Red Devil's own form is patchy to say the least and with it being revealed that Mourinho has won only seven of his last 40 matches before their EFL Cup tie against City, you can bet he will be working every waking hour to ensure his team are fully prepared to win to nil against Sean Dyche's men. If this can be achieved it would take their clean sheet record to four for the season. Valencia would naturally benefit if a clean sheet was involved and if the score was kept low or he finally managed an assist/goal which his stats suggest is just around the corner he will certainly be in the BAP shop window.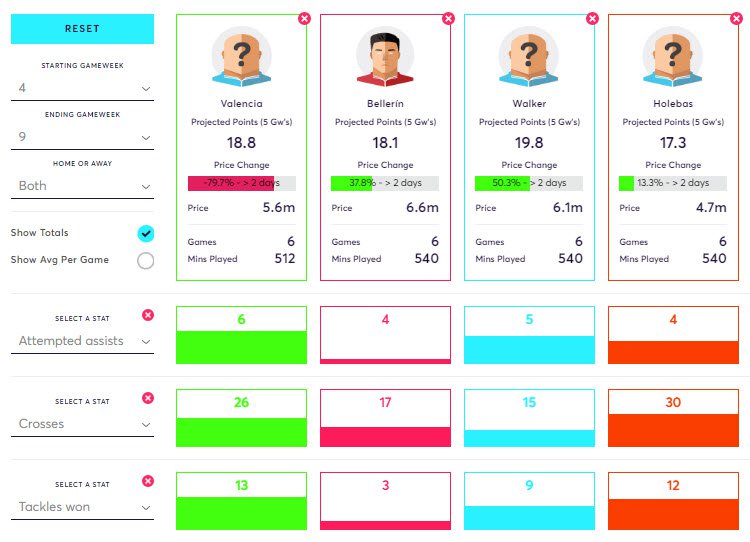 Zlatan Ibrahimovic (BUR)
Ibrahimovic's (11.3) fall from grace over the last five gameweeks has been well publicised across the world of football and damaged those fantasy manager's team value who have stuck by his side. He's achieved a single assist in the last five gameweeks and after blanking in the game against Chelsea during gameweek nine he achieved an unwelcome record, no goals in five consecutive league games for the first time in six years. So, why on earth are you wasting your time focussing on the Zlat-man? We hear you cry. Well, although there has been a considerable dip in attacking point returns the imposing Swedish striker has managed considerable underlying attacking stats, which would suggest an explosion is imminent. Ibra has fired off an enormous 45 attempts at goal this season, with 29 coming from inside the area ranking him numero uno ahead of any other forward for both. His 12 shots on target in the last six gameweeks is only matched by fellow gameweek ten key player, Lukaku. As discussed in our Antonio Valencia analysis, in gameweek ten Manchester United will host a Burnley side that are really struggling on road trips, conceding 13 goals in total this season with nine of those coming away from home. More worrying for Burnley fans is the fact that they have only played away from home three times from nine fixtures, conceding exactly three in each game. Zlatan's stats demonstrate that he is ready to burst back into life at any moment and gameweek ten's fixture has to be a catalyst for change. 7+ points is surely on the cards.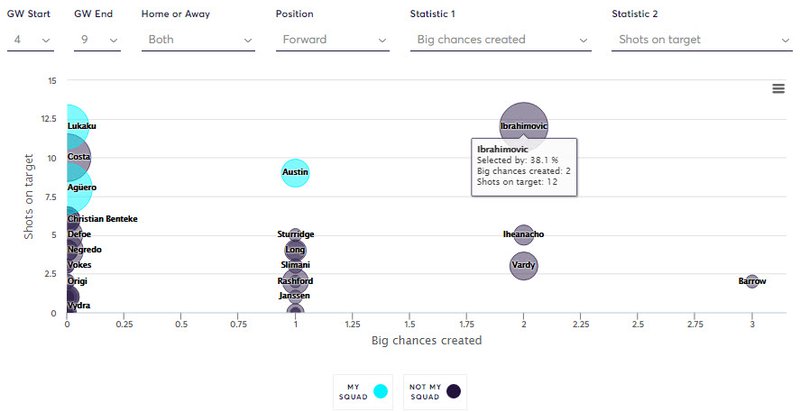 Differential: Marko Arnautovic (SWA)
This week's debut differential is Stoke's Arnautovic (7.2) who is owned by just 1.4% of fantasy managers at the time of writing. Arnautovic was directly involved in 17 goals for Stoke last season (11 goals and six assists) a far more impressive contribution than Shaqiri (6.4) who is this week's second most popular Stoke transfer in (behind Allen 5.1), off the back last weekend. The Swiss bulldozer only managed three goals and six assists last term which is pale in comparison to that of Marko's numbers, and partly the reason behind picking the Austrian midfielder over the Shaq-attack. With a run of very favourable fixtures over the next five gameweeks, where he'll face Swansea, West Ham, Bournemouth, Watford and Burnley we are expecting goal and assist returns at a rate of last year's gameweek 15 to 21 hot spell where he delivered four goals and two assists. Pound for pound his attacking statistics are almost identical to Shaqiri's over the last six gameweeks achieving 11 shots and nine attempted assists, so we count him a little unfortunate to have returned just 1 goal and 1 assist so far this season. Stoke will host Swansea in gameweek 10, a side that sit 19th in the league table after failing to win any of their last eight Premier League games. The Welsh side have conceded eight goals during the last four gameweeks and only Hull have conceded more. Austrian Arnie is our pick to help you move up your mini-leagues this week.