Headliner - Sergio Aguero (MID)
Aguero (13.1) sparked quite a debate across fantasy football social media channels last week. Many questioned whether it was time to pull the plug on the highest priced forward, a move Pep seemingly carried out himself by benching him two games running. The consensus among fantasy veterans was keep him at all costs, the one essential player the game has, but he still dropped in price and sadly for the majority who decided against keeping him he punished them in true "Agueroooooo" fashion with two goals and one assist in an away tie to West Brom - Who typically make themselves hard to break down when playing against superior opposition. Aguero is again in touching distance of his 7 points per 90 minutes played average which he has astonishingly managed for the past five seasons. Kun is a mainstay in all of our Fix teams and we imagine many will put the armband on Aguero in gameweek 11. A no brainer on paper, home to Middlesbrough and currently projected to be the top scoring player across our algorithm.
Nathan Redmond (hul)
Redmond (6.0) is the next on our agenda this week and after an Evening Standard reporter last week mixed him up for Ryan Bertrand (see tweet here) another big performance against Hull this weekend will hopefully ensure this will be the last mistake a reporter makes. In the absence of many true out of position fantasy prospects this season, Redmond again grabs our attention after two goals in his last three games. Spearheading the Southampton attack alongside Austin (6.7) should be a very attractive proposition for fantasy managers. Southampton are establishing themselves as a "top eight club" based on their last two seasons, so having a 6.0 priced striker available in a quality side should not be sniffed at, particularly with his midfield classification. With only three striker positions available to managers (and Costa 10.4, Lukaku 9.8, Aguero 10.1 all currently taking priority) Redmond should be greatly considered for those looking to factor in as many offensive players in their squads as possible. The England U-21 stalwart has started the season well and so far averaged more shots, attempted assists & final third passes than Chadli (6.6), Bolasie (6.1) & Lallana (7.1). Southampton are away to Hull in gameweek 11 who have conceded 10 goals in their five home games, we'd say this weekend was a good time to bring the young Englishman into your teams.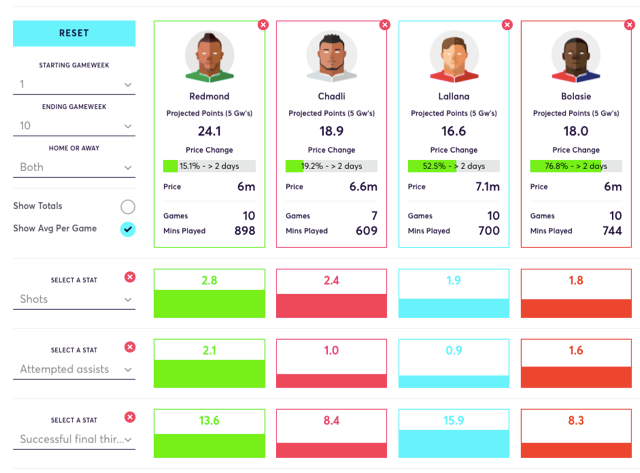 Eden Hazard (EVE)
He's back! Or Hazard (9.9) certainly appears to be. The Belgian hitman who would be the first to say the last couple of years of his career haven't been his best is now back firing on all cylinders in Conte's new 3-4-3 formation. Once again, Eden's devastating talent has played a pivotal role in attacks during the last four gameweeks. Having the support of Alonso (5.9), or Moses (5.5) if he swaps wings, from the attacking full-back positions has allowed Hazard more freedom in the final third. In recent weeks Chelsea have reverted to five at the back when defending, giving Hazard more of a defensive reprieve and helping him conserve energy for attacks. With both full-backs evidently possessing supreme fitness moving from defence to attack and overloading the midfield when Chelsea counter, it has allowed Hazard more freedom to express himself in the final third. He's averaged 10 points per game in the last three gameweeks, rewarding his patient owners in the process. A flurry of new owners (or frustrated past owners) have again re-surfaced this week already and we believe that is a wise move given that Hazard is ahead of Sanchez (11.4) for shots, attempted assists and accurate crosses during the last few weeks. A home tie against Everton awaits in gameweek 11, a side who lost to Burnley on the road in gameweek nine.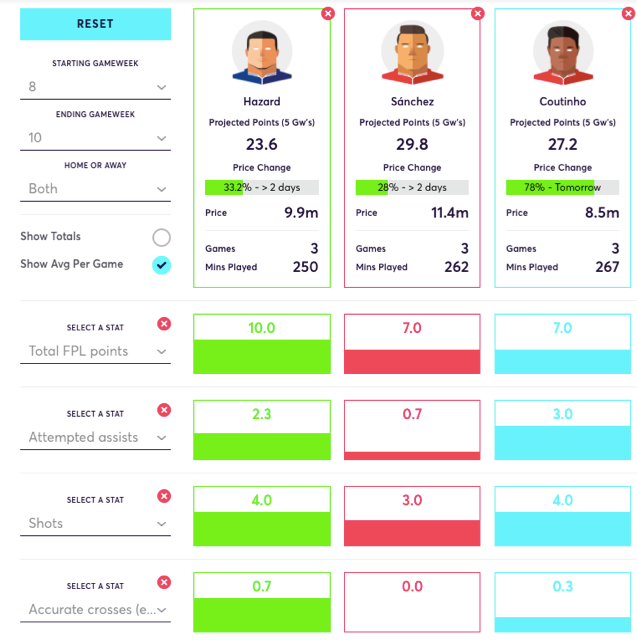 Philippe Coutinho (WAT)
Coutinho (8.6) is this week's Liverpool player. Yes, it would seem that between Firmino (8.6), Mane (9.0) and little Philippe we will be covering one (if not more) of them each week at the minute. A resident spot if you will for the boys in scouse red. Given the way Klopp plays expansive attacking football it's hard to look the other way and our attention is constantly being drawn to Liverpool's forward men. Klopp's style really does epitomise the aged old phrase "if you score three, we'll score four" as Jurgen believes in his attacking players that strongly and we aren't here to argue with him. The little Brazilian wonder-kid (yes, he's still only 24) managed to forge out four attempted assists, 10 penalty area actions and four shots away to Crystal Palace in gameweek 10. Numbers that many strikers would be happy with across two gameweeks, let alone one. His underlying stats are notably ahead of both Firmino and Mane over the last six gameweeks, with shots being the most stand-out, so he gets out vote for gameweek 11.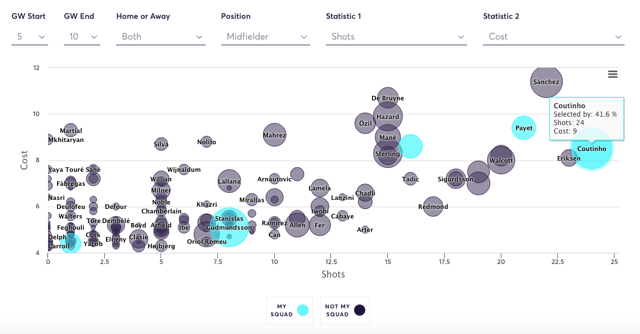 Differential: Ilkay Gundogan (MID)
Gundogan (5.7), must be using a NBA All-stars slam dunk trampoline given the way in which he has aggressively launched himself to the front of our differential queue this last week. If the 18 points in gameweek 10 wasn't enough to propel him to the forefront of our thoughts then the star showing (likely to be the equivalent of 15 points in FPL, with his two goals) against that little known team FC Barcelona midweek certainly was. Even for some of the wise old heads here at Fix, we'd be lying if we said it wasn't all a bit of a surprise to us too. After all, Gundy never stood out to us as a goal scorer when joining City. At BVB and Nuremberg his record was modest to say the least. During 152 games across the two clubs he managed just 16 goals. That's the equivalent to exactly four goals during a 38 game (if we relate this to the Premier League) season. Hardly prolific. With three goals already in six games for City, it's evident he is certainly breaking his own mould. So, how much more is left in the tank? Well, one thing that's worth noting is his more advanced central midfield position for City. During his Borussia days, Götze or Kagawa operated in the no.10 role and Ilkay sat deeper in central midfield, more often than not alongside Bender. However, Pep has clearly seen enough to allow him the freedom to engage heavily with attacks and he has duly obliged appearing in threatening positions in the box on several occasions. Home to Middlesbrough, owned by just 9.2% and with a 5.7 price tag at the time of writing, he's certainly worth a gamble.