Headliner - Harry Kane (HUL, BUR)
With two games in quick succession we have carefully picked five players that should sail over the rotation wave and play twice in the next seven days. Up first is our Fantasy Football Fix Headliner for gameweek 16 and 17, Harry Kane (11.3). This is becoming a bit of a common position for Kane, having featured as our star-pick three times. However, on each of his last two occasions as our "captain material" he hasn't failed, delivering 13 points on both occasions. The London born striker simply can't be overlooked this week, with two home-ties against sides that are struggling at the foot of the table. On a personal level his numbers have been superb in recent weeks where he has managed more shots on target than Costa (10.9) and Ibrahimovic (11.2) in the last three gameweeks. Fix algorithm predicts that Tottenham will score the most goals in the next two gameweeks and when you consider that Kane has been directly involved in half of his team's goals over the last four gameweeks, it would be wise of us to have him in our teams. Over the last four gameweeks his shot accuracy is also unrivalled at a monstrous 69.2% – 13 shots with 9 on target. And with four goals in those last four games he's without doubt our go to headliner.
Kane's first opponent mid-week is Hull who currently sit 19th on away form. They have also conceded the third worst total of goals by shipping in 17, only Leicester City and Cystal Palace have conceded more with 18 and 19 respectively.
Harry and Spurs second test in gameweek 17 is Burnley who are yet to win on the road and have only picked up a solitary point, conceding 15 goals in just six games. The form and the fixtures look magical for Harry Houdini. Time to pull some goals out of the hat.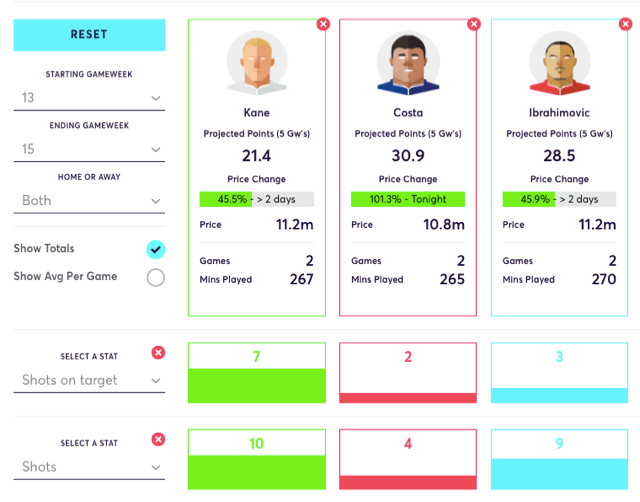 Roberto Firmino (mid, eve)
A tough call between Mané (9.4) and Firmino (8.8) this week, but we believe the "Failmino" doubters may well be judging Bobby a tad harshly. Away from home Firmino has managed more penalty area actions, shots on target, attempted assists and most importantly points than Mané this season. So, he gets our backing with Liverpool having to play out two consecutive away games in gameweek 16 and 17 against opponents that have struggled for form in recent weeks. Much like Zlatan who has turned things around somewhat lately, the underlying stats are very good and the conversion of goals and assists should soon follow. Over the season so far, the creative Brazilian has trumped the in-form Hazard (10.5) with efforts on goal every 30.2 minutes to 32 minutes as well as creating more goal-scoring opportunities, 38.2 minutes versus 47.4 minutes. The Liverpool attacker has also averaged over 6 touches in the opponents box per game, so perhaps can feel a little hard done by.
First up in gameweek 16 is Middlesbrough who were solid at home in the Championship, but surprisingly sit 19th in the Premier League home form table. They have only managed 7 points at home to date, so a chance for Liverpool to make good after what they will consider two points dropped versus the Hammers.
Everton in gameweek 17 present a tougher task for Firmino and Liverpool. The Toffees are unbeaten at home this year and have only conceded five goals in seven games. However, they have only won three of seven at home and Merseyside derbies over the last three seasons have seen 18 goals, at an average of three per game. The perfect stage for a player with strong away stats like Firmino then.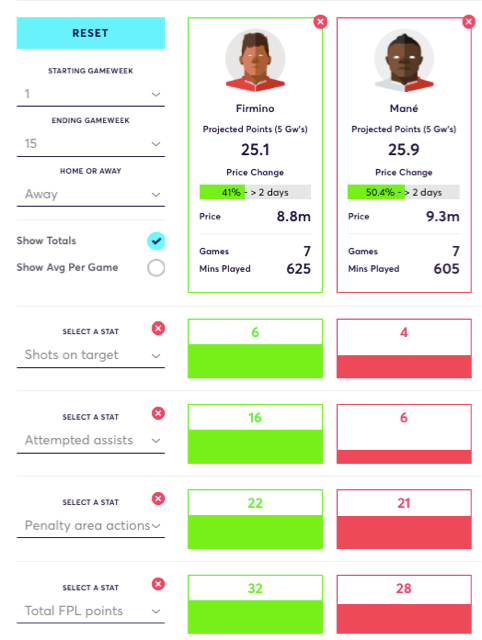 Zlatan Ibrahimovic (cpa, wba)
Ibrahimovic (11.2) seems to have finally rediscovered his mojo that has been the catalyst behind a phenomenal 386 club goals, just in time to face two clubs that haven't had it their way defensively. It might be a case of "throw enough **** at the wall and some of it will stick' with Zlatan, as his chance conversion is still a little bit stinky, but no one can dispute his A* for effort with a huge 23 shots and 24 penalty area actions in the last six gameweeks. With effort comes reward and something appears to be finally sticking, with four goals in his last four league games as a result.
First up in gameweek 16 are Crystal Palace who have conceded almost two goals a game on average this season. Against the bottom three clubs Swansea (18th), Hull (19th) and Sunderland (20th) they have conceded 10 goals! Manchester United are not exactly setting the world on fire in front of goal, but Ibrahimovic is certainly looking more clinical in recent weeks and this will be aided by the returning assist engine that is Mkhitaryan (8.9). His attempts on goal place him right at the top of the striker's pile, so a great opportunity for him to add to his tally against a defensively poor team. The Eagles have kept only one clean sheet from 15 games this season.
Next on the agenda in gameweek 17 are the Baggies. The defensively solid West Brom do not carry that title so proficiently this season. Desperate to improve upon their woes in front of goal themselves, they have ended up compromising order at the back as a result. The attacking nature of Chadli (6.2) and Phillips (5.4) has meant that they have already scored 61% of what they managed last season (33 versus 54) with only 39% of the season played. Solid year on year improvement in the final third, but Ibrahimovic can look to exploit the fact they are advancing more, which has lead them to concede almost two goals a game, just like Palace. United and Ibra should be licking their lips as they could find themselves involved in two goal fests over the next seven days.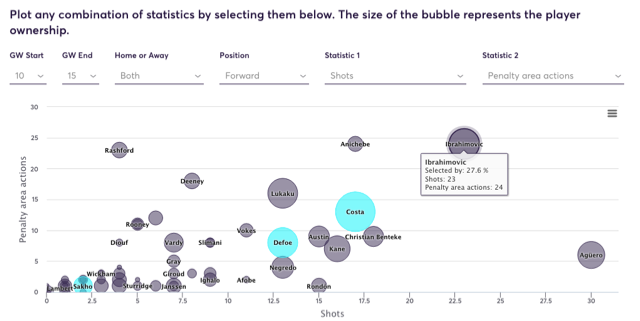 Kyle Walker (HUL, BUR)
Walker (6.1) is projected to be the top scoring defender in the next two gameweeks with Fix algorithm suggesting 10.5 points could be achieved. And it's hardly surprising as he doesn't rely solely on clean sheets, being more renowned for his attacking threat than his solid defensive attributes. Proof is in the statistical pudding with the England international creating chances more frequently in the last six gameweeks than fantasy football's desirable left wing-back Alonso (6.3), presenting goal-scoring opportunities to his teammates every 68.9 minutes versus the Chelsea man's 81.4 minutes. He has also dribbled the ball from defence to attack a total of 23 times, being successful on 10 occasions. Alonso has done this nine times and only succeeded on three occasions.
Up first for Tottenham in gameweek 16, as referenced above in Kane's section, is Hull. In seven away games they have managed to score just five goals, which isn't disgraceful, but up against a Spurs defence that are currently ranked joint second for clean sheets their work could be cut out and a loss to nil may well be on the cards.
Walker will face Burnley in gameweek 17 which should be even more straight-forward from a clean-sheet and attacking perspective since they have only managed to score one in six away games. Their away form is the worst in the league, which will allow Walker licence to roam forward and a double points haul is not inconceivable for the marauding right-back.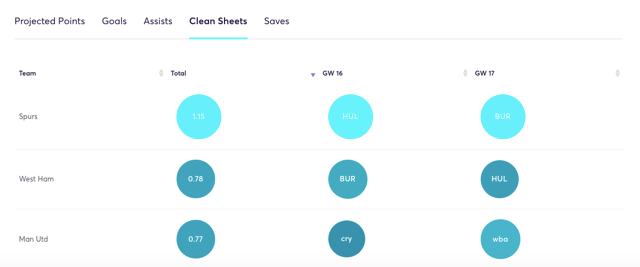 Differential - Dimitri Payet (BUR, HUL)
Who would have thought it? Payet (9.1) to only be owned by 4.3% of live teams after 15 league games. Last season's great form was carried into the Euro Championships in the summer for France and after four assists in his first three Premier League games, we all thought it was business as usual for the late French bloomer. But, while on paper the early assist per game ratio was very impressive, it didn't paint the true picture. West Ham lost all three of those games in which Payet featured and they have struggled ever since, sitting just outside of the relegation zone by a single point. But hold on a minute, we all enjoy seeing someone pick themselves up from the dirt and make a fight of it, don't we? Well, in fairness to Dimitri, he has been fighting all season long while his other teammates appear to be rolling around in the dirt. So far this season Payet has had 18 shots at home and because of his brilliance alone Fix algorithm predicts that West Ham will have excellent attack potential in the next two gameweeks. Payet has been more involved with his team's goals than Sánchez (11.7) this season with a 46.7% contribution. He has also created more goal scoring chances than the Chilean, having created a goal opportunity every 24.3 minutes compared to Alexis' 33 minutes. Those numbers equate to a huge 3.13 chances created per game, more than any other player in the Premier League. If West Ham can get Carroll (or anyone other than Payet) up for these two important home fixtures, then we could finally also see assist returns for Payet. Albeit, Karius should have done better with his set-piece during gameweek 15, but it was good to see Payet back on the scoresheet via a method he has mastered – free kicks. A nice confidence tonic which should bode well against relegation battlers Burnley and Hull.
See information on both team's away form under our headline article on Harry Kane.
With his numbers and two encouraging home encounters, Payet is your man to make a big dent on improving your rank and catching others around you.