Headliner - Alexis Sánchez (WBA)
Sánchez (11.8) is in the form of his life this season and is projected to score the most points of any player according to Fix algorithms. It's absolutely no coincidence that his new position leading the line has tied in with improved attacking returns. Pundits, Gooners and oddly even Arsène himself have referred to his industrious and energetic style being best suited to a no. 9 role before this season, so we are encouraged to see him in said position week-in week-out, this year. The Chilean has scored six goals and assisted three times in the last six gameweeks, which has resulted in points that classified "Strikers" have not even mustered. In-form striker Costa (10.8) has contributed four goals and two assists in the same time. And the Arsenal terrier has 46 penalty area touches to his name in the last six games, which is the same as Costa, but better than De Bruyne's 23 (10.7) and Hazard's 22 (10.4). Fix algorithm's point prediction also has a lot to do with the Baggies lack of form away, where they have only managed six points from a possible 21. With Sánchez shooting at goal every 34.6 mins compared to Costa's 46 mins and creating opportunities for his teammates every 27.7 mins versus Costa's 46 mins you can see exactly why we are backing him to come away from this one with a double point score.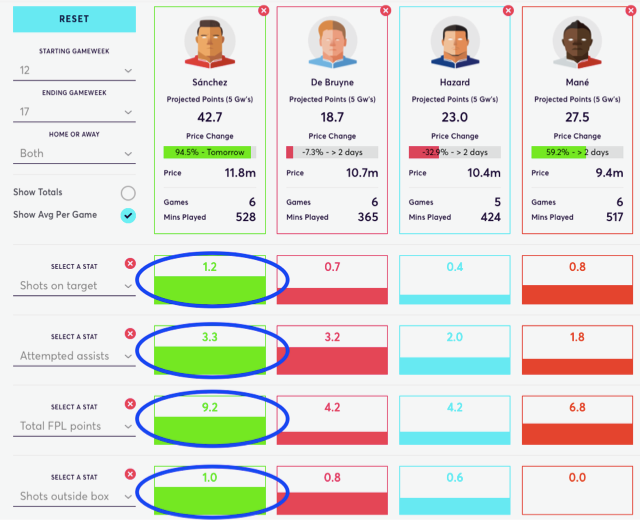 Zlatan Ibrahimovic (SUN)
Ibrahimovic (11.5) is well and truly back! We sensed the tide had turned a couple of weeks back, and after selecting him in our "Top Five Key Players" for gameweek 16 and 17 (where he managed 23 points across those two), we couldn't drop him this week. His impressive record now sits at seven goals over his last six matches, which is mightily impressive when the heavily owned Costa has managed four. His cracking form is in stark contrast to Sunderland's away record, where they have conceded five goals in their last two away games. The imposing Swede has also vastly improved his shot accuracy in recent weeks, bettering Costa's 41.7% with 47.1%. Ibrahimovic's goal conversion is also up to a mighty 41.2%. Hardly a surprise to see him topping Fix's Striker algorithm charts then. No striker has had more shots, or shots on target than Ibrahimovic this season. He has also managed 11 shots inside the box and attempted nine assists in the last five weeks, stats which are some of the best in the league. It's the early season mass-hysteria all over again with Ibra. "Essential"? We say he 100% is for now, so jump aboard for gameweek 18.

Sadio Mané (STK)
Rage transfer? Rage quit on Fifa? Yes, we've all done it. But, a rage Fix "Top Five Key Player"? Well here he is. Mané (9.4) continues to show why he is worth every penny of the £35 million paid by Liverpool this season, and sadly for us here at Fix we decided to opt for Firmino (8.5) last week after an incredibly close debate between the two. The Brazilian man had his chances to justify his inclusion and was a touch unlucky perhaps, but there was no luck involved in another athletic, energetic and relentless Mané masterclass (there just aren't enough superlatives for the Senegalese). During the last four gameweeks Mané has weighed in with two goals and three assists from just three shots on target and 10 attempted assists. Strong numbers which mean only Hazard has managed more points at home than Sadio this season. Liverpool face Stoke at home in gameweek 18, who have slipped in form recently, not winning one of their last three and giving away a two nil lead to 10 man Leicester in gameweek 17. Mané has been involved in the box more than most outfield players over the last six gameweeks, having touched the ball 53 times in the penalty area. Sadio is also currently averaging 6.38 points per game and is one of only three midfielders to reach the 100 point mark. So, with Stoke on offer in gameweek 18 we believe he could land his sixth double point haul of the season.
Phil Jones (SUN)
Jones (4.9) is now at the front of our minds after nailing down a starting position during a period where Manchester United are unbeaten. That run has now extended to an impressive seven games, with four wins along the way. Big Phil represents a budget route into a Red Devils rear-guard that are second only to the mighty Chelsea defence over the last seven matches. United have conceded only five goals during this period. With consistent game-time, we have seen Jones' confidence grow in defence and attack. Jones is currently demonstrating more of an attacking threat in the last six games than the marauding right-back, Valencia (5.4), with two goal attempts to Antonio's one. In gameweek 18 United face a Sunderland side at home who have only managed to score three goals in their last five games, poor form that is matched only by bottom of the table, Hull City. With clean sheet points from a tough West Brom away fixture in gameweek 17 as well as a clean sheet (alongside two BAPS) in his last home game against an even tougher Spurs side presents us with a strong case for the budget United asset. In recent times, Jones has been better known for his frightening facial gurning than his ability, so it is good to see him turn things around and become one of the stand-out options priced under 5.0. Jones has another two plum home fixtures versus Middlesbrough and Hull over the proceeding five games, so it's worth getting him in now while he's cheap.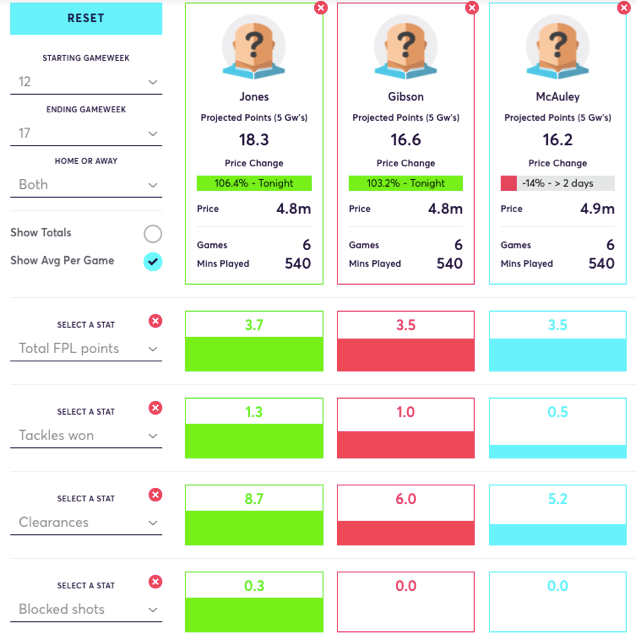 Differential – Kevin De Bruyne (HUL)
Last season's high-scoring De Bruyne (10.7) has been over-shadowed this year, with more midfielders than the 15/16 season demonstrating a good return on investment in the 8.0 - 11.0 range, meaning he only sits in 8.5% of the live teams. While his two goals is weak in comparison to other midfielders priced 8.0+, he is head and shoulders above every midfield option for FPL assists. Zaha (5.8) who is likely to join up with the Ivory Coast in January is the only midfielder who comes close to De Bruyne's 11 assists, with his eight. And while on the subject of "eight", that is also the amount of points De Bruyne has averaged when Agüero (12.8) has been absent from the City line-up. So, don't write him off just yet, particularly with Agüero unavailable until gameweek 19. De Bruyne has certainly benefited from a fluid attacking line-up in the last couple of weeks where Man City have had no recognised striker starting. He has contributed an assist in each of his last two games. If you are thinking long term, don't be put off by his healthy numbers without Agüero since he is actually averaging goal attempts and attempted assists more frequently than Sánchez over the course of the season - 27.6 mins versus 31.5 mins (goal attempts) and 24.9mins versus 34.3 mins (chances created). So, Hull away could present De Bruyne and his low ownership with a heavy hitting score, since they have conceded eight in their last four.