Headliner - Diego Costa (STK, tot)
Costa (10.7) is our headline pick for both gameweek 19 and 20, with Fix algorithms forecasting a strong performance from the adopted Spanish international over the next two quick-fire gameweeks. While he is not predicted to score as high as other players, he is the only FPL star performer that has benefited from a vital rest in gameweek 18, after picking up his fifth yellow card of the campaign. With Chelsea also having the longest rest between gameweeks 18, 19 and 20, we expect Costa and Chelsea's performance to benefit further. And if the boys in blue are on song, be sure to see Costa score well - He has directly contributed to 54.5% of Chelsea's goals this season, bettering Ibrahimovic (11.6), who appears to be the only one scoring for United at the minute, with 53.8% involvement over the season. Looking deeper into his numbers compared to the Swedish powerhouse, Costa eclipses Zlatan on cost (10.7 vs. 11.6), goals per minute (every 119.7mins vs. 134.8mins), shooting accuracy (46.9% vs. 38.5%), goal conversion (26.5% vs. 15.4%) and chances created (every 55.6mins vs. 55.8mins). League leading striker stats which demonstrate his importance to our teams and fully justify his Fix headline status for gameweeks 19 and 20. With his recent rest, we also expect him to start both games.
First up for Costa in gameweek 19 is a home tie against Stoke, who have conceded four goals in their last two away games, keeping only two clean sheets from seven away games all season.
While a tougher fixture on paper in gameweek 20, Spurs have conceded six goals in their last four games against "top six" opposition. Which certainly sounds inviting for a big-game player like Diego. Hopefully he can put us back on track after a couple of disappointing Fix headline picks in recent weeks.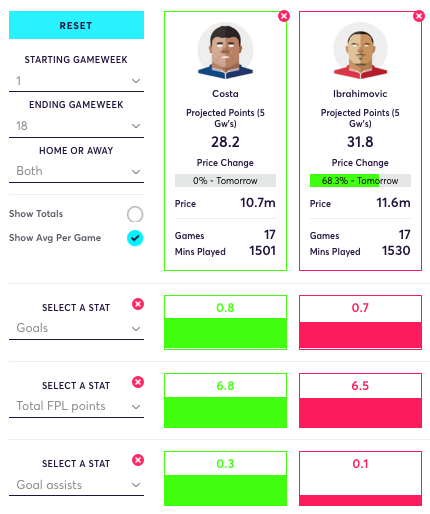 Leighton Baines (hul, SOT)
Baines (5.3) FPL season is still stuck in second gear, largely down to his side's up and down form, more than his own. However, his improvement in fantasy returns has been noticeable since his return from a six week injury lay-off. Since returning seven gameweeks ago, Baines has managed an average of 4.14 points a week. In that time, we have also been put on alert after learning that he is favoured again for penalty duty, converting one in one and earning a vital late point against Manchester United in gameweek 14. The dead-ball defensive specialist is also taking his fair share of corners and is now creating chances more frequently than Bellerin (6.4) this season - Every 86 mins versus 127.4 mins. And, with a clean sheet in his last game as well as only one goal conceded in each game versus Arsenal and Liverpool it looks like defensive returns are starting to look more promising. So, Baines nails down a spot this week off the back of improving numbers and attacking involvement which comes at a time when his side face teams over the next two gameweeks that are struggling in front of goal.

First up for Leighton in gameweek 19 is Hull away, who have not scored a single goal in the last three games and only a meagre 14 in 18 games so far.
Then, there is Southampton at home during gameweek 20, a side who are in a relatively healthy position in the league, but have also been dry in front of goal this season. Their defence (Spurs aside) being their best form of attack at present. Only Hull, Sunderland and Middlesbrough have scored less than their limp 17 goals in 18 games.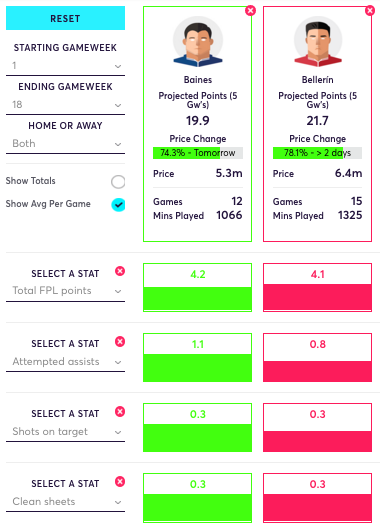 Alexis Sànchez (CPA, bou)
Sánchez is predicted to be the highest scoring player using Fix algorithms over the next two gameweeks with a projection of 9.4 and 7.5 points from his next two. Again, he was close to being our headline player, but a change of position in gameweek 18 (arguably, to his favoured role) puts us off this week while he beds himself back in, with his differing responsibilities. That said, with Arsenal struggling to break the deadlock against West Brom when Alexis was out wide, Arsené could deploy him up top again, certainly during one of the next two. In that role up front Alexis managed more shots on target than Zlatan in gameweek 18, yet significantly came away with 12 less points, burning many a fantasy manager. But, it is certainly evident that he is doing all the right things, having racked up a greater amount of shots (11 vs. 9) and attempted assists (every 26.3 mins vs. 41 mins) than Zlatan in the last six gameweeks, while coming away with the same amount of goals (6).
Arsenal and Alexis have two of the tastiest fixtures over the next two gameweeks. In gameweek 19 they play Crystal Palace at home, who have conceded 12 goals in their last four games.
Gameweek 20 serves up Bournemouth away for Sánchez and co. And it is no co-incidence that their attacking style of play has meant that they have on occasion been susceptible around the back. Over the last six gameweeks, they have leaked a huge 15 goals.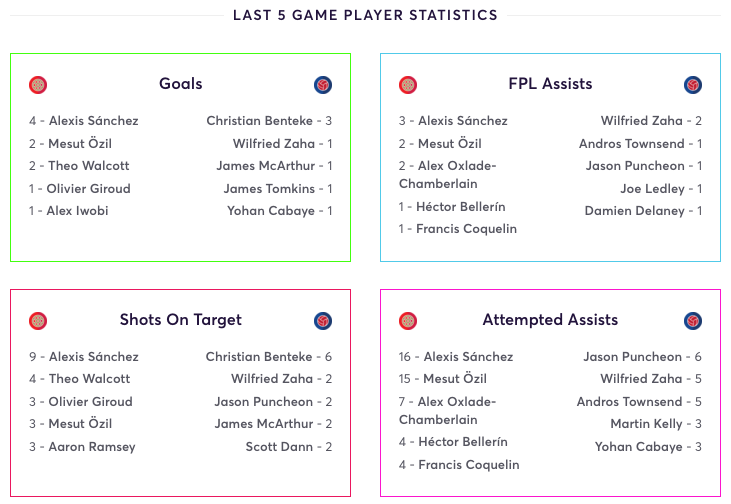 Henrikh Mkhitaryan (MID, whu)
Mkhitaryan (8.9) is one of our more left-field "Top Five" picks so far this season, but we have been eager for him to show what he is capable of and finally he is starting to get some game-time under José in the Premier League. Yes, he still is not a certain starter, but we feel he could have a significant impact over these final fixtures of the busy Christmas calendar. With Henrikh, we are talking about a player that has averaged an attacking return every 135 mins across 314 club appearances, which is absolutely astonishing. So, it is hardly a surprise to see such a talented individual finally making a go of it in the Premier League, where he has attempted a shot on goal every 27 mins, which puts him ahead of many high scoring midfielders from this season, including Walcott (7.7) 29.1 mins and Mané (9.5) 37.9 mins. Further fuel for his inclusion are his goal scoring averages at just under one every two games - 175.5 mins versus Mané's 179.9 mins. With two goals in his last two matches (having only played 113 mins of those games) as well as his chance creation every 43.9mins (versus Mané's 52.3 mins and Walcott's 126.9 mins), it further demonstrates why we believe he could conjure up an attractive points return alongside the in-form Ibrahimovic if given the game-time he deserves.
The Armenian midfielder is up against Middlesbrough in gameweek 19, a side who have only won once away in nine games. While they do not concede many they did recently let in three against Liverpool at home and the Red Devils are beginning to find their attacking prowess which has come at the right time for the emerging Mhikitaryan.
Gameweek 20 sees Mhikataryan up against the Hammers away, who are conceding 1.55 goals a game on average at the London Stadium. Not exactly a ground they can call home just yet and we can see this one having three or more goals, which presents another opportunity to a player as creative as Henrikh.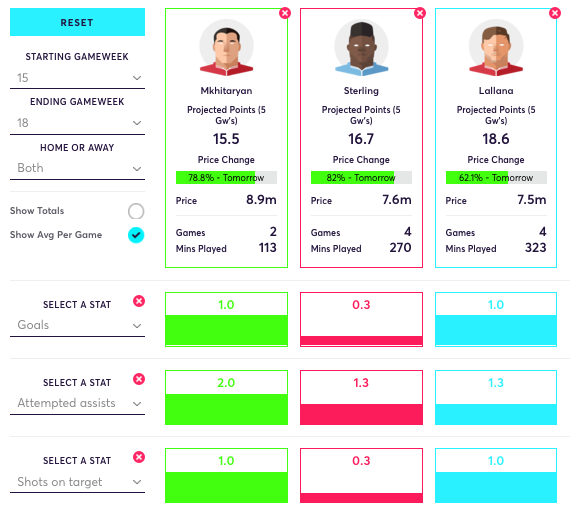 Differential - Sergio Agüero (liv, BUR)
Agüero (12.8) is owned by a measly 3.4% (discounting dead teams) at the time of writing this article. Mr FPL, who has deservedly earned such a title by consistently producing high season averages for the last five years could well be the type of tonic that languishing managers are looking for, to help catch those around them. The Argentine has already missed a third of the season through suspension and injury, but is averaging more goals and more shots on target per game than flavour of the month, Ibrahimovic, with 0.8 and 2.3 versus 0.7 and 1.8. So far this season he has averaged 6.2 points a game, which is close to his previous seasons' levels. Agüero is one of the most explosive players in the league and in just 12 gameweeks he has already managed four 12+ point totals. Trees are being up-rooted here at Fix to try and bring him back into our sides, as he could be the biggest differential we will all get this season.
First for Agüero in gameweek 19 after serving a four match ban, is Liverpool away. A side that have looked far more solid in defence recently, but are still struggling to find a regular back four. As a result, they have let in 21 goals in just 18 games this season, a figure which bodes well for Agüero and City, who are beginning to look more fluid in attack.
Gameweek 20's fixture against Burnley is where things will get exciting for Agüero owners. Burnley have lost all but one of their eight away games, with one solitary draw to their name. In the process they have conceded 18 goals, 2.25 goals a game. Is this the time to go triple captain?