Headliner - Olivier Giroud (swa)
Giroud (8.6) is our headline pick for gameweek 21, having looked like one of only a few Arsenal players to be giving 100% in recent fixtures. His time spent on the sidelines also means he is fresh, and with three goals and two assists from the last three gameweeks we expect him to be one of the top-performers in gameweek 21, which sees Arsenal against a Swansea side that are on a terrible run. When on the pitch, Giroud has had a hand in 75% of Arsenal's goals this season and is currently averaging a goal every 84.3 minutes. The towering Frenchman has been taking shots at goal every 25.3 minutes which is better than Lukaku (9.5) who is averaging an attempt every 34.2 minutes. In the last five gameweeks Giroud has averaged 6.4 points per game, returns that easily surpass similarly priced strikers Lukaku, Defoe (7.8) and Benteke (7.5) who have averaged 5.0, 5.6 and 1.2 points over the last five respectively. With Arsenal travelling to the Liberty Stadium this weekend, we can't help but feel that there will be plenty of goals on offer for Arsenal, with the Swans having conceded 10 goals in their last four league games. Seven of those goals were at home in front of their own fans versus two opponents that aren't as blessed with attacking talent, in West Ham and Bournemouth. If Giroud is selected to the lead the line again, which we are confident will be the case, he has certainly demonstrated the form and hunger required of captain material for gameweek 21.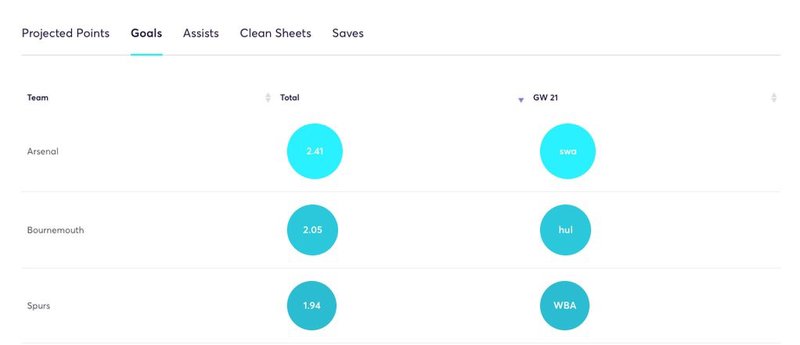 Christian Eriksen (WBA)
Eriksen (8.6) finds his way into our top five at a time when Dele Alli's (8.6) form is unrivaled from a points return over the last four gameweeks. So, you're probably wondering what Christian has been doing to warrant inclusion over the 20-year-old Englishman who himself has scored seven in his last four league games. Well, the Danish magician has actually smashed Dele in all but the "goals scored" department. In the last five gameweeks he has had significantly more shots on target, more attempted assists, penalty area actions and crosses than Alli, which is highlighted below. And even with Alli's recent heroics, Eriksen has been the most involved in goals scored for Spurs this season, having contributed to 32.4% of goals scored when on the pitch. Part of this is down to his set-piece responsibilities, and it's worth noting that he is averaging 4.1 corners as well as 5.6 crosses per game, an area that Alli doesn't even come close to. Up next for Christan and Spurs is West Brom at home. The Baggies form has been very good of late, but they have still managed to concede 1.83 goals on average when playing against "top six" opposition, which should sit well with Eriksen and his teammates in gameweek 21.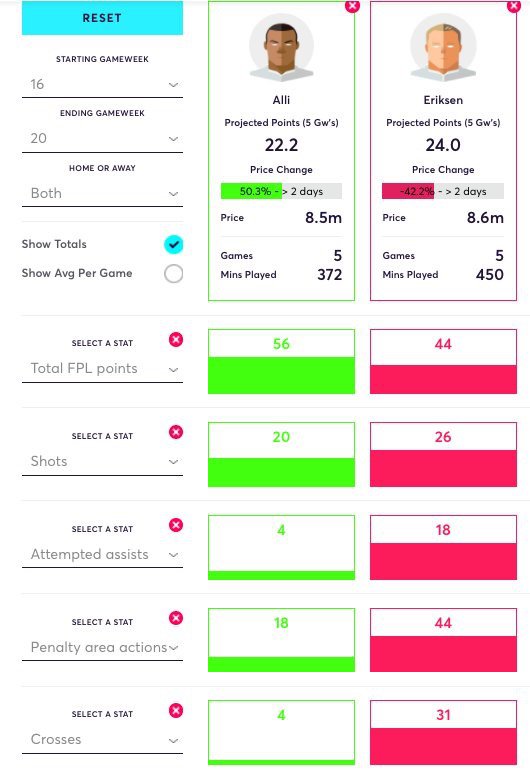 Jermain Defoe (STK)
Defoe (7.8) is projected to be the fourth highest scorer among Forwards by our Fix algorithm, ahead of Lukaku and Ibrahimovic for gameweek 21. The ever-consistent Premier League veteran has been involved in a humongous 68.4% of his team's goals during the course of the season and has averaged more penalty area touches per game, 4.8, than Kane (10.9) 4.5, so is well placed to continue upon a season of fine-form in gameweek 21. Sunderland are presented with an attractive looking tie at home versus Stoke this weekend and when in front of his home fans Jermain has averaged more goals per game with 0.7, than Aguero, 0.4, Kane, 0.6 and Ibrahimovic 0.6. Holding his own with these heavy-hitters, that cost upwards of 40% more, fills us with confidence and warrants his inclusion this week. Stoke have conceded 11 goals over the last three gameweeks when travelling. Albeit, against Chelsea, Liverpool and Arsenal, but with Defoe showing form representative of a top-club player, we could see him doing damage against Stoke.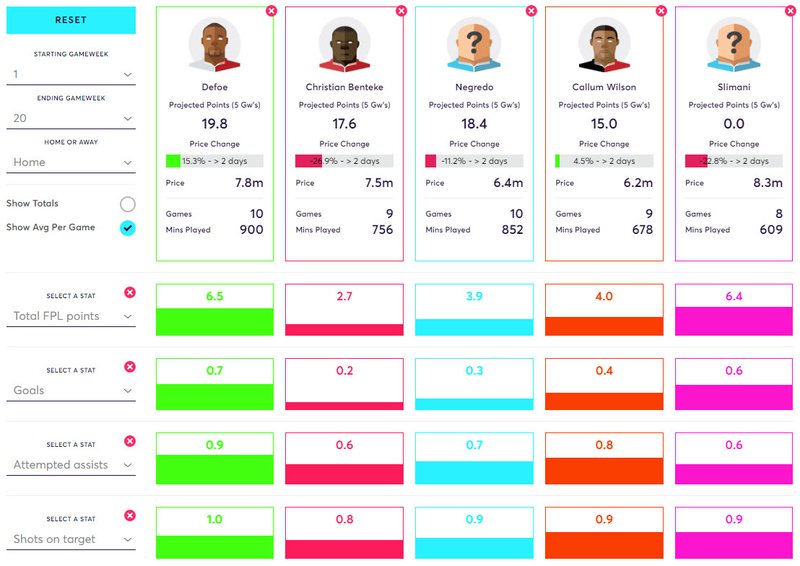 Danny Rose (WBA)
Rose (6.0) has been linked with both Manchester clubs over the last week, alongside Walker (6.2), which isn't a surprise when you look at Rose's numbers from recent years. From an attacking perspective, during 7710 minutes of football across the last four seasons (equivalent to 85 matches), Rose has contributed directly to 26 goals. Quite phenomenal, when the majority of that has been played in his adopted defensive role. This season he has performed as well as ever and stands out for more than just his defensive attributes again, causing havoc for opposition defences with his goal involvement being a mighty 13.3%. To give this greater depth, when compared to other high-fligher, Alonso (6.5), who has also done well in this area with 9.4%,, Rose's influence makes for an even more compelling read. As well as demonstrating that he has he final product in front of goal, it's clear to see why when he is creating chances (every 65.8 mins versus Alonso's 78.6 mins) and shooting at goal more frequently (65.8 mins vs. Alonso's 66.8 mins). The young, improving Englishman is predicted to be the highest scoring defender on the Fix algorithm charts this week and from a defensive standpoint his seven clean sheets in 15 appearances this season, is a % return that can be bettered only by the four Chelsea defenders; Alonso (6.5), Luiz (6.2), Cahill (6.4) and Azpilicueta (6.6). In gameweek 21 Danny and Tottenham will face West Brom who have improved in front of goal this season, but during recent fixtures against Manchester United, Chelsea and Arsenal have failed to score a single goal, which could bode well for a Rose clean sheet on top of attacking returns. 

Differential - Junior Stanislas (hul)
Stanislas (5.2) is our differential pick for this week, owned by just 1% of live teams. So, if we get this one right in gameweek 21 it could open the door to a big jump in your overall rank. So far during the season he has averaged 5.3 points per game, but with a couple of big hauls skewing the numbers slightly it's worth looking at the the fact he has averaged more shots on target (1.1), goal assists (0.4) and big chances created (0.5) than other strong performing budget options in Snodgrass (5.8), Phillips (5.8), Zaha (5.7) and Allen (5.3), which can be seen below. A season that has so far been marred with a few injuries, but across the 898 minutes of football that he has had this season, he has made up for lost time and produced three goals and six assists. Impressive returns which equate to one attacking contribution on average in each game played. And it isn't just gameweek 21 where you could see the impact of this 1% selected player, as his fixtures include hul, WAT, CRY, eve over the next four. But back to gameweek 21, where Bournemouth and Junior face Hull away, a side who have leaked 10 goals across their last five games. While Bournemouth may have their defensive frailities having lost both Ake (4.4) and Francis (4.6) for this fixture, Howe will simply rely more on his "attack as the best form of defence" policy, and we could see the creative Stanislas engine prosper.