Headliner - Eden Hazard (HUL)
This week's Headline pick, Hazard (10.4), was handed the responsibility of leading the line against Leicester in gameweek 21, after our Chinese friends whispered something irresistible into Diego's ears containing a lot of digits. With that in mind, Eden could become a more attractive out-of-position proposition if Costa-gate is not resolved quickly. Fix algorithm is projecting a score of 7.2 for Hazard, which places him amongst the top of the midfielder pile for gameweek 22. Hazard has averaged more points and scored more goals at home than Eriksen (8.7), Alli (8.7), Firmino (8.4) and Lallana (7.7), as you can see from the infographic below. With Hull facing the daunting task of travelling to the table-toppers backyard on Sunday, it is also worth noting that Eden's record against Hull is certainly a hazard they will be wary of. Three goals and one assist from four appearances, delivering one goal and one assist in his last home league appearance versus the Tigers in 14/15, which is partly the reason we are pinning our headline hopes on Hazard this week. Hull have conceded an average of 2.4 goals per game away from home. With only one win to their name from 10, we expect a dominant home performance from Hazard and his teammates.
Romelu Lukaku (cry)
Big Romelu Lukaku (9.6) who often carries the label "Blankaku" because of his frustratingly inconsistent forays in front of goal always pulls us back in, just when we begin to doubt, with a run of returns that gets us all licking our lips. The Belgium frontman is averaging 6.5 points per game over the last four gameweeks, and all of a sudden, we are considering him ahead of Aguëro (12.8) and Costa (10.3). Lukaku has actually been consistent, for Everton at least, contributing to 51.6% of Everton's goals this season, which is a higher involvement than Kane's 41.7%. He is also averaging more penalty area touches than Kane's 4.8, with 5.5. To go back further, in four and a half seasons of Premier League football to date the imperious 23-year-old has averaged 16 goals a season. Incredibly consistent returns for a player so young. Everton's upcoming fixtures include Crystal Palace, Stoke and Middlesbrough away as well as Bournemouth and Sunderland at home, which should sit very well with Lukaku and Everton's improving form. He has also notched up more points, shots, attempted assists and headed attempts away from home this season than at Goodison Park, so, Crystal Palace away in gameweek 22 should present Lukaku with attacking points. The Eagles will have to prepare themselves for a club whose morale is sky-high after the demolition of Manchester City at home, a task that may well be beyond Palace, who have conceded 15 goals at Selhurst Park this season, losing their last three games at home.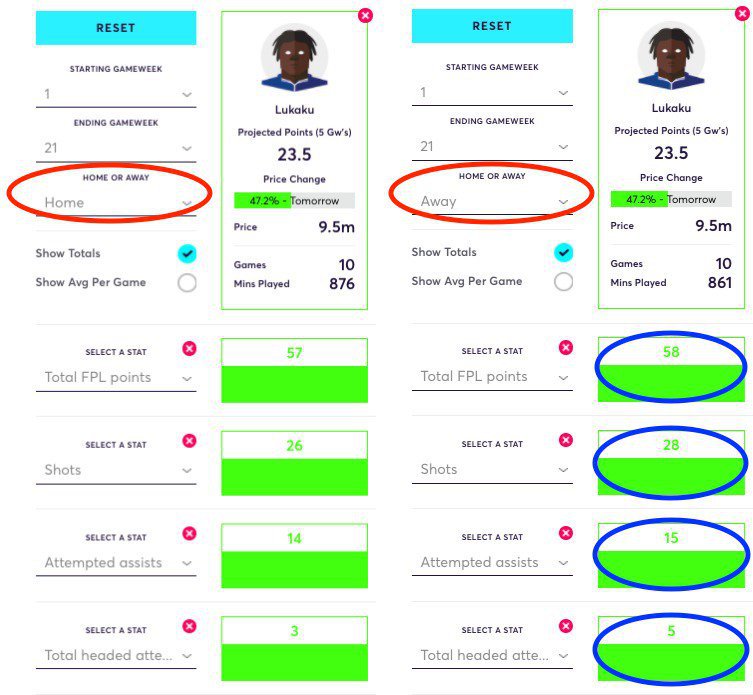 Marcos Alonso (HUL)
Alonso (6.6) is averaging over six points per game at home so far this season, and with his numbers away from home taking a huge up-turn after his 21 points in gameweek 21, Marcos is the epitome of an FPL prospect that is in high demand. It is now three goals, three assists and 11 clean sheets from 16 games for Alonso, incredible numbers that we have not seen since the days of John George Terry working under the "Special one". 44 points & six shots in the last six gameweeks is also more than any other defender in the game. Factoring in all of this with a little sprinkling of Hull at home in gameweek 22, is too much to resist. Hull City have scored just six goals across ten away games this season, so we would be very surprised if Marco Silva can mastermind a goal versus the meanest, highest scoring defence in the league. We are therefore pinning our hopes on at least a clean sheet from Marcos, but with his advanced left-wing-back position to boot, we are also hoping he can add to his attacking output in gameweek 22.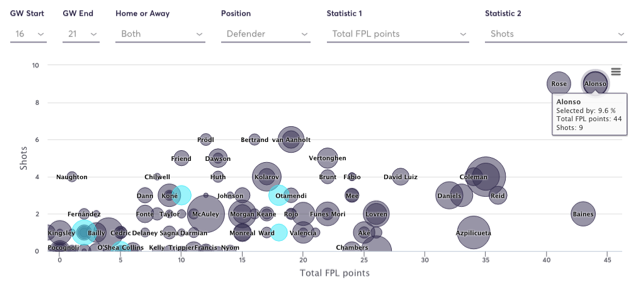 Laurent Koscielny (BUR)
Koscielny's (6.3) Arsenal are projected to have the best defence potential in the next five gameweeks, which includes mouth-watering fixtures against Burnley, Watford and Hull at home. The reliable Frenchman is not only dependable for defensive points and bonus points (BAPS), he has also proven to be a threat inside the oppositions box from set-pieces over the years, averaging 3.6 goals per season across the last two and a half campaigns. However, back to his defensive output for a second, which has certainly picked up in recent weeks. Arsenal have managed three clean sheets with Koscielny in the team over the last four games and while he has not managed an attacking return in that time, he has still added six BAPS to his total of 25 points, or an average of 6.25 points per game over the last four gameweeks. Koscielny, is without question one of the best performing defenders (considering Alonso's 21 point return, which inflates his numbers considerably) over the last four gameweeks. A healthy return of points, clean sheets, passes, clearances and interceptions won versus Rose (6.0), Alonso (6.6) and Jones (4.9), highlighted in the graphic below. Burnley have only scored three away goals this season from nine games. Therefore, logic states that Koscielny (with the help of Cech (5.4) and the gang) will walk away with clean sheet points, at the very least. Surely!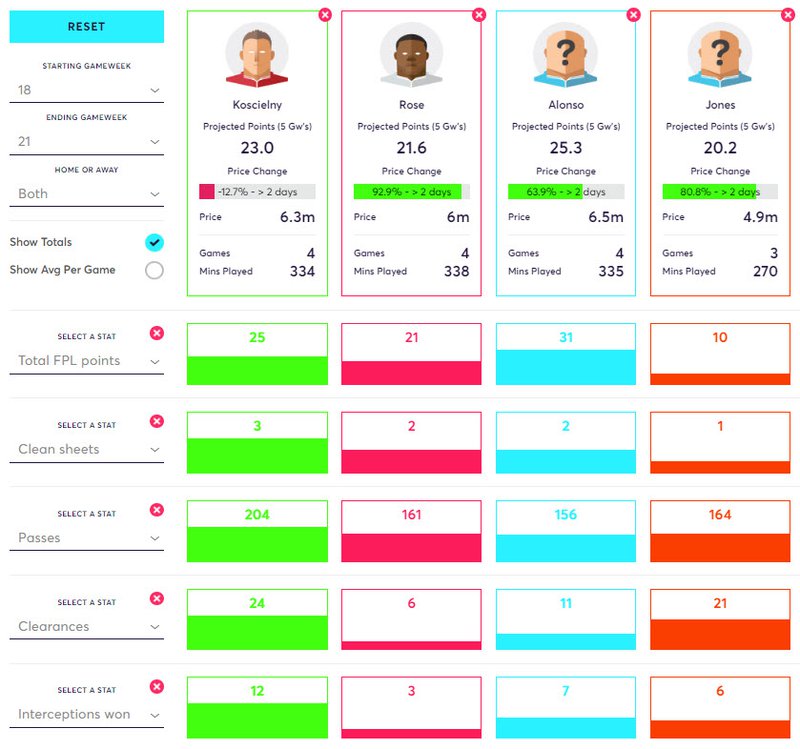 Differential - Philippe Coutinho (SWA)
As of the gameweek 21 deadline, Coutinho (8.3), was owned by just 5.2% of live teams. His stock is now rising and he is one of the most "transferred in" players over the last week. Hardly a shock to the system based on his form prior to injury. Like his successes on the pitch this season, he has also succeeded off it, with the speed in which he has recovered from his nasty ankle injury. When we consider the recent majestic and unstoppable form of Eriksen, Alli and Lallana the graphic below highlights just how good Coutinho was playing before injury. His averages per game (which have not benefited from a recent boost that the others have achieved while he was side-lined) are in-line with them and in some cases better - through balls and goals. To go further, it is worth mentioning Coutinho's goal involvemen for Liverpool; 38.5%, his minutes per goal; 205, his minutes per attempt; 20.5, and his minutes per chance created; 30.1, all of which are superior to Eriksen (31.7%, 366.6, 22.6, 31.1). Our differential pick entertains Swansea at home in gameweek 22 and comes into this one off the back of assisting the winning goal in Wednesday's Emirates FA Cup replay against Plymouth. He was substituted on 65 minutes in that game, hopefully to preserve him for the weekend. In gameweek 22 we are expecting big things from the Brazilian, against a team who have been conceding an average of 2.2 goals a game on the road.