Headliner - Dele Alli (sun, MID)
Alli (8.8) is our chosen headline pick for gameweeks 23 and 24 after landing several power punches in recent weeks his late namesake would be proud of. The baby faced Englishman has amassed a stupendous 65 points in his last six gameweeks. Understandably, our Fix algorithm predicts that Dele will be the highest scoring midfielder in the next two gameweeks. It is eight goals and one assist that has propelled him to the barmy average of 10.8 points a game over his last six league games, and those numbers can't be rivalled by any other midfielder or striker. The consistently strong, Sánchez (11.9), only has three goals and two assists in that time. It is Dele's recent form which has everyone desperate to include him in their sides, demonstrated by the ever improving goal averages which read; one every 62.8 minutes in his last six matches, compared to one every 154.5 minutes for the season. Alli has attempted just 17 attempts at goal over the last six games and managed to land nine of those on target, but astonishingly he has converted 89% into goals.
In gameweek 23 Alli faces Sunderland away. The Mackams record at home is so bad it may as well be a home tie for Spurs. Sunderland have conceded 1.81 goals a game, and with Alli's recent goal involvement (last six gameweeks) at 50% we expect at least an assist, or goal.
Middlesbrough make the long trip down to White Hart Lane to face Alli and co. in gameweek 24. 'Boro are tight at the back at home and away where they have conceded just over one goal a game during 11 away fixtures. So, this could prove more challenging. But, Chelsea also have the best defence in the league on current form, and Spurs managed to put two past them, so we believe Alli and his teammates will be far to strong for Karanka's men.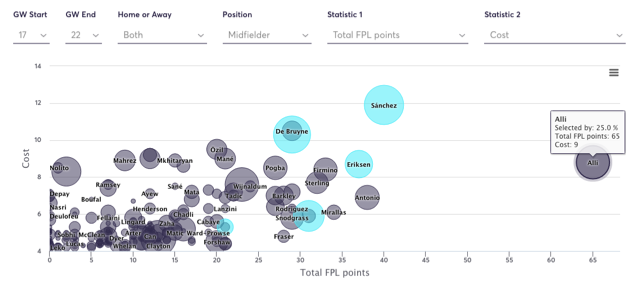 Kevin De Bruyne (whu, SWA)
De Bruyne's (10.5) numbers without Aguëro are well documented. For those out of the loop, they are tidy, to say the least. There is not much talk of KDB among FPL experts this year, as if the man has been quiet. He's actually been far from it. A shining light amongst mediocrity at Manchester City this year. The Belgium has had more penalty area actions, 64, and attempted assists, 20, than any other midfielder in the last six gameweeks. Our Fix algorithm predicts that De Bruyne will be the highest scoring midfielder in gameweek 24, when Manchester City host Swansea. The genius crosser is averaging a goal contribution every 112.5 minutes since his Premier League debut two seasons ago, which is a remarkable record and a solid statement for consistency. While his teammates have been receiving much media attention for all the wrong reasons, De Bruyne, has quietly, and proficiently gone about his business, having had a direct contribution to 15 goals (three goals, 12 assists) this season. And considering City's "world class" striker hasn't been at the top of his game in front of De Bruyne, this makes the Belgium's numbers even more compelling. Although there is a doubt over Aguëro's fitness for gameweek 23's tie away at West Ham, if the Argentine plays and can get going during these favourable fixtures (which include: whu, SWA, bou, sun, STK, over the next five) it could be a couple of double points hauls for the Belgium over the next two gameweeks.
West Ham may have turned their fortunes around in recent times, but they still managed to concede five goals against Manchester City in the third round of the Emirates FA Cup. That tie involved the majority of West Ham's first team, so it could be another goal-fest for City again, who require a spark that could come in the form of De Bruyne and save their failing season.
 
Swansea travel to the Etihad in gameweek 24, hoping their good fortune continues after coming away from their Anfield trip with maximum points. But, it is their defence that continues to let them down, shipping in two goals away at Liverpool. The Swans are currently allowing their opponents to walk away with an average of over two goals per game across their 11 away encounters this season, so we believe big Kev can walk away with well over 12+ points from his next two.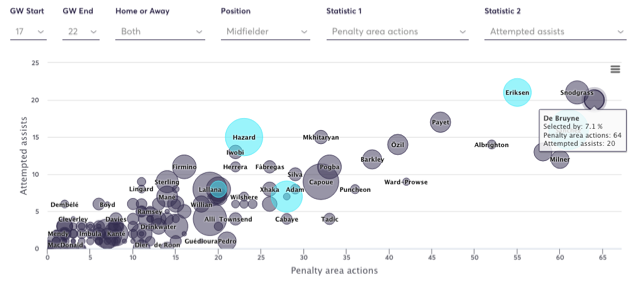 Zlatan Ibrahimovic (HUL, lei)

Ibrahimovic (11.7) did not continue with his rich vein of form when the Red Devil's travelled to Stoke in gameweek 22, leaving the field with two points that day, but, he is still head and shoulders ahead of most when it comes to stats this year. Ibra has had more shots, 90, penalty area actions, 72, and attempted assists, 34, than Costa (10.4), Aguëro (12.8), Kane (11.2) & Lukaku (9.6) this season, but would you really expect anything less from a super human who also possesses a black belt in Taekwondo. Even with a blank in his last game he still has five goals and three assists from his last six gameweeks. His shot accuracy in over the last six is up to a mighty 61.1%, and Kane who is typically very clinical with his shooting is only at 52.2% over the same period, making Ibrahimovic's numbers stand out. And it is clear to see why many are claiming that Manchester United would be wallowing in mid-table if it wasn't for the charismatic Swede, with his goal involvement at 72.7% during the last six games. To stack that up against Kane again, the Englishman is contributing to 44.4% of Spurs' goals over the same time.
Up first for Zlatan are Hull at home and our Fix algorithm predicts that Manchester United are to score the most goals of any side in gameweek 23. Hull have conceded an outrageous 2.36 goals a game away from home. When we take into consideration Zlatan's goal involvement of 72.7%, this would suggest he will could be involved with 1.71 goals in this fixture, if we're playing the moneyball approach.
Leicester away in gameweek 24 still presents Zlatan and United with a chance for goals. Leicester have conceded a total of nine goals in their last five games. A side that looked all out at sea against Southampton in gameweek 22, so we're expecting a tasty return from the "King of Manchester" across the two gameweeks.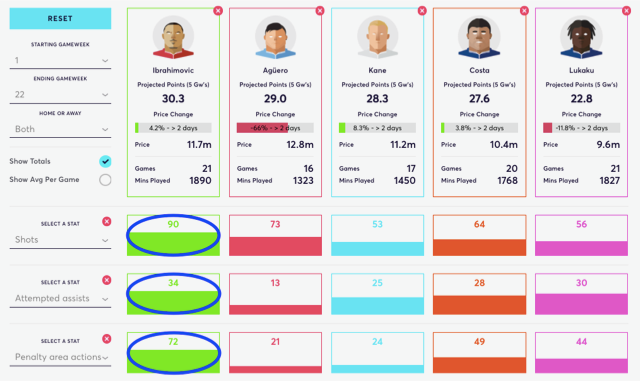 Antonio Valencia (HUL, lei)
Valencia (5.5) flys back onto our radar with Manchester United showing more resilience in front of goal in recent weeks, having let just five goals in over seven games. The clean sheets look to be just around the corner and the next two gameweeks could be the catalyst. The red side of Manchester have the best defence potential in gameweek 23 according to our Fix algorithm, so it is only logical that we should start by looking more closely into their defensive assets. So, why Antonio? We hear you ask. Valencia, has more crosses to his name, 46, and successful final third passes, 97, than any other defender in the last six gameweeks, so the signs are there. He is also creating goalscoring chances for his teammates more frequently than Coleman (5.6), 11, Brunt (5.0), 12, and Baines (5.6), 19, with his 21 created chances.
First up for Valencia in gameweek 23 are Hull who are averaging a meagre 0.54 goals a game, and will be without their talisman Snodgrass (5.7), who confirmed his move to West Ham on Friday. We would be flabbergasted if Jose can not organise his side in a way that presents us with a clean sheet here.
The next challenge for Valencia is Leicester away, who have only scored one goal in five games. As the saying goes, this is "a club on the slide". The Foxes are in desperate need of a Champions League adrenaline shot which will not come before this tie, so Valencia could be walking away with more clean sheet points here. Across the two fixtures we're expecting more than just clean sheets, with potential BAPS and attacking returns to boot.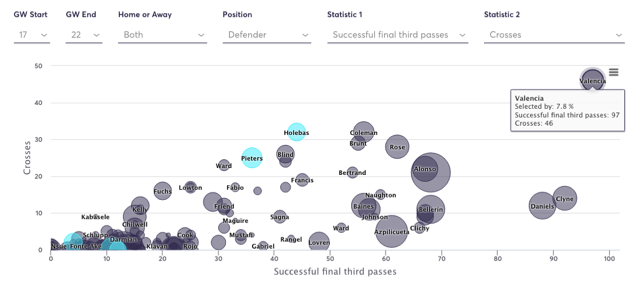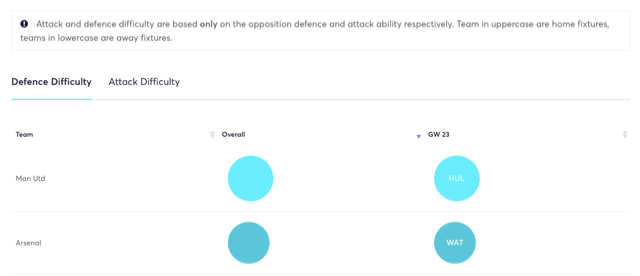 Differential - Ross Barkley (stk, BOU)
Is it time to reconsider the "most talented individual" to fashion themselves from Everton's academy since the days of Wayne? We say yes! Barkley (7.0) is our differential pick for gameweeks 23 and 24 with his ownership in live teams at a tiny 2.5% come the close of gameweek 22. On closer inspection he is also owned by just 1% of the top 1000, so if he turns up over the next two games, as we expect, he will have a significant impact on your rank. It is also worth noting that Barkley, and his Everton compatriots will have a game in gameweeks 26 and 28. More than ten sides are likely to be without a game in gameweek 28, so this adds further value. As demonstrated in our infographic below Barkley's recent stats have been better than popular team mate Mirallas (6.1), with regards to attempted assists, 10, and penalty area actions, 30. Even more interesting is the fact that he is creating more chances (every 40.1 minutes) than Alli, Lallana (7.6), Phillips (5.9) and Firmino (8.4) over the last six gameweeks. If Lukaku can build upon the three goals he has managed in his last six gameweeks Barkley could be on for more attacking returns in the form of assists. He has also been weighing in with set-piece duties, averaging 2.33 corners a game, which you like to see when you invest in a player.
First up in gameweek 23 is Stoke, who have conceded 10 goals in their last five gameweeks, while Everton have scored 12 goals in their last five gameweeks, including a whitewash against Manchester City. It does not take a Math genius to work out that those figures from each club could spell "disaster" for Stoke, but will be music to Barkley owners ears.
Then it is Bournemouth who face a daunting task of travelling to Goodison in gameweek 24, where Everton have managed wins against Manchester City, Southampton and Arsenal in their last four at home. Barkley and the boys will be licking their lips then, given that Bournemouth have only won once in their last six gameweeks, including a 3-1 defeat to lowly Hull away from home. It's certainly time for our differential to rack up a minimum of 10 points over the next two gameweeks, and we believe Ross is the man to do it.