Headliner - Gylfi Sigurdsson (LEI)
Sigurdsson (7.4) moves from one of our differential picks earlier in the season, to headliner for gameweek 25. The Icelander is predicted to be one of the top scoring midfielders in gameweek 25 according to our Fix algorithm. He has had more shots on target than any other midfielder at home this season and there is not a single midfielder across the game who has contributed to as many goals as Gylfi, 15, eight goals and seven assists. If we analyse his numbers more closely we also see that he has been involved with more goals for his team, 53.6%, than FPL's most expensive midfielder Sánchez (11.8) who has contributed to 45.1%. His influence is clear to see on the pitch, being involved in everything going forward and responsible for all dead-ball responsibilities. He is a set-piece specialist with a menacing Beckham-esque right boot, having taken an enormous 101 corners so far this season, with 38 of them finding a teammate. Potential and results that make us question why he has not featured in our top five analysis more often. Selecting opponents of Leicester's also appears to be a winning strategy at the minute. Last week our Manchester United picks, Valencia (5.6), 11 points, and Ibrahimovic (11.6) six points, were the ones to profit. Swansea and Gylfi will host the Foxes on Saturday, a team which have conceded 2.08 goals a game on average away from home, winning none of their 12 away games. Stats do not lie, so if the Swans can stick to the script and score two plus, we would bet a pretty penny on Sigurdsson being involved with at least one goal.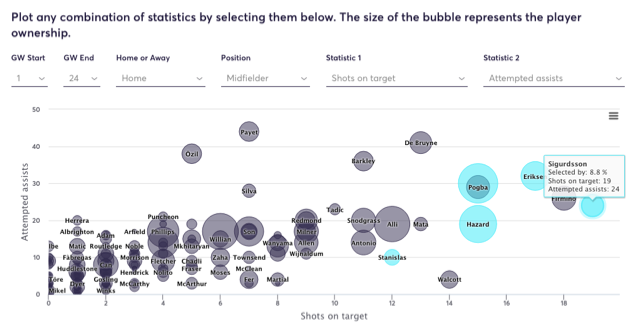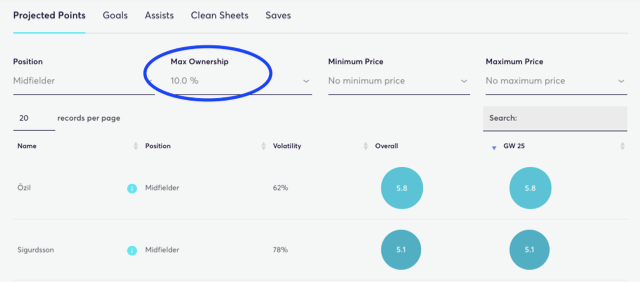 Seamus Coleman (mid)
Any player who has been gifted with such a glorious first name has to have the pleasure of making our cut, at least once. Coleman (5.7) has really stepped up his consistency with point returns in recent weeks. He now has more points, 43, attempted assists, eight, crosses, 25 and big chances created, four, than Baines (5.6), Alonso (6.6) and Walker (6.2) in the last six gameweeks, see info-graphics below. Coleman's eye for a shot is also something that has not gone unnoticed by us Fix heads recently. Five shots in the last four gameweeks, compared to Walker's, two, Rose's, two and Baines', one. If we go back a bit further and analyse his impact over the last three and a half seasons in the Premier League, we learn that he has weighed in with 26 goal contributions (goals/assists) across 10,543 minutes of football, equivalent to an attacking return every 4.5 games. Such returns put him at the very top of the attacking-defender pile. The Fix algorithm predicts that Everton have excellent defence potential for gameweek 25, when Coleman will face Middlesbrough away. While 'Boro's defence has been resilient all season, it is their attack that has been questionable, with only 19 goals in 24 games. So, we are expecting a clean sheet as a minimum from Coleman, particularly as Middlesbrough are also scoring less than a goal a game at home.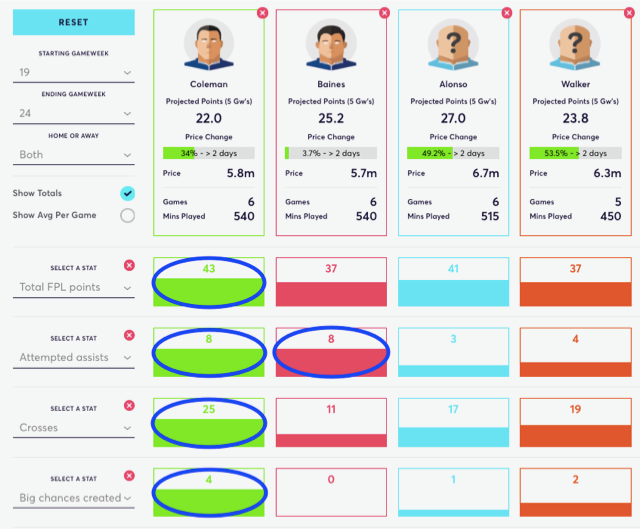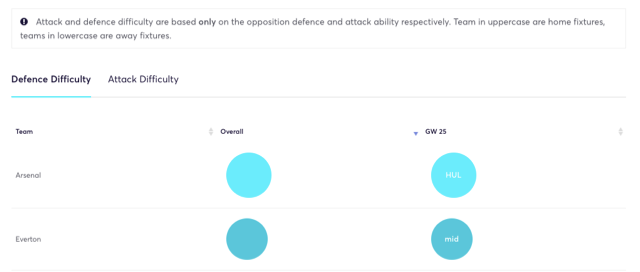 Diego Costa (bur)
With the Chinese Super League transfer window now closed, Costa (10.5) is as close to "essential" again as you are going to get. In the three games subsequent to being dropped against Leicester in gameweek 21 the fiery Chelsea forward has managed one goal and two assists.  At a wider look, only Ibrahimovic has more away points than Costa this season among forwards. He has averaged more points, 6.2, shots, 2.8, and penalty area actions, 2.5, per game than Lukaku (9.7) and Kane (11.2) away from home this season. Diego's goal involvement at Chelsea this season is currently up at 46.5% when on the pitch, which is also better than Kane's 43.6%. Some say Costa is not an explosive scorer, but if you had given him the armband all season he would have served you well. His average points across the season is the same as his away record, 6.2 per game over 22 gameweeks. Putting Costa right at the top of the forward's list versus other heavy hitters, Kane, 6.2, Ibrahimovic, 6.1, Lukaku 6.1, and Agüero (12.7), 4.9. Chelsea face a Burnley side who are very comfortable at home in gameweek 25, having only lost three games in 13. However, dig a little deeper and it becomes apparent that Burnley have not beaten a "top six" side in their last seven attempts, conceding an average of 1.71 goals in the process. With Costa contributing to almost half of Chelsea's goals, we are pinning our hopes on at least one goal or one assist this week.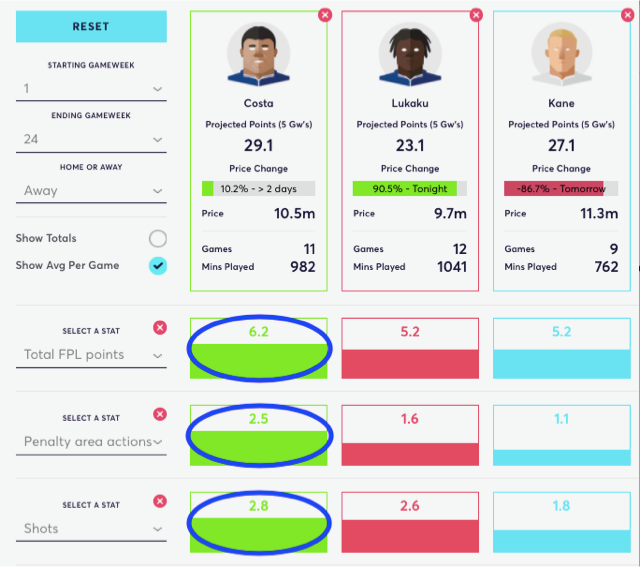 Robert Snodgrass (WBA)
Snodgrass (5.8) makes his Fix "Top Five Key Players" debut this week. For a budget-priced midfielder, who has played the majority of the season for a struggling Hull side, seven goals and three assists is a great return on investment. Finally, he makes our grade, due to better recent attacking stats than the similarly priced Phillips (5.9), Stanislas (5.2) & Iwobi (5.9), see info-graphics below. He has also demonstrated a clinical side to his game, with his shots to goal conversion rate at 17.1% for the season, versus Ibrahimovic, 15.8%, Benteke (7.4) 14.8%, Aguero 14.7% and Rondon (6.7) 11.9%. His impressive numbers this year are perfectly justified when we study his performances across his Premier League career, which spans 7,485 minutes, the equivalent of 83 games. In that time he has managed a very healthy return of 19 goals and eight assists, an attacking return every three games. What FPL manager would not take that from their fourth or fifth midfielder? Snodgrass is our third and final pick this week (alongside Coleman and Sigurdsson) that will have a game in gameweeks 26 and 28. Currently only six teams are guaranteed games across those weeks (BOU, whu, HUL, swa, WBA, eve). In gameweek 25, Snodgrass will face a West Brom team that boast a solid defensive record this year, so they could make things tough for the Hammers. But, if West Ham are to walk away with three points here they will have to rely upon a new creative spark now Payet is out of the equation. Having conceded an average of over one goal a game on the road, we hope Robert is your man to weigh in with a goal/assist contribution.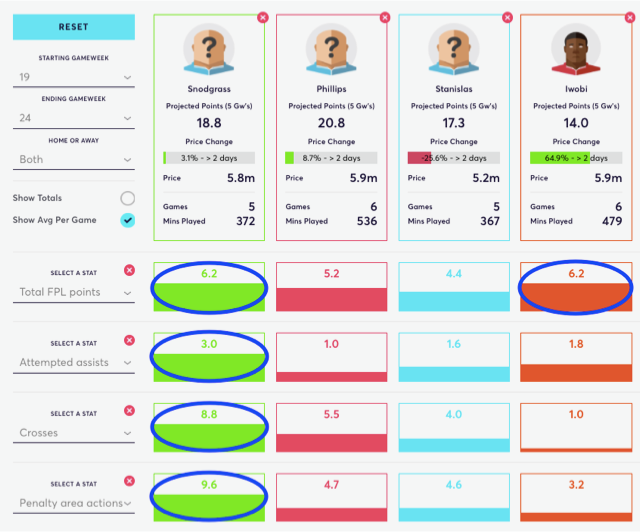 Differential - Henrikh Mkhitaryan (WAT)
Mkhitatryan (8.8) is this week's differential pick given his meagre ownership of 2.8% overall and  featuring in just 1.7% of live teams as of gameweek 24's deadline. When on the pitch Henrikh has been very influential having directly contributied to 30.8% of Manchester United's goals. It has been a very stop-start debut season for the Armenian, with just nine starts to his name. However, his effective link-up play and pace has finally persuaded Mourinho to start him for five gameweeks in a row. During this time we have been keeping a very close eye on him and the icing on the cake for his selection this week was of course the goal and assist he picked up away at Leicester in gameweek 24. During his limited game-time this season, he has managed to create chances more frequently (every 37.9 minutes) than Hazard, 42.7, Firmino, 44.7, Pogba, 48.6 and Walcott 137.9. It is also worth reminding our readers that Henrikh has managed an attacking return every 142 minutes (or every 1.58 games) across 324 club appearances. He is the real deal, who has for one reason or another taken longer to prove his worth to Jose, yet delivers the results we are all after, assists and goals. Mkhitaryan is predicted to be one of the top scoring midfielders in gameweek 25 according to the Fix algorithm (for players owned by under 5%). This is hardly a surprise when Watford are on the menu for gameweek 25, a side who have conceded 17 goals in their last seven away games. With just one win (a shock result against Arsenal in gameweek 23) from those seven games, Manchester United and Henrikh will be looking to ensure that miserable run continues.