Headliner - Romelu Lukaku (SUN)
Lukaku (9.9), the man, the myth, the troll! Yes, Romelu will sting you from time to time with a run of blanks, but he is nothing short of consistent in respect to goals over a season. His numbers for a 23-year-old are exemplary having already scored 76 Premier League goals from just 173 appearances. He is our headline pick for gameweek 26 and it does not make sense to be looking anywhere else, right about now. The numbers stack up so we can only hope he does not have one of his unfathomable blanks against one of the most destitute sides in the league on current form. Lukaku has had more goal attempts (17) in the last six gameweeks than Costa (10.6) with 16 and Kane (11.2) with 15. For someone who has such hot and cold streaks he has been more accurate with his shooting where 50.8% of his shots have hit the mark compared to Kane's 49.1%, Costa's 42.9%, Ibrahimovic's (11.5) 40.2% and Agüero's (12.7) 38.8%. If we analyse his recent run of form, we learn that Lukaku's shots to goal conversion sits at 35.3% over the last six gameweeks, which surpasses all other big hitters , Kane, 26.7%, Ibrahimovic, 15% and Costa, 6.3%, do not come close. Lukaku and the Toffees host David Moyes' Sunderland in gameweek 26. The Mackams are sinking into Championship waters like the Titanic at present, having lost eight of their last 10 games. During that stretch they have conceded an eye-shattering 22 goals. If Everton are to roll two or three past Mannone we are expecting Lukaku to walk away with a minimum of a goal and/or an assist, with his goal involvement at 51.3%.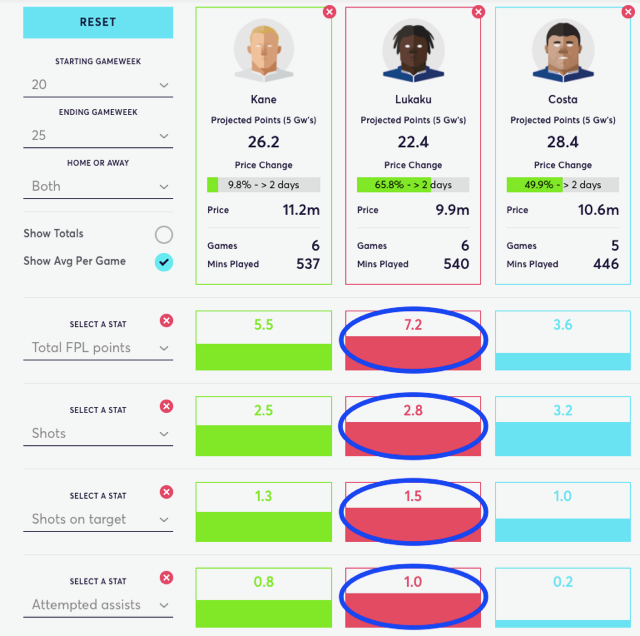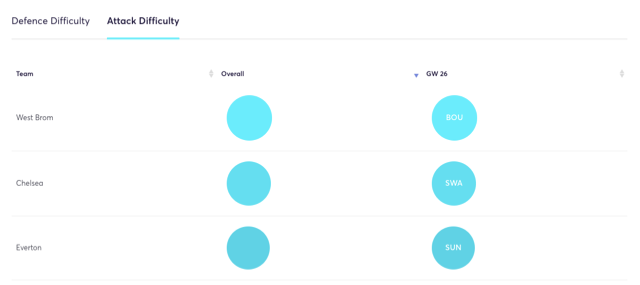 Sadio Mané (lei)
Liverpool's main man Mané (9.3) is back, and back into the Fix top five fold he finds himself. Mané managed the most shots on target in gameweek 25 (versus Tottenham) and only Sánchez (11.7) (versus Hull) managed as many as Mané's four. To say there was a slight class disparity between the opposition they faced would be an understatement, which therefore makes Mané's 100% conversion of shots to shots on target even more impressive, with Sánchez only managing 66.7%. 66.7% is in fact a number that also sits in the Mané camp, however, it relates to his impressive shot accuracy over the last six gameweeks (where he has played four times). Firmino (8.4) at 45% for shots to shots on target and Coutinho's (8.2) 11.1% pale in comparison. Mané is also proving to be quite the provider for his team. Only Barkley (7.1) and Özil (9.4) have created more chances on average (than Sadio's 2.25) per game over the last six gameweeks. It is Leicester away for Mané in gameweek 26 and it is the third time in three weeks we have selected players who have lined up against the Foxes. On every occasion they have delivered, Valencia (5.6), 11 points and Ibrahimovic, six points, in gameweek 24 and Sigurdsson (7.5), six points, in gameweek 25. So, we hope that run continues when the ever-dangerous Mané unleashes his pace and trickery on a defence that have conceded 12 goals in their last five games.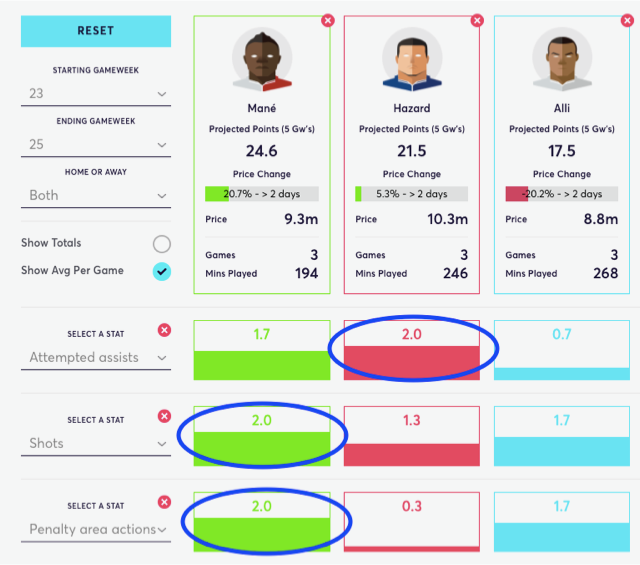 Marcos Alonso (SWA)
Alonso (6.7) is the defensive gift, that keeps on giving and his underlying stats just cannot be ignored. Only Hull's Maguire (4.4) has attempted more goal attempts (11) over the last six gameweeks than Alonso, who has attempted a pop at goal 9 times. And there is no other defender in the game who can match Alonso's five shots on target over that same period. Chelsea's out-of-position defender has three goals and two assists to his name over the last six gameweeks and only Swansea's Mawson (4.5) has managed the same goal return from defence in that time. These returns are better than many midfielders in the game which is of course helped largely by his advanced wing-back position. Alonso has also been more of a menace in front of opposition goalkeepers having touched the ball more times in the box (57) over the course of the season, than Bellerin (6.5), 55, Coleman (5.9), 51, Walker (6.3), 42 and Valencia (5.6), 39. The adventurous defender is presented with a plum home fixture against Swansea in gameweek 26. The Swans have been a little resurgent of late, having picked up wins against Leicester, Southampton and Liverpool during their last four league encounters, but, it is worth remembering that Chelsea have managed nine clean sheets in their last 15 league games. Chelsea's resilience at the back should prove too strong for the Swans. If Sigurdsson performs his usual goal "out of a hat" trick, as he so often does, at least we do have the attacking prowess of Alonso to fall back on.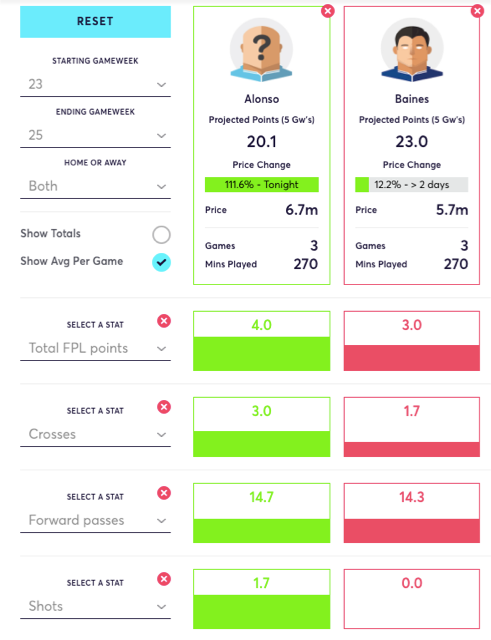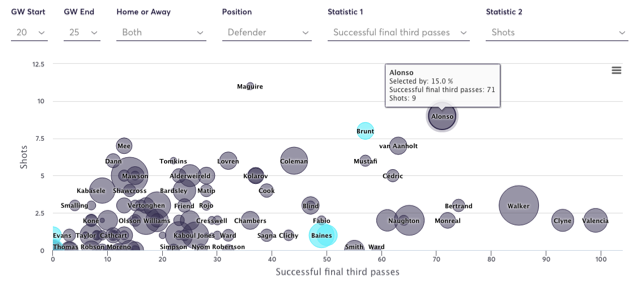 Robert Snodgrass (wat)
Snodgrass (5.8) is the epitome of an FPL prospect who is imminently about to explode. No midfielder in the game has created as many goal-scoring chances for his team in the last six gameweeks. Those numbers read 19 chances, or one every 20.3 minutes. Özil who is second does not even come close with a chance every 28.4 minutes. His seven goals and seven assists are numbers you would be comfortable with from an 8.5 priced midfielder at this stage of the season, not one costing 5.8. With one third of the season remaining that could read 10 goals and 11 assists when the league's curtains are drawn. With Carroll (6.3) unlikely to be fit, Snodgrass will not have that target-man to feed this weekend, so instead the emphasis will be placed on him to pull the strings and return faithful owners with some solid attacking points. Unlike players from a total of 12 clubs, Snodgrass has the luxury of being involved in the next three gameweeks, which adds further emphasis to factoring him into your plans. Snodgrass and his fellow Hammers will travel around the M25 to Watford for gameweek 25. The Hornets have only mustered two wins from their last 10 league games and have kept only one clean sheet in four months. So, we are expecting goals at Vicarage Road and with Snodgrass' goal involvement for the season (across Hull/West Ham) at 40%, our hopes are high for him.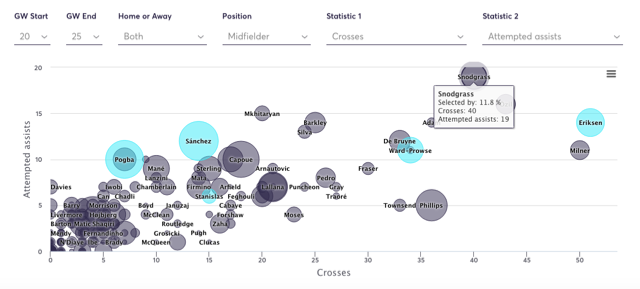 Differential - Son Heung-min (STK)
As of gameweek 25's deadline Son (6.8) was only owned by 3.2% of live teams. During the course of the season he has attempted shots on goal every 29.9 minutes, which is more frequent than De Bruyne (10.6), 30.5, Alli (8.8), 34.6, Hazard (10.3), 36.8 and Mané, 39.3. Son has been in and out of the team over the season and as a result he has only started 14 games. Over the last few gameweeks he appears to have now nailed down a spot with some threatening play, so it is worth reflecting on his goal every two starts ratio of 0.50. This goal return betters Hazard's 0.41, Sigurdsson's 0.33, Coutinho's 0.31, Sterling's (7.8) 0.27, Eriksen's (8.7) 0.21 and De Bruyne's 0.18. He has also averaged 7.5 penalty area touches when factoring in his total by number of starts which again is higher than Mané, 7.19, Hazard, 5.38, Coutinho, 4.63 and Alli, 3.73. Certainly a player with heaps to offer his new suitors and worthy of our differential pick for gameweek 26. It is Stoke who travel to White Hart Lane to face Son and a well-oiled Spurs side under Pochettino, and the Potters have conceded 12 times in four away games to "top six" opponents this year. At an average of three a game, if Son starts (which we expect) and Tottenham can continue where the other "top six" have left off his goal involvement at 35.7% gives us great confidence that he will be involved in attacking returns here.