Headliner - Sergio Agüero (sun, STK)
At this point of the season, Agüero (12.7), would typically set you back more than his starting price. Pep's often peculiar rotation  has hampered both Agüero's form/returns and as a result he costs 0.3 less than he started. With a double-gameweek thrust upon us with little warning, Agüero is almost essential with Jesus (9.0) out injured. The Argentine has been attempting chances on goal more frequently (every 18.8 minutes) than all the heavy-hitters this season, who have respectively achieved; Ibrahimovic (11.5), 22.4, Kane (11.3), 29.4, Costa (10.7), 30.3, Lukaku (10.0), 34. His 136.4 minutes per goal also betters that of Costa, 138.1, and Ibrahimovic, 152. Considering his season has been stop-start, containing 10 less starts (14 versus 24), and more sub appearances than the aforementioned United and Chelsea men, this level of consistency reassures us that Agüero is due a huge week. His Premier League record is totally unrivalled by all current forwards in the game, with an attacking return every 104 minutes as well as boasting the best minutes-per-goal ratio in Premier League history for those with 50 goals and over. First up in gameweek 27 for Agüero is Sunderland away, who have conceded a whopping six goals in their last two games. Low-scorers Southampton managed four past them away in gameweek 25, so we are expecting the league's fourth highest scoring club to net two or three in this one. Next in gameweek 27 for Sergio is the rescheduled tie against Stoke. The Potters are averaging close to two goals conceded away from home, so over the course of the two fixtures you would bet your life on Agüero scoring 10+ points.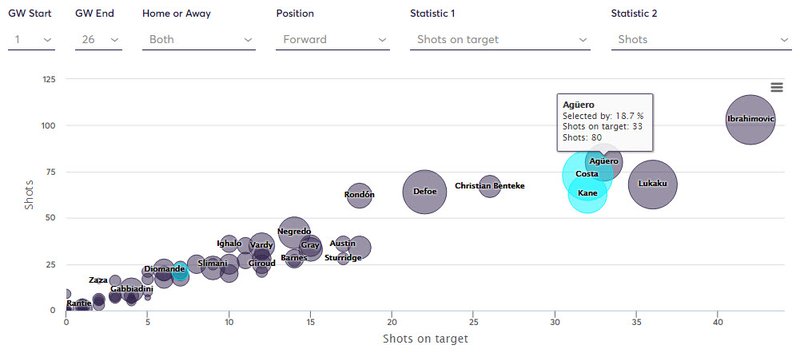 Zlatan Ibrahimovic (BOU)
If you begin your conversations with several superlatives before mentioning Ibrahimovic's (11.5) name, it would not be enough. Words cannot describe his freak of nature, timeless, talent. In the EFL Cup Final last Sunday he took his tally to 26 goals for the season (all competitions). No Manchester United player has scored as many as 26 in the last TWO seasons combined. His selection is the epitome of a no-brainer. What Zlatan lacks in pace he certainly makes up for with his positioning, strength and eye for the onion bag. The imposing Swede is not afraid to shoot, having attempted an effort at goal 102 times this season, 22 more than anyone else in the league. He is showing no signs of slowing either, having scored 247 goals since turning 30. Rooney who turns 32 in October has only managed a mere 18 goals post-30 so far, and his career at United looks to be fizzling out, not just starting like Ibra's. Bournemouth travel to Old Trafford in gameweek 27,  and will have to face a jubilant United squad after winning the season's first domestic trophy. Ibrahimovic has been involved in 51.4% of United's goals this season, and with Bournemouth having conceded an average of 3.67 goals in their last three away games, a goal and an assist is the minimum we expect here.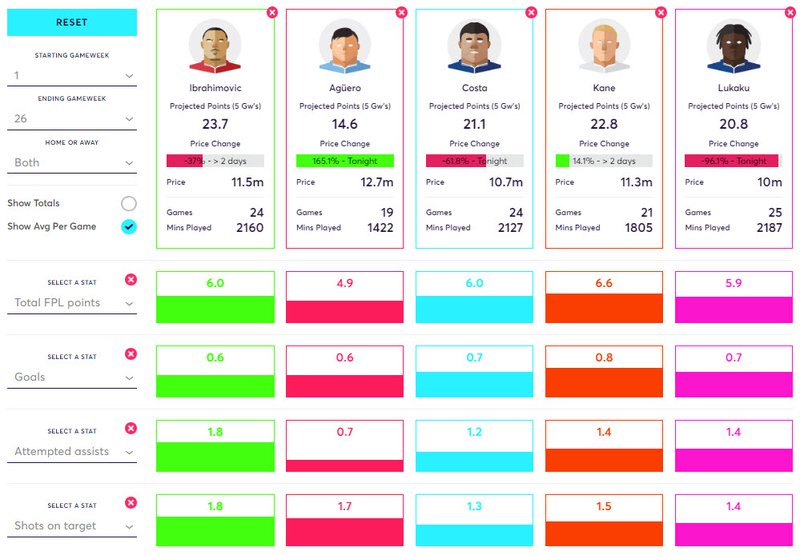 Gylfi Sigurdsson (BUR)
Sigurdsson (7.6) should be one of your top priorities over the next two weeks given his strong stats for this season, and upcoming fixtures with Burnley at home for gameweek 27 and Hull away in a slim gameweek 28 (where only four games are going ahead). To talk about those stats in more detail, we will start by looking at minutes per chance on goal. For Gylfi, this is exactly every 30 minutes, bettering that of Alli (8.8), 33.9, Hazard (10.3), 39.7 and Mané (9.4), 39.8. More outstanding are the numbers related to his successful crosses, where he has achieved more than any other player in the league with 58, De Bruyne (10.5) is second with 50 and Snodgrass (5.8) with 40, to put that into perspective. Another equally astonishing stat is how many times Sigurdsson has tested opposition goalkeepers with shots. 36 times this season he has landed an attempt on target, at an average of 1.44 a game. That is second only to Sánchez (11.6) on 37, who is priced 4.0 more than the Icelander. So, it is Burnley who have to travel to to the south of Wales for gameweek 27. The Swans fortunes in front of goal have improved of late, scoring nine in their last five league games. Burnley on the other hand have not won any of their 12 away games this season and have conceded over two goals a game on the road. Gylfi's club goal involvement is not bettered by any player in the league at 54.8%, so a goal or assist looks very probably in this one.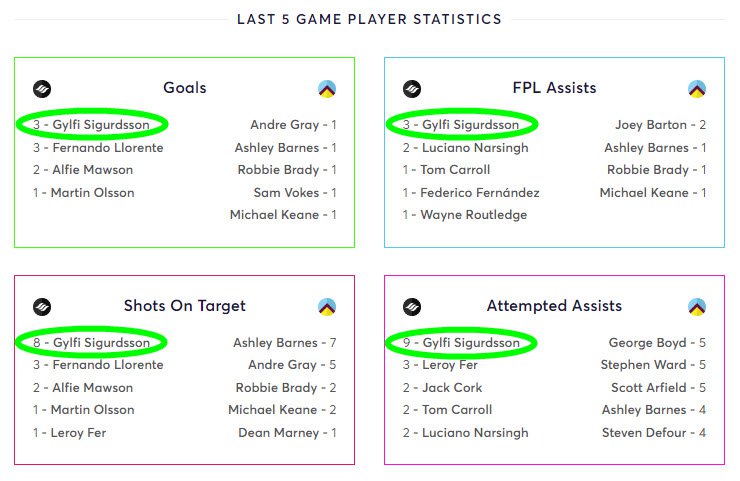 Raheem Sterling (sun, STK)
Sterling (7.8) sits third in the table for FPL assist contributions with 11. Eriksen (8.7) and De Bruyne (10.6) are only marginally ahead on 13 and 12 apiece. Raheem has managed one goal and five assists across the last six gameweeks, so he is bang in-form, coming into this double-gameweek. It therefore does not come as much of a shock to us that our Fix algorithm for gameweek 27 suggests he will be top of the pile for points scored. He may look like he is running with a handbag when at full-tilt but his style is effective, having created chances for his opponents every 32.8 minutes over the last six gameweeks (where he has played five). This is better than Eriksen, 38.2, De Bruyne, 39.1 and Barkley (7.1) 41.7. Raheem is also averaging the same amount of points per minute as our other Fix player pick for this week, Sigurdsson, with 5 points per 90 minutes over the season. Other double-gameweek City midfielders in the same price-bracket do not compare, with Silva (8.6) averaging 3.5 and Sané (7.5) averaging 3.4 per game. As discussed in our headline piece for Agüero this week, Sunderland are first on the agenda away from home. With world-class striker, Agüero, back in the mix as a result of Gabriel Jesus' injury, we expect Sterling to profit from the Argentine's clinical edge, now the South American is playing with less-pressure on his starting berth.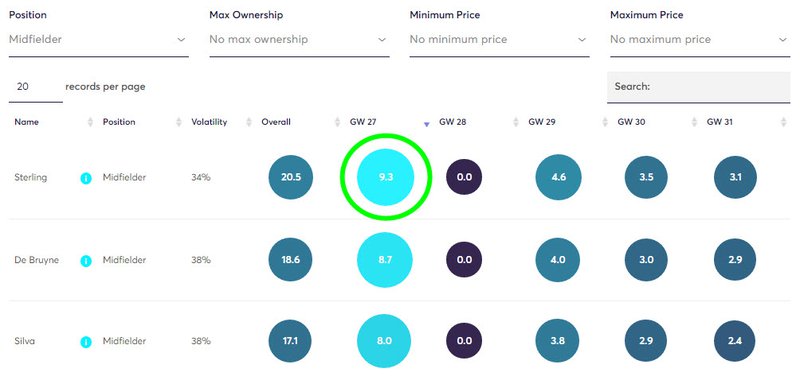 Differential - Pedro Rodríguez Ledesma (whu)
Pedro (7.1) was owned by just 9.3% of live teams by gameweek 25's deadline. The speedy Spaniard is averaging FPL attacking points every 141.5 minutes since moving to the English top-flight last season. Which is impressive in itself. But, this season that average has taken a dramatic up-turn with a return every 97.2 minutes. It will not take the sharpest knife in the box to realise that is a return almost every game played. With his position in the side cemented for the time being, we believe he is more than worth his price-tag going into the final third of the season. He has averaged 6.5 points per game across the last six gameweeks, whilst also only averaging 69.3 minutes each gameweek. Pedro has been involved with more goals than Hazard (10.3) who is priced 3.3 higher than the Spaniard, contributing to 44.4% of goals over the last six gameweeks, versus Hazard's 27.3%. He has also had more shots (nine) and shots on target (four) than Hazard's five and three respectively. West Ham entertain Pedro and teammates in gameweek 27 at the London Stadium. The Hammers have won only five games at home all season (from 13) and have conceded 1.69 goals a game in front of their fans. On the other hand, Chelsea, have managed eight wins (from 13) away from home and scored an average of 1.46 goals. With Pedro laying on attacking returns so frequently, we should see his pace and movement being rewarded at a Stadium that offers more space to opponents.