Headliner - Roberto Firmino (BUR)
*Note: This was written before Firmino was an injury doubt.  Our headline pick may come as a surprise with Mané (9.5) in such scintillating form. But, it is Firmino (8.4) who comes into this fixture with the best averages across the last six home games and it would be wrong of us not to bring this to your attention. Firmino has averaged more points, goals, shots and shots on target than both Mané and Coutinho (8.2) during that period, as you can see in the infographic below. In fact, Firmino has had more shots on target at home this season with 19, than Eriksen (8.6), 17, Alli (8.7), 17, Hazard (10.2), 15, Mané, 14 and De Bruyne (10.5) 13. FPL managers have been gifted this fixture after Burnley failed to beat Lincoln in the Emirates FA Cup fifth round and Liverpool will be out for revenge after losing the reverse leg in the league at Turf Moor. Burnley have not won a game away from home this season from 13 attempts, having conceded 2.15 goals on average. Meanwhile, Liverpool have only lost one at home from 13 and scored an average of 2.62 goals a game in the process. This surely spells disaster for Burnley. With Firmino's home goal involvement up at 33.3%, it also suggests to us that he will rack up an assist or goal as a minimum in this one. 
Romelu Lukaku (WBA)
Lukaku (10.0) was debated in the same breath as Kane (11.3) during gameweek 27 when the two faced one another. It was Kane that came off better last week, but there is no denying the two 23-year-olds are footballers with supreme qualities. However, Lukaku has the pleasure of playing a game in gameweek 28 and we are expecting him to put in a big performance, given his home stats. At home this season he has scored 10 goals in 13 games which in itself should convince you to buy the domineering Belgium forward. But, he has also weighed in with three of his four assists while playing at Goodison. Overall, he is second in the top-goalscorer charts with 18 goals for the season, missing out on top-spot to Kane by one goal. Costa (10.6), Ibrahimovic (11.5), Defoe (7.7) and Agüero (12.8) are all chasing Romelu's tail having  scored 17, 15, 14 and 12 respectively. To be ahead of such clinical, seasoned veterans is enough for us at Fix to make Lukaku a season keeper, but given that none of the aforementioned are playing makes Lukaku a must in your side for gameweek 28, particularly as many will captain him. Naturally, no forward is predicted to score close to Lukaku's 4.9 in gameweek 28 according to our Fix algorithm. Carroll (6.2), 3.9 and Gray (6.1), 3.5, are the next in the Fix algorithm forecast. It is West Brom for Lukaku and the Toffees in gameweek 28, a side who have won just three times on the road from 13 games this season. Pulis' sides are always resilient and it will not be easy for Koeman's players, but Everton are averaging 2.07 goals a game at home this season, which bodes well for Lukaku owners.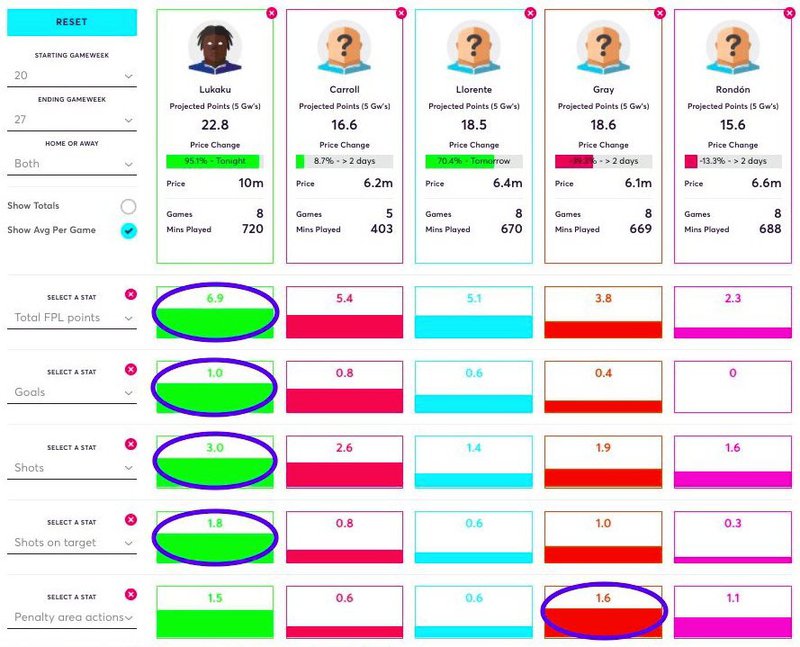 Sadio Mané (BUR)
Mané (9.5) has done everything recently to warrant selection as our headline pick, but just missed out after closer inspection of Firmino's home stats from recent weeks. The often unplayable Senegalese forward has scored three and assisted one since returning from AFCON, five games ago. What is more impressive is the 8.72 points per 90 minutes that he has averaged since arriving back from Africa. Our Fix algorithm predicts that Mané will score 7.1 points in gameweek 28, so he is absolutely essential to your success this week. Currently, he sits third in the goal-scoring charts from midfield for the season on 12, just behind Alli, with 13 and Sánchez (11.5), with 17. As mentioned in our Firmino piece this week, Mané will take on Burnley, who have been woefully bad away from home this season, picking up just two points from 13 games. Mané has scored seven and assisted six against sides in the bottom half and with his goal involvement sitting at 80% for the last six gameweeks it is hardly a surprise that we are backing him to do exceptionally well here.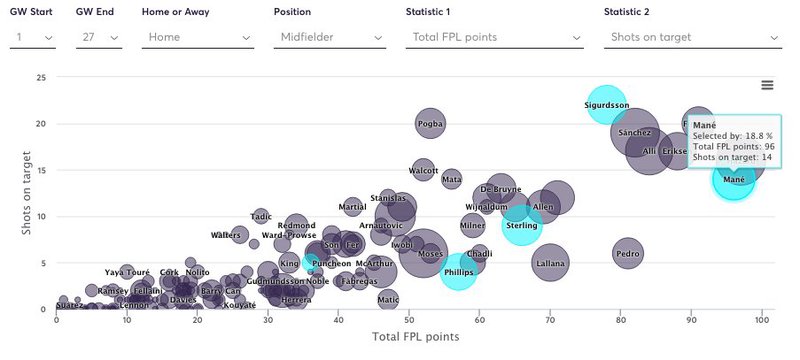 Seamus Coleman (WBA)
Coleman (6.0) has been a little quiet in recent weeks, given his monstrous attacking stats this season. But with clean sheets possibly hard to locate given the competitive fixtures of gameweek 28 (as we all know Liverpool are prone to leaking a goal, even against the worst away league side), we focus our attentions on a defender with tremendous attacking ability. The Irishman has managed to contribute to seven goals over the season so far (four goals and three assists). His contribution is not beaten by any other defender. Our Fix algorithm predicts that Coleman will bag around 4.8 points this gameweek, a total that places him second in the pecking order, behind Baines (5.7). As we can see from the infographic below, Coleman has outperformed Baines over the last 11 gameweeks, so we have gone against the algorithm on this one. Coleman features alongside our other Fix key player – Lukaku - this week. West Brom have managed only 0.92 goals away from home during the season and given Everton's better home defensive record a shut out here for the Toffees and additional attacking points certainly looks plausible.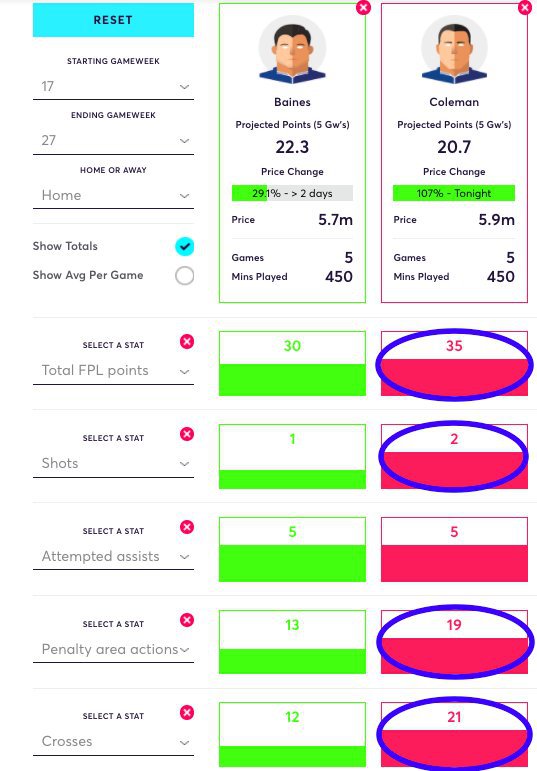 Differential - Joshua King (WHU)
King (5.5), who sat in only 4.0% of live teams in gameweek 27, features in our Fix key player line-up for the first time this season. Our confidence in his selection is boosted by our success with the only other Bournemouth pick to date, Stanislas (4.9). Stanislas managed seven points when we selected him as our differential for gameweek 21 (although, he has not done an awful lot since). Oddly, it was an early penalty that secured those points for Stanislas, who appears to have lost penalty duties to King. Over the last six gameweeks no other midfielder has scored more goals (five) than King. He has also been averaging an attempt on goal every 33.9 minutes, which trumps Eriksen 35.3, Firmino 36, Barkley (7.1) 39.1, Mané 40.7, Sterling (7.9) 41.2 and Alli 43, across that same period. At present, he sits joint fourth for shots on target during the last six gameweeks among midfielders (with six), just behind the ever impressive Sigurdsson (7.7), 9, Sánchez, 7 and the recently wasteful, Coutinho, 7. West Ham travel to the South coast in gameweek 28, and it looks set to be a goal-fest. Across the 26 games that Bournemouth have played at home and West Ham have played away there have been a total of 85 goals. This is an average of 3.27 goals a game. With King on set-piece duties and having been involved in (a Mané topping) 83.3% of Bournemouth's goals over the last six gameweeks we feel he will notch attacking returns for his owners this gameweek.