Headliner - Romelu Lukaku (HUL)
Lukaku (10.2) is now the most owned player across live teams. The powerful young forward sits in 62.8% of sides and like all good trends, there is a solid foundation behind the rise in his popularity. Lukaku has scored seven goals and assisted one in the last six gameweeks with only the suspended Ibrahimovic (11.5) and the mercurial Benteke (7.0) managing more shots with 19 a piece to Lukaku's 18 over that timeframe. Lukaku is predicted to score 6.2 points according to our Fix algorithm and no other striker comes close for gameweek 29. Benteke and Costa (10.6) are next in the charts, with a projection of 4.7 each. Hull are in line to face the in-form Lukaku in gameweek 29. The haplessly woeful Tigers have managed just three more points away from home than the league's worst - Burnley - However, Hull have actually conceded an average of 2.21 a game away from home, scoring an average of just 0.5. Both of these records are the worst in the league. Lukaku's goal involvement is up at 57.1%, so a goal is the least we expect from this week's headliner.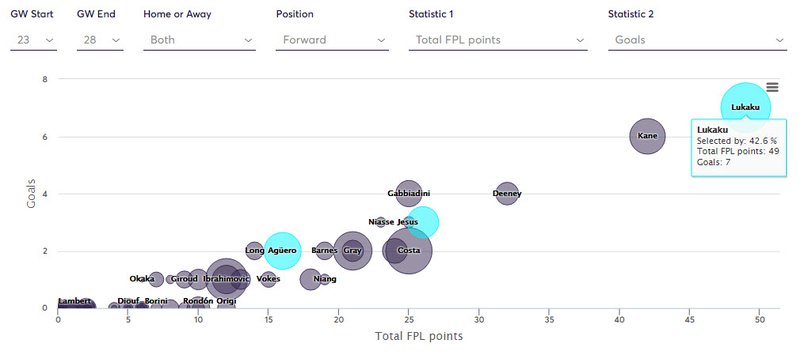 Eden Hazard (stk)
Hazard (10.2) is lucky to be in shape to star as one of our Fix key picks after being targeted by Manchester United's playground tackling in their Emirates FA Cup tie on Monday. The Fix algorithm predicts that Hazard will score 4.9 this gameweek, a higher projection than Costa, making us warm to the Belgium more. He appears to be back to his best under Conte this season and has already declared a willingness to extend his contract to continue to work under the Italian. It is 11 goals and seven assists for the season to date, which is on track with his peak seasons - 2013/14 and 2014/15 - Where he scored 14 goals and assisted 10. He averaged 217.5 points across those two fruitful seasons, so we should expect another 54.5 points from Hazard over the last 10 games. Not too shabby if you have the cash to splash.The mood in the blues dressing room will be heightened off the back of their quarter-final triumph over United this week and they will now want to finish the job in the league as quickly as possible. Unfortunately for Stoke, this could come at their expense in gameweek 29. The Potters have not won a single game in nine league meetings versus "top-six" sides this season, conceding 25 goals, at 2.78 goals per game. The law of averages would suggest Chelsea are due a penalty, with their last one coming at home to Bournemouth in gameweek 18. Hazard to come away with 7+ points here.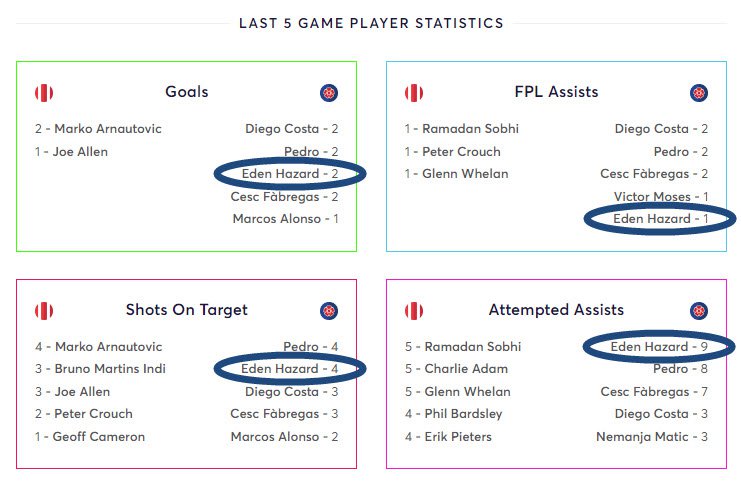 Alexis Sánchez (wba)
Sánchez' (11.5) Arsenal career may be the hotly debated topic recently, but one thing that cannot be disputed is his super-human ability to contribute to goals this season. Across the 26 gameweeks Arsenal have been involved with (since they had no fixture in gameweek 26 and 28), Sánchez has contributed to 27 goals – 17 goals and 10 assists. These numbers cannot be rivalled by any other player across midfielders and strikers. The hard-working Chilean has averaged the highest points return per game, goals and shots-on-target across the season when comparing to three other top-performers in Eriksen (8.6), Mane (9.7) and Sterling (7.8), as you can see from the infographic below. Sánchez has proven in his three Premier League seasons that he truly is the real deal, supplying an assist or a goal every 118 minutes (when taking into consideration his 43 goals and 26 assists from 91 league games). Arsenal travel to the Hawthorns to face West Brom in gameweek 29. While the Baggies form at home is solid, they have failed to win a single game against the "top-six" sides in seven attempts this season. A measly point is what they have to show for their efforts and they have conceded 15 goals, at an average of 2.14 a game. Sánchez has scored five goals and assisted two in his last seven matches, and with him averaging over a goal contribution per game this season, all the numbers point to a strong showing for the South American this gameweek.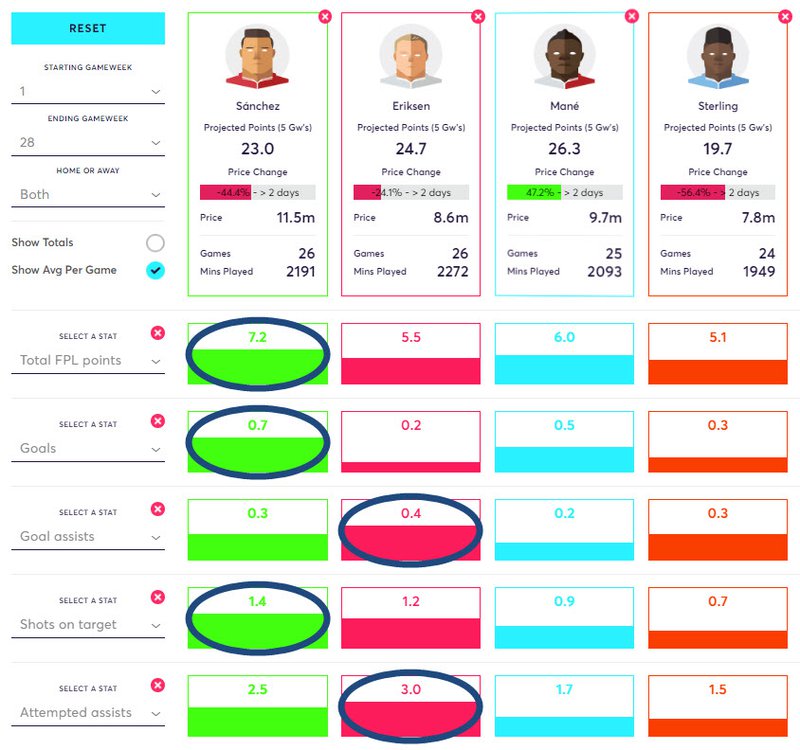 Antonio Valencia (mid)
Valencia (5.7) continues to benefit from his time spent as a winger in his early career. Manchester United have also shut up shop at the back in recent weeks, in true Mourinho fashion, having conceded only five goals in their last 12 league games. During that time Valencia owners have benefited from six clean sheets and a total of 55 points, which is an average of 5 points per game (given Valencia missed one gameweek, while carrying a knock). A return on investment that should be taken very seriously. The Ecuadorian last featured in our Fix top five back in gameweek 24 (when he managed to rack up a clean sheet, assist and BAPs, to walk away with 11 points) and has continued to prove his worth since. If you are still not convinced, then the infographic below will do the job. His dominance versus other highly popular choices in Coleman (6.0), Walker (6.4) and Alonso (6.8) is clear to see, having outscored their averages for total points, clean sheets, goal assists, attempted assists and crosses over the last six gameweeks. It is an away fixture for Mourinho's men in gameweek 29, which begs the question, why not pick a defender who is playing at home? Well, it is no goals for Middlesbrough in their last four league games. But, more impactful is the fact that they have only found the back of the net three times in their last 10 league games. Facing the current meanest defence in the league will not help matters, and with Valencia also picking up three assists during his last six games, attacking points could again be on the agenda.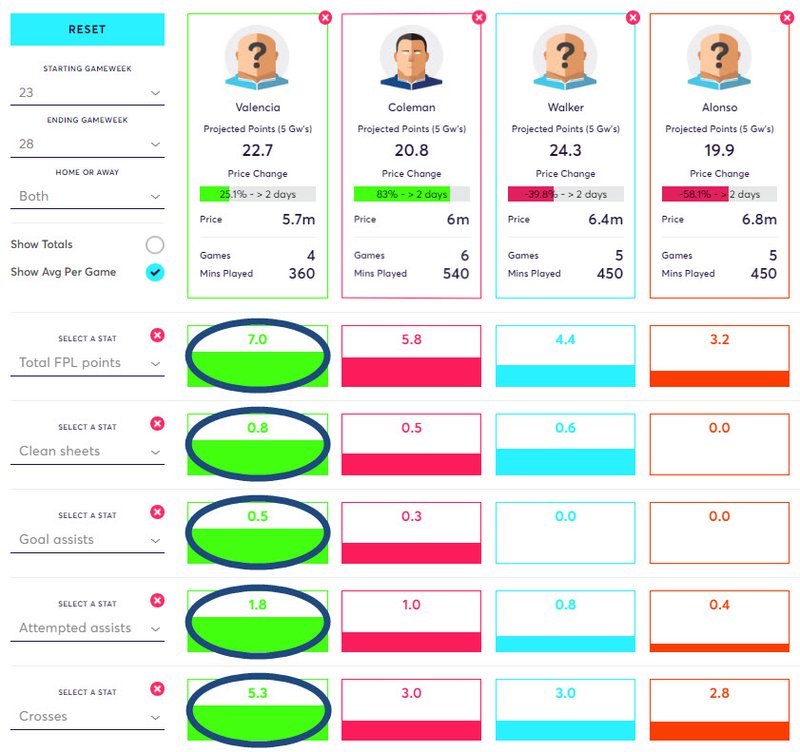 Differential - Ross Barkley (HUL)
Barkley (7.1) is owned by just 6.6% of live times, which comes as bit of a surprise when you consider that he has been one of only a few players to have had three games from gameweeks 26 to 28. Particularly as Barkley has recently shown the promise we have not seen since he burst onto the Premier League scene as a hungry, young Evertonian, akin to a pre-hair op, Wayne Rooney. In the last six gameweeks only the delivery God, Eriksen, has created more goal chances with 18, than Barkley's impressive 17. The Evertonian youngster has assisted three times and scored one goal in that period, collecting 34 points, at an average of 5.67 a game. This week our Fix algorithm suggests he will be one of the top-ten scoring midfielders in gameweek 29, with 4.1 points predicted. Nevertheless, we feel he could be further up that midfield pecking order, and just like Hazard we feel a 7+ point haul is possible here. As discussed in our Lukaku analysis, Hull possess one of the worst Premier League away records this year and no other club has conceded more, or scored less away from home.