Note: Article was written before the conclusion of gameweek 31 - Stats relate to gameweek's 1 - 30.
Headliner - Sergio Agüero (HUL)
Agüero (12.7) featured as part of our gameweek 30 & 31 Top Five Key player picks, and with a solid return of 15 points from two tough away fixtures versus Arsenal and Chelsea, his selection this week is a no-brainer. Agüero has been the most active striker across FPL when it comes to shots on target over the season, averaging a shot on target every 50.8 minutes versus Kane (11.2) with 52.2 minutes, Ibrahimovic (11.4) 56.6 minutes, and Lukaku (10.4) 64 minutes. His name on the team-sheet is still guaranteed for now, with Gabriel Jesus (8.7) only this week back in light training. The Argentinian powerhouse is also collectively streaks ahead when it comes to attempted chances, with them occurring every 19.4 minutes to Ibrahimovic's 21.8, Kane's 28.2 and Lukaku's 33.6. Our Fix algorithm predicts that Kun will be the top-scoring forward in gameweek 32 with a huge 7.6, and we believe he could perform similar Houdini antics that saw him smash five goals past Newcastle two seasons ago. No striker has had more shots across the last six gameweeks than Agüero's six a game (the next best is Ibrahimovic with a 3.83 average). 10+ points is certainly on the cards here.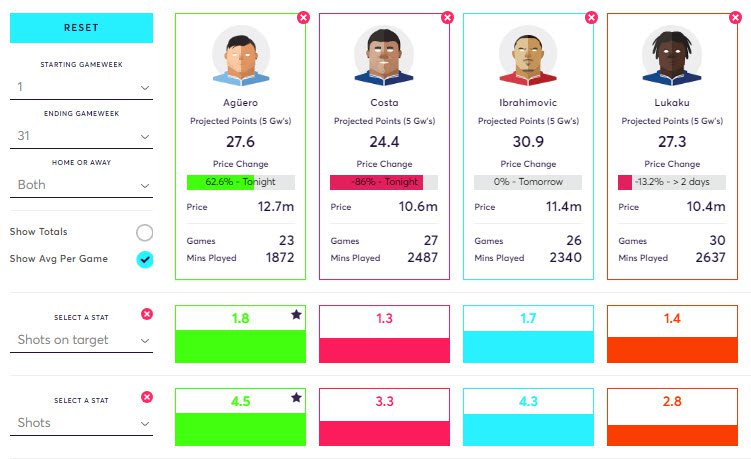 Christian Eriksen (WAT)
No midfielder has had more shots this season than Eriksen's (8.8) 106. Sigurdsson (7.7) and Sánchez (11.7) are second and third with 98 and 95 respectively. Eriksen trails De Bruyne (10.4) in the official FPL assist charts by one (13 versus 14), but there is no disputing who is the most creative force in the Premier League this year. Eriksen has laid on chances to his teammates more than any other midfielder having created opportunities for his teammates 82 times versus second placed De Bruyne's 77. Oddly a man that has not played since gameweek 20, Payet, sits in third with 74. It is also worth noting his recent performances compared to Alli (9.0). Over the last six gameweeks the Dane has attempted more assists, shots, final third passes, and significantly outshone Alli's penalty area actions (35 versus 7), as you can see in our infographic below. The Fix algorithm suggests he is good for a score in the region of 5.5 this week, with Watford visiting White Hart Lane for gameweek 32. Spurs have scored nine goals in their last three league home games. Meanwhile Watford have only won one of their last 10 away games, drawing against Swansea and Bournemouth, and losing versus Liverpool, West Brom, Man. City, Sunderland, Stoke, Man. United and Crystal Palace. We expect a masterclass Spurs performance with 3+ goals for the hosts. If that is the case Eriksen looks nailed on to score points, with his goal contribution at 29.8%.
Zlatan Ibrahimovic (sun)
There are not many players in the Premier League that would get away with being greedy. But, Zlatan Ibrahimovic (11.4) is definitely one of them. The imperial Swede has managed more shots than any other player in his debut season with 112 attempts on goal. And we are sure no one would begrudge his greed given that he has been directly involved with 96 goals across his last 81 league games, including 20 in 26 this season. Our Fix algorithm has predicted a score of 5.0 for Zlatan in gameweek 32, but most importantly he sits fourth in our Fix striker charts. Behind Agüero in second and third spot is Lukaku with 5.7 and Costa with 5.3. Games against the in-form Leicester and Bournemouth away for Everton and Chelsea respectively do not appeal to us as much as an away tie to a beleaguered Sunderland side. Particularly when Ibrahimovic has had a chance to rest in the last few weeks. Sunderland have not scored a single league goal in their last six games and things are beginning to look very bleak for the Wearsiders. 11 goals have been conceded during these six games and given Ibrahimovic's goal contribution of 51.3%, we are expecting at least one attacking return and a minimum of 6 points from the 35-year-old.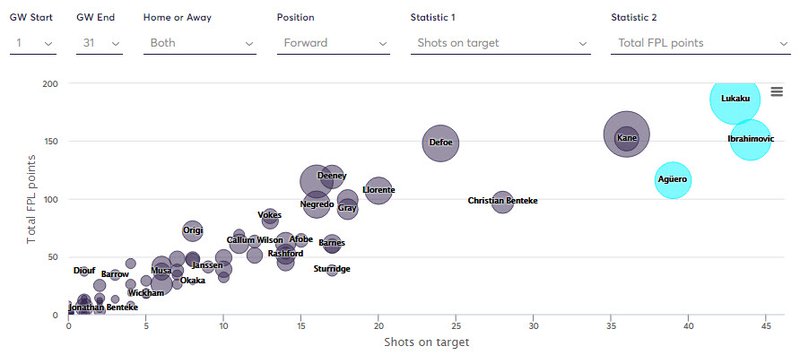 Ben Davies (WAT)
Davies (4.8) has managed more crosses, penalty area actions and attempted assists than similarly priced Pieters (4.7), Simpson (4.8) and Cédric (4.8) in the last six gameweeks, as displayed in the infographic below. Over the course of the 14 games in which Davies has been involved he has only lost once away at Liverpool (recording a mightily impressive 11 wins and two draws in this time). Spurs certainly look strong with Danny Rose's (5.9) deputy having only conceded 9 goals across those 14 games. The young Welshman has been playing as advanced as left-midfield in recent weeks and looks like the perfect budget Alonso (6.8), having created seven goal-scoring chances for teammates over the last six gameweeks, bettering Cédric's 6, Walker's (6.5) 5 and Alonso's 2. Danny Rose appears to still be several weeks away from the first team squad, so Davies is without doubt the best budget defender in the game at present given Spurs solid defensive record. As discussed above in the piece on Eriksen, Watford come into this fixture having endured a terrible time on the road. Their goal difference is minus 13 away from home and they have only scored 12 in 14 away games, which bodes well for a Davies 6+ point haul.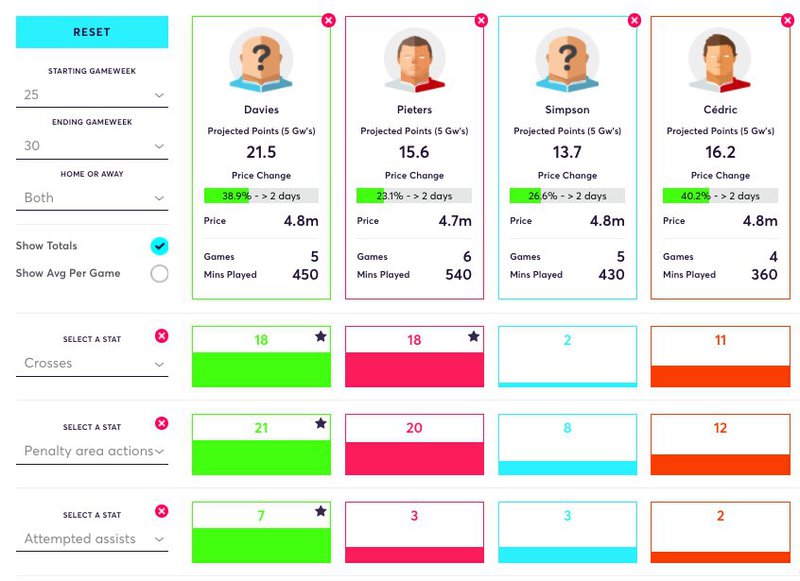 Differential - Leroy Sané (HUL)
This week's differential pick is the baby-faced Sané (7.6). In the last six gameweeks only Alli and King (5.8) have managed more goals than Sanés two, a record the German shares with several players. It would seem that he has proven his worth to Pep in the last couple of months, having started the last eight gameweeks. His influence is evident to see on the pitch where youth and energy is massively on his side, driving towards opposition defences at every opportunity. Since Pep entrusted Sané with a starting berth he has gone on to score three goals and two assists. With Agüero demonstrating he is back to his lively best off the back of strong performances in gameweeks 30 and 31, coupled with the support of other incredibly creative talents in De Bruyne, Silva (8.6) and Sterling (7.6) goals should not be hard to come by for Man. City. So, with the Fix algorithm predicting a score of 4.9 (the best of all Man. City midfielders), we would like to think Sané can capitalise with attacking returns against Hull, who have conceded 2.33 goals a game away from home. It doesn not seem that any of Pep's attacking players are safe from his rotation tourettes, no more so than the young Sané, so we believe a 5+ point haul is more than achievable.