Headliner - Romelu Lukaku (BUR)
Lukaku (10.4) has played at home five times over the last ten gameweeks and has averaged a ginormous 13.6 points per game, helped by his impressive game averages which consist of 2.8 shots on target, 2.0 goals and 0.4 assists. Numbers that Ibrahimovic (11.4), Aguero (12.8) and Kane (11.3) cannot compete with. Our Fix algorithm projects that Lukaku will score 6.0 points in gameweek 33. Burnley have the unenviable task of travelling to Goodison Park to face Lukaku this gameweek. Everton have lost only once this season at home from 16 games and sit third in the league on home form, having scored an average of 2.38 goals a game. Meanwhile Burnley have the worst away form, winning none and conceding an average of 1.88 goals a game. With the burley Belgium's goal involvement at 54.1% at home, we believe he can better the algorithm's projection this gameweek and then some. Our captain armbands will be situated on his left-arm this week.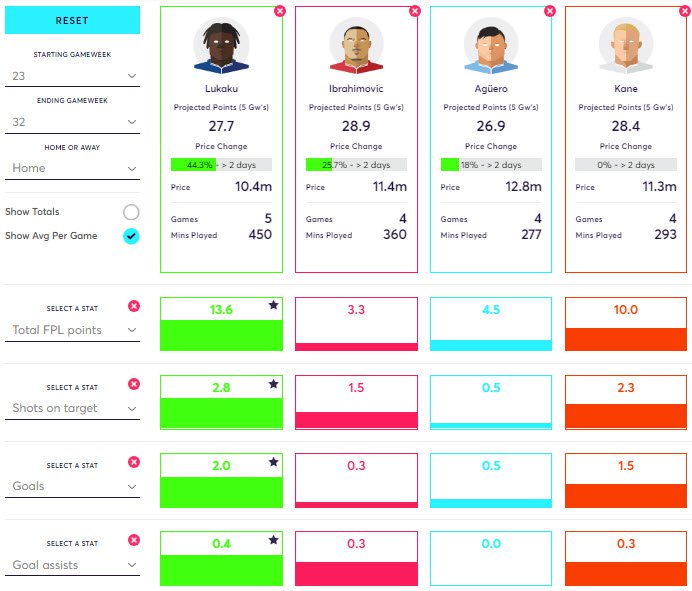 Philippe Coutinho (wba)
Coutinho (8.4) seems to have finally rediscovered his fine pre-injury form that saw him feature in many of the top 1000 manager's sides. Across the last six gameweeks he has averaged a very solid 5.5 points per game. During that time he has also outshone high-scoring midfielders, Sterling (7.6) and Pedro (7.0). The ever-reliable Sigurdsson's (7.6) form has also dipped of late and Coutinho appears to be a better option, if you are looking to ship him out. Liverpool may not have the luxury of double gameweeks, but their run-in is still worth investing in, with no games versus the "top six" sides during a very favourable set of fixtures that read; wba, CRY, wat, SOU, whu and MID. Coutinho will travel away in gameweek 33 to play a West Brom side that appear to have switched off in recent weeks having only secured four points from a possibly 18. During that period they have only scored three times and conceded 9. Liverpool on the other hand have it all to play for, with a Champions League spot still up for grabs. Fix algorithm predicts a modest score of 4.4 points for the Brazilian, but we can see a score closer to double figures this gameweek.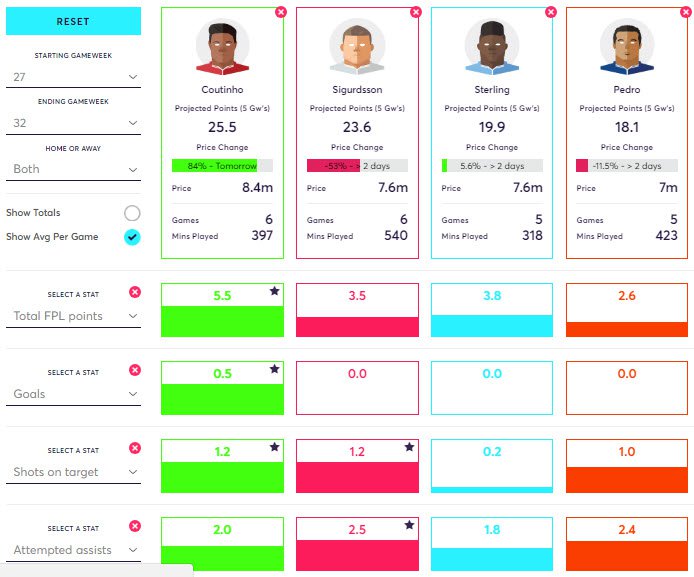 Phil Jagielka (BUR)
Talk about proving a point since being called upon by Koeman, amid a defensive crisis. Jagielka (4.7) has racked up an unrivalled 37 points from the last five gameweeks, at an average of 7.4 points a game. To paint a better picture of just how marvellous the Manchester lad has done; in-form attacking players like Eriksen (8.8) and Aguero (12.8) cannot match that return with their 33 and 32 respectively. With the league's worst away team visiting Goodison in gameweek 33, do you really need any more convincing? Well, other than his astonishing recent form, there is not much to go on prior to that having only played a total of 181 minutes across the previous 14 gameweeks. However, it is certainly worth noting that of the eight seasons, which were not marred by injuries, he has averaged a return of 121 points a season, which highlights his unbelievable pedigree. It is this type of influence Everton require with key defensive players side-lined. As talked about in our piece on Lukaku, Burnley travel to Everton in gameweek 33. The Clarets have only scored nine goals from 16 away ties this season, so we believe Jagielka is good for another points return close to his recent imposing average.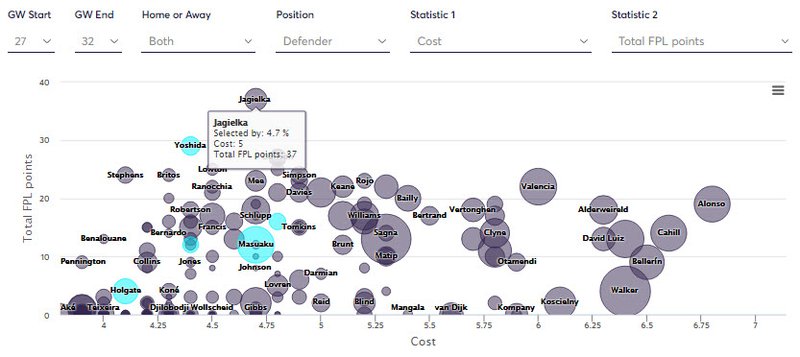 Wilfried Zaha (LEI)
Wilfried Zaha (5.9) is the pick of the mid-priced midfielders for us this gameweek. With a double gameweek on the horizon next week it makes the decision even easier for us. His recent form has been excellent, averaging 7.0 points per game across the last six gameweeks. This season is fast becoming his breakout season with the Ivory Coast national netting six goals and 11 assists to date. His failed stint at Man. United looks well and truly behind him and we fully expect him to close out the season on at least 160 points (with him currently sitting on 131). A fantastic return for a player that was priced at just 5.5 when the season began. His fixtures may be a touch questionable, but it is worth remembering that he has scored one goal and contributed five assists when up against "top six" opposition this year. Our Fix algorithm is not as confident as us analysts, suggesting a score of 3.7, but while gameweek 33's opponents Leicester have turned things around of late they have still only registered one win from a possible 15 on the road, conceding an average of 2.2 goals a game. Zaha's goal involvement is up at 57.1% over the last four gameweeks, so if Palace want to get something out of this game most of their attacks will go through him. Another 6+ point haul appears to be on the cards here.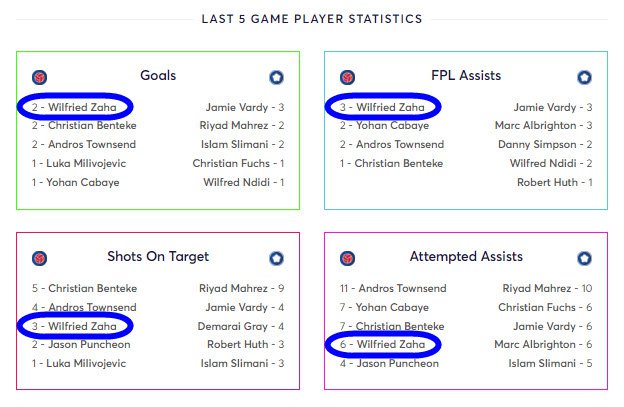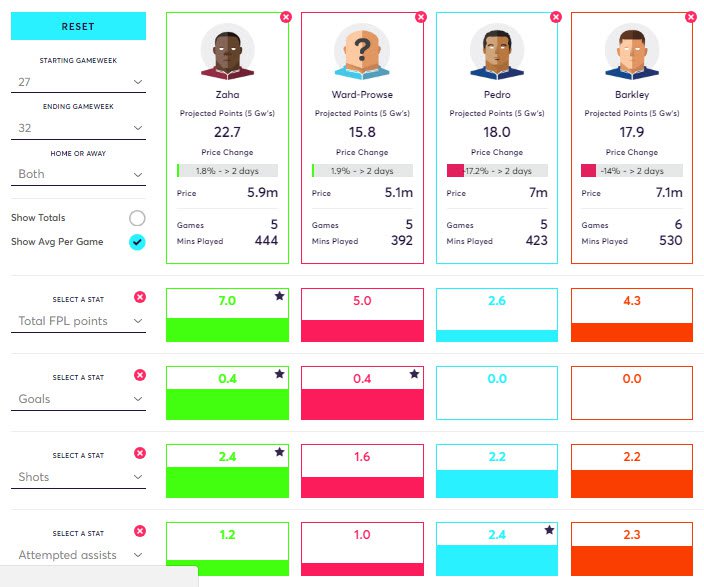 Differential - Harry Kane (BOU)
Kane (11.3) was owned by just 4.4% of live teams at the gameweek 32 deadline, so just like Kevin Pietersen padding up for England, when born and raised in South Africa, we have exploited a tasty little loop-hole. However, because we still felt guilty we did check "net transfers in" at the time of writing this article. That read 76,363 in, and given that equates to 3.5% of live teams, it is safe to say we still qualify. Phew. On with the numbers. When looking at every strikers last four matches played, Kane is the stand-out with five goals (starting just three of those games). In his last four matches he has also had more shots on target than any other forward. His home record is exemplary this season. Both Kane and Lukaku are the stand-out performers in this department, scoring an average of 8.1 and 8.3 points per game in front of their own fans. It is Bournemouth at home next and managers with Spurs attacking assets will be rubbing their hands together. Bournemouth have conceded an average of 2.33 goals per away game across the last six and have only won two from 16. The league is still "just" about alive, and Kane will still have one eye on the golden boot, trailing Lukaku by four goals. Surely a minimum of 7+ points for Harry in this one.