Headliner - Christian Benteke (liv, tot)

The words "frustratingly bad" have rarely looked out of place when describing Benteke over the course of the last two seasons, but the Belgium is finally beginning to turn things around for club and country with a fine spell of recent form. Timely, with this week's double-gameweek. Many FPL manager's attentions of late have been directed towards Zaha (6.0) and Middlesbrough defenders. However, only Agüero (12.8) can better Benteke's goals scored in the last four gameweeks with four. But, the Belgium matches Agüero's goal involvement when including his solitary assist, meaning that the two of them are standouts with four contributions each. Benteke has had seven shots on target in the last four gameweeks, which equally cannot be beaten by any other Forward in the game. His aerial ability is second to none, so it comes as no surprise to see him at the top of the "chances from set-plays" chart, with six over the last six gameweeks. Next best is Lukaku and Carroll (6.2) with five each. Benteke and Palace face two tough opponents in double-gameweek 34, but with recent form on his side and with a penchant to raise his game and notch against the big sides, we remain un-phased. Do not forget, he was once labelled fixture proof in a terrible Aston Villa side. Owners and new suitors should profit from 10+ points.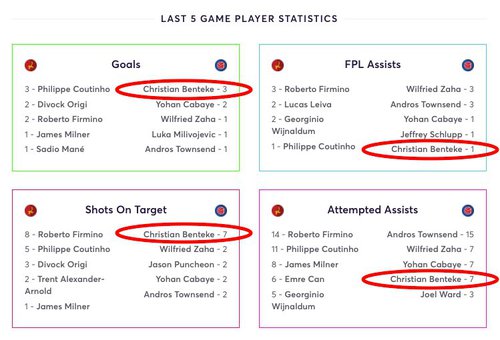 Alvaro Negredo (bou, SUN)
Negredo (6.2) wades his way into our top five for gameweek 34 off the back of an unfortunate landing, suffered by our original headline pick, Zlatan, in Man. United's Europa League quarter final tie with Anderlect. The Spaniard divides opinion across the FPL community for this double-gameweek, and we would be the first to admit that we did not give him thorough inspection when deciding upon our original five. It is safe to say we have been pleasantly surprised with his numbers over the last six gameweeks, which is why he wins out over other late substitutes. Only Lukaku and Agüero have had more shots and shots on target than Negredo in the last six gameweeks. Benteke has delivered exactly the same numbers; 19 shots and seven shots on target. But, it was Alvaro's minutes per chance on goal that really won us over. Negredo has been chancing his luck every 20.6 minutes, a stat only Agüero can top. It's also worth noting that Negredo has only started four times during that period which makes his involvement more impactful. Middlesbrough's hopes look to be all but over, but this gameweek is their last chance saloon, with six points the minimum target. Bournemouth away first is the tougher of the two fixtures, but they have conceded nine in their last four games, and won only two of their last 14 games. Sunderland at home could be more profitable for new owners, given that the Mackams have conceded an average of two goals a game across their last eight, winning none. We are predicting a score in the region of 10 for Alvaro.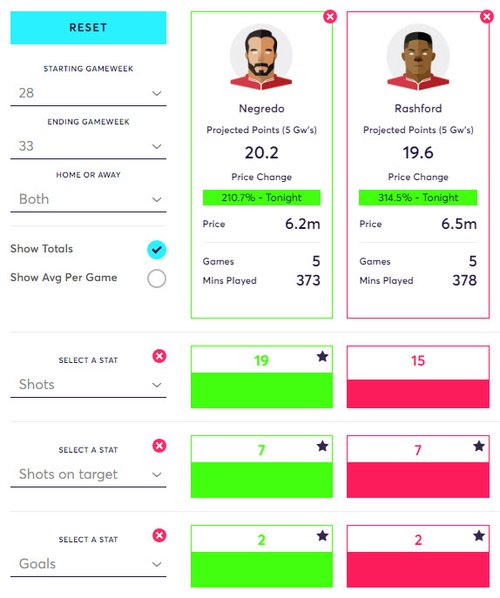 Roberto Firmino (CRY)
In the last eight games Firmino (8.6) has played, he has scored three goals and assisted a further five goals, contributing an attacking return in all but one of his last eight games. Projected to score 6.1 points by our Fix algorithm for gameweek 34 puts him just behind two midfield double-gameweek players in Zaha, 6.7 and Pogba (8.2), 6.3. Since joining Liverpool last season, Firmino has weighed in with an attacking return every 120.24 minutes. The label "Failmino" could not be any further from the truth. The Brazilian may not be blessed with double-gameweeks on the horizon but his remaining games include; CRY, wat, SOU, whu and MID. Such fixtures all have the potential for double-point returns and we fully expect Firmino to make a mockery of many who possess double-gameweeks. If you are concerned by potential double-gameweek rotation, Firmino also answers those concerns. It's Crystal Palace who travel to Anfield in gameweek 34 and this should mean goals. If we combine Liverpool's home goal record (for and against) with Crystal Palace's away goal record we are presented with a mighty average of 3.47 goals a game. Roberto has contributed to 44.4% of Liverpool's goals over the last six gameweeks, so we expect a 6+ point return, as a minimum, in this one.

Eric Bailly (bur, mci)
Bailly (5.4) appears to be your answer for double-gameweek defensive coverage this week, having picked up 6 BAPS across the last seven gameweeks played. During that time the defensively solid centre-back has also picked up five clean sheets from seven, averaging 5.71 points per game. Looking over the course of the season, he has averaged 4.30 points per 90 minutes, which is hardly setting the world alight but solid nonetheless. Fix algorithm predicts that the former Villareal man will score 7.9 points in gameweek 33, the most of any defender. As discussed in our piece on Zlatan, it is Burnley and Man. City away for Bailly. Burnley are struggling to find the back of the net having scored only three goals in their last six games, while City have only scored two goals in their last four Manchester derbies. Both statistics bode well for Bailly owners, particularly as Mourinho prides himself on clean sheets. 8+ points is our expectation here, and with our defensive selection average at 7.11 points from the last 18 gameweeks (as referenced in a tweet, here, earlier in the week) our confidence is high.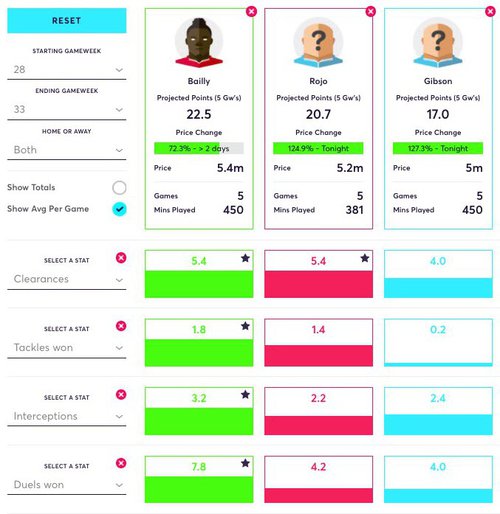 Differential - Mesut Özil (LEI)
Özil (9.4) has sat up to attention over the last four gameweeks with 31 points, at an average of 7.75 points per game. Our Fix algorithm predicts that the German will score 4.9 points in gameweek 34, which is understandably low given his form across the season. But, Wenger, Arsenal and Özil himself are all under the spotlight at present, with the general theme being performance and contracts. Özil will still be hungry to perform in order to demand more money from his current employers, or attract a new summer suitor, so we are forecasting another score close to double-figures this gameweek. Özil has out-performed Sánchez in recent weeks, so if you are struggling for budget, this could be your answer for Arsenal double-gameweek coverage. The Leicester fairy-tale finally came to an end off the back of their Champions League defeat to Atletico Madrid midweek, so we predict a concentration wobble when they visit Arsenal this weekend. Having conceded eight goals in their last three away games to Crystal Palace, Everton and West Ham we have to assume that Arsenal can put more than two goals past the Foxes. With Özil's goal involvement at 57.1% over the last six gameweeks we believe a score of 6+ points is highly achievable. With two double-gameweeks (36 and 37) in a row, just around the corner, this transfer selection also has longevity.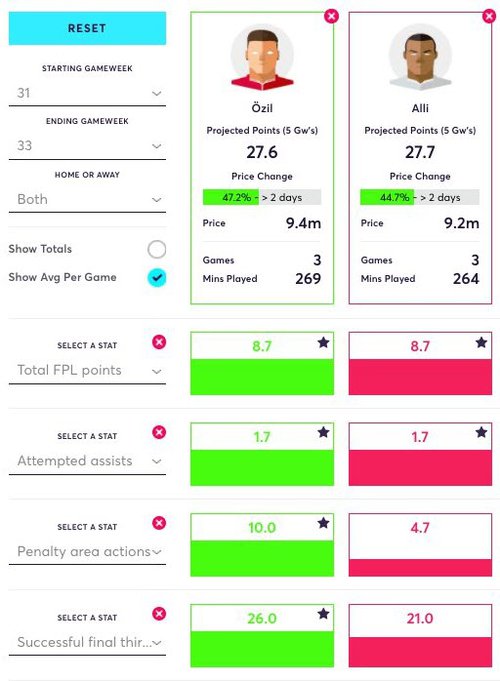 Former Headliner - Zlatan Ibrahimovic (bur, mci)
While there may be doubts surrounding Ibrahimovic's (11.4) game-time for double-gameweek 34, the Fix team are firmly behind him. To suggest he will be afforded a rest subsequent to the Chelsea game, when he has only featured for 188 of United's last 450 minutes in the league, seems all wrong. It screams Mourinho mind-games to us. Of course José is taking the Europa League seriously, but securing Champions League football with a top-four finish will also be high priority, so we expect significant minutes for Zlatan. If we are dumb-founded and Zlatan faces some time on the bench during gameweek 34, it cannot be denied he is more than capable of points' hauls from one gameweek alone. All is not lost. The eccentric United forward has averaged 6.8 points a game across his last 15 gameweeks. Solid returns, which too puts at ease. No other forward has attempted chances on goal as frequently, with a chance every 22.4 minutes, bettering Kane's (11.5), 27.1, Costa's (10.3) 29.9 and Lukaku's (10.5) 31.6. Our Fix algorithm predicts that Zlatan will be the best scoring player in the game this gameweek, with 9.0 points. Burnley away is the first of the two games and we do not expect Mourinho to take this one lightly seeing as Burnley have only lost four of their 16 home ties. Ibrahimovic should start here in order to combat the physicality of Burnley's, Keane. Away at Man. City is next on the agenda - the noisy neighbours - and the sky blues are one of United's main threats for a top-four place. This is where rotation could come into play, with the speed of Rashford potentially preferred. However, Zlatan may not require many minutes to find attacking returns against a defence that is still not settled, Kompany or not. 12+ points for Zlatan this week.