Headliner - Philippe Coutinho (wat)
Coutinho's (8.5) form across the last six gameweeks have propelled him to the front of our minds, and with the other five "top six" teams coming into gameweek 35 off the back of very packed schedules, we thought it was only right to make Philippe our headline pick having had 11 days of rest and no risk of rotation. Over the last six gameweeks the lively South-American has attempted 22 shots at goal, more than Son (7.3) 21, Sigurdsson (7.5) 20, Firmino (8.7) 15 and Alli (9.2) 14. And it is only Son that has more goals in the last six gameweeks from midfield, with five. Coutinho sits in second alone with an impressive four goals. Coutinho has also contributed more successful crosses, with eight, than Özil (9.4) seven, Tadic (6.9) seven and Eriksen (8.8) five. This week our Fix algorithm predicts a score of 4.7 for the Brazilian, but a score closer to 7+ is not out of the question given this week's opponents. Watford have conceded 13 goals over their last five fixtures versus "top six" sides, at just under three a game we are expecting the league's top-scorers, who have scored an average of 2.05 goals a game over the season to romp home the win in this one.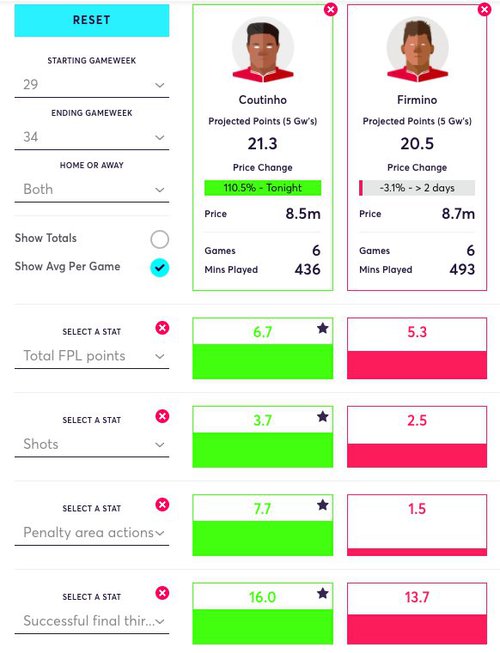 Joshua King (sun)
In gameweek 28 we named King (6.1) as our differential pick when he was owned by just 4% of live teams. That week he notched a colossal 18 points, but he has not featured in our top five since. Now owned by 34.6% of live teams, he has certainly earned his Premier League stripes with consistently good displays. Away from home this season King has scored eight goals from 13 starts. Only Sánchez (11.5) has scored more with 13. King is ranked fourth in the midfielder scoring charts for the season with 14 goals, which is better than several heavy-weights such as Firmino 11, our headline pick, Coutinho 10, Eriksen 7, and Sigurdsson 8. King's success in and around goal is largely due to his immensely impressive shot accuracy, where 46.4% of his shots have been on target. Hazard (10.4) 46.3%, Alli 43.6%, Firmino 43%, Sánchez 39.4%, Coutinho 30.4% have all been less prolific. Fix algorithm predicts that King will score approximately 4.2 points in gameweek 35, but we believe he could continue his rich vein of form with another 6+ points. For gameweek 35 King and his Cherry teammates travel to the Stadium of Light, where Sunderland have conceded 1.82 goals a game and have drawn two and lost three of their last five at home.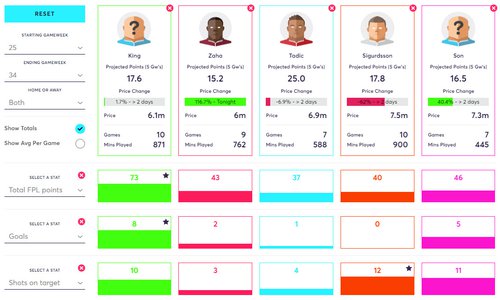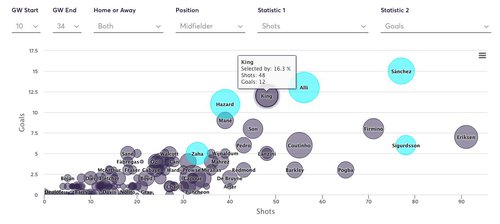 Harry Kane (ARS)
 Kane (10.5) beats his fellow forwards when we analyse his season stats both home and away, but seeing as his gameweek 35 fixture is a home tie, we firstly took a look at his numbers at White Hart Lane. Kane wipes the floor with Costa (10.3), Lukaku (10.5), Ibrahimovic (11.4) and Agüero (12.8) for average points per game, goals and shots on target, as you can see in our infographic below. He has scored a mightily impressive 20 goals in just 24 Premier League games this season. Leading the golden boot race is of course, Lukaku, but he has played nine more games than Kane and Harry only trails him by four, on his current goals to game ratio Kane would be on 27 goals from 33 games, bettering Lukaku's performance and further hammering home his influence. He also possesses an astonishing record versus Arsenal over the last couple of seasons, with five goals in his last four league match-ups versus the Gunners. This includes a goal on his first game back from his Malleolar injury earlier in the season, which side-lined him for five league matches. Kane is projected to be the top-scoring player across FPL for gameweek 35 according to our algorithm, with 6.0 points. Arsenal will be feeling buoyed after their win against Man. City but have still conceded nine goals in their last five games. Spurs on the other hand have scored an average of three goals a game over the last five.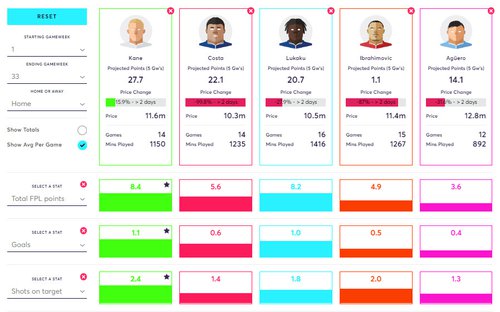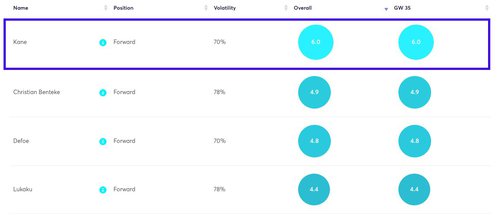 Ryan Bertrand (HUL)
Bertrand (5.5) has averaged 5.2 points from his last 10 games, which is a long enough span to label him "consistent" and strong enough returns to displace Cédric (4.8) and Yoshida (4.4) from our thoughts, who have averaged 2.8 and 3.8 respectively from their last 10. It is now two goals and five assists this season for Bertrand after notching from a darting run and header inside the penalty-area versus Chelsea in gameweek 34. A move and position on the pitch we would typically associate with a forward, not a left-back. Yet, this is typical of the England international, who continues to demonstrate his "never say die" attitude since joining the Saints. In the next three gameweeks, Southampton will have five games for the price of three and while Puel is known for rotation, Bertrand, should be one of the more secure members of the team, perhaps missing out only the one tie to McQueen (4.2) or Targett (4.1). The fixtures read; HUL, liv, ARS, mid, MUN. Focussing our attentions solely on gameweek 34 for now, Hull travel the long way south and carry with them an away record that is miserable. One win, two draws and 14 losses from 17 games, conceding an average of 2.41 goals a game and (importantly from Bertrand's owner's perspectives) have scored less than one a game with an ugly average of 0.53.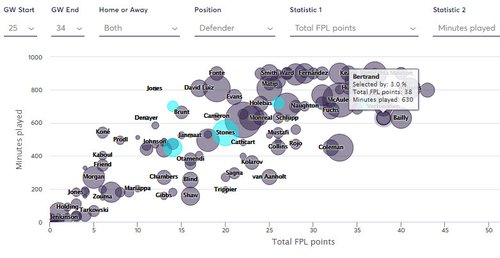 Differential - Manolo Gabbiadini (HUL)
It is four goals from six starts in the Premier League now for the 5.1% owned, Gabbiadini (6.4), and with his last two fixtures against Man. City and Chelsea, you can forgive him for not quite finding his goal-scoring stride which saw him net four in four league games and two EFL League Cup final goals before a groin injury struck. Gabbiadini has been involved in over 60% of Southampton's goals when on the pitch and with Southampton predicted to have the most favourable attack difficulty for gameweek 35, it seems a no-brainer to transfer him into our sides, potentially freeing up much needed DGW funds. The fact Southampton have five games across the next three gameweeks also makes it much sweeter, with Austin (6.3) only just stepping up his fitness and Rodriguez (5.9) and Long (6.1) not looking up-to-speed this year, we fully expect to see some good attacking numbers over the next few gameweeks if you own or opt to bring in the Italian. Fix algorithm predicts a score of 4.5 points for gameweek 35 and we are confident he can surpass this with a score in the region of 7+. As pointed out in the analysis on Bertrand, Hull have conceded 2.41 goals a game away from home this season, so hopes are high for Gabbiadini attacking returns this gameweek.