Headliner - Eden Hazard (MID, wba, WAT)
This time last year, Hazard (10.5), was receiving endless amounts of stick across sporting media for looking increasingly disinterested. Accusations were full-flow that the Belgium was even feigning injury, such was the despondency around Stamford Bridge. By golly, how a year can drastically change impressions. The hugely talented midfielder is now sitting on 15 goals and nine assists for the season, topping his previous best goal-tally of 14 in a Premier League season with four games to play. Eden is in scintillating form right now, having averaged 7.2 points per game across the last ten games he has played. Fix algorithm is predicting an average score of 9.75 per gameweek across the next two. If you are looking elsewhere for your captain in gameweek 36, be sure to seriously consider the midfielder as your captain for gameweek 37, where he should fill his boots. No other player in the game is predicted to score more than Hazard in gameweek 37 according to our algorithm. First up in gameweek 36 is Middlesbrough who have conceded eight goals over their last two away ties. Then in double gameweek 37, Hazard will face West Brom who have not scored in five games, picking up just one point. Watford are next on the menu in gameweek 37, a team who have conceded nine goals across their last four away games, scoring none and losing each game. A must own for us.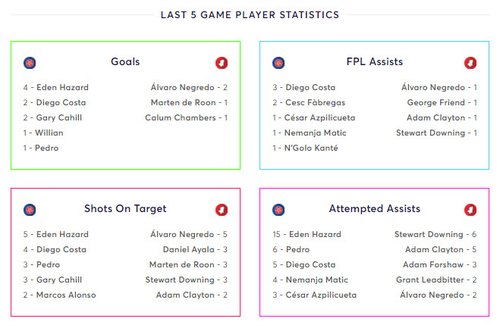 Alexis Sánchez (MUN, sot, stk, SUN)
By Sánchez' (11.5) standards, the Chilean would be the first to admit that he has been exceptionally below-par in recent weeks, only picking up one goal in his last six games. However, we need to be less short-sighted with two double gameweeks in a row and it is worth reminding ourselves that the South American has managed 18 goals and 10 assists in his previous 29 league games. To go one further, his Premier League record is incredibly impressive, with an attacking return to his name every 115 minutes - 71 goal contributions (goals and assists) across 98 games. The standout games for Alexis during gameweeks' 36 and 37 have to be Southampton and Stoke away followed by the already relegated, Sunderland, at home. Southampton and Stoke have conceded 13 and 9 in their last five fixtures versus "top six" opposition, respectively. Records that suggest two goals in each tie is very probable, even for a stuttering Arsenal. The final tie for Arsenal in gameweek 37 is Championship bound, Sunderland. The Mackams have picked up just two points from their last 10 games, conceding 18 goals, so we fully expect Sánchez to be in and around his Fix algorithm predicted score of 19.7 over the next two gameweeks.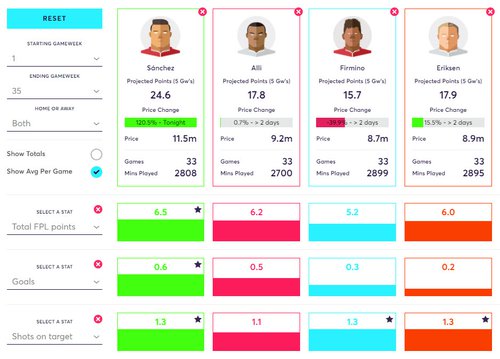 Diego Costa (MID, wba, WAT)
Diego Costa (10.3) has not been at the races recently, only scoring two goals and assisting three across seven gameweeks. Nevertheless, 20 of his 26 goal contributions this season have come against opponents that sit eighth or below in the current Premier League table and two of his next opponents are currently placed 19th (Middlesbrough) and 13th (Watford). Costa has already scored versus each of his next three opponents in the reverse fixtures this season. In addition to this, he also scored and assisted one versus West Brom away (the corresponding fixture) last season as well as scoring two goals against Watford at home last year. Records which would suggest that Costa will be on song in gameweeks 36 and 37. Fix algorithm predicts that Costa will score the most of all forwards over the next two gameweeks with 16.8 (or 8.4 points per gameweek). Middlesbrough, West Brom and Watford have amassed a measly four points from a possible 36 points combined, when we look at each club's last four played, so we do not doubt the algorithm and are backing the adopted Spaniard to hit close to 20 points in the next two gameweeks.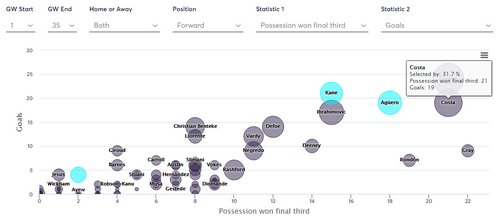 Gabriel Jesus (CRY, LEI, WBA)
Although there is not much to go on given Jesus' (8.7) limited Premier League game-time to date, one thing is for certain, the young Brazilian appears to possess all the attributes required to be a huge success in the English game. Speed, strength, positional awareness, good feet, clinical finishing and an abundance of energy. One thing that stands out from his limited pitch-time is the frequency in which Jesus is firing shots at goal. He is averaging a chance on goal every 25.2 minutes, which betters Kane's (11.5) 25.6 minutes, Costa's (10.3) 29.4 minutes and Lukaku's (10.3) 31.6 minutes. It is four goals and one assist in just 297 minutes of football for the impressive youngster, which translates to an attacking return every 59.4 minutes. Astonishing impact, and we are sure you will agree. Jesus and Man. City have the most attractive looking fixture schedule over the next two gameweeks, facing three teams at home that sit eighth or below. Crystal Palace have conceded six goals in their last four games. Leicester have conceded seven goals in their last four and West Brom have conceded five. We fully expect Man. City to score six or more goals over the next two gameweeks, which should reap rewards for Jesus owners, with doubts over Agüero's fitness.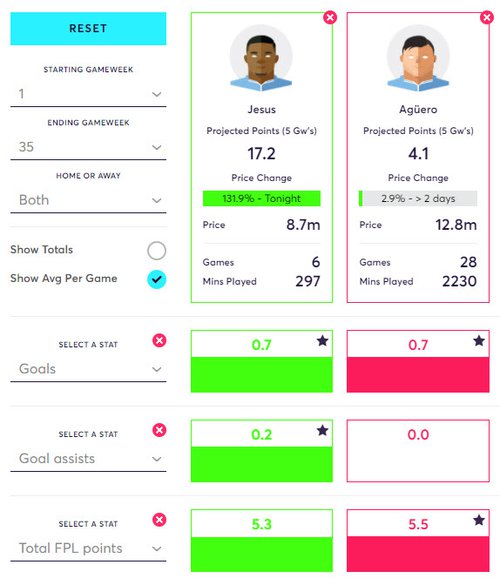 Differential - Nacho Monreal (MUN, sot, stk, SUN)
Monreal (5.8) was owned by just 2.1% of live times in gameweek 35, and we do not anticipate too many new owners – So, a true differential for the next two gameweeks. He tops the charts for average points, tackles won and blocked shots when compared to his Arsenal counterparts. He is also the most assured of starts during a busy schedule, when looking for Arsenal coverage priced under 6.0. Monreal has shown a propensity to get forward during Arsenal's last few games and it is a goal, an assist and a clean sheet across his last three matches in all competitions, which bodes well for his inclusion in our squads for gameweeks' 36 and 37 where he is likely to play a minimum of three times. As reported in our piece on Sánchez, three of the four fixtures appear to be incredibly appealing for the Spanish defender, with Southampton, Stoke and Sunderland all struggling to find the net. The three clubs have just nine goals between them across their last four games (12 games in total). While Man. United on paper appear to be a tougher proposition, under Mourinho they pride themselves on their defence which often compromises their attack. Only five goals scored in their last four games, is evidence of this. All could be tight affairs then, and a couple of clean sheets as well as attacking returns could contribute to Monreal's numbers over these two gameweeks.