Headliner - Philippe Coutinho
Coutinho (8.5) looks back to his scintillating best, after taking a while to find his feet after a Malleolar injury side-lined him for seven games mid-season. It is now six goals and two assists in his last eight games, having only managed a solitary goal in his previous nine encounters. Philippe has attempted more shots at goal, with 23, versus Eriksen (8.9), 20, King (6.2), 17, Sigurdsson (7.4), 16, De Bruyne (10.5), 15 and Hazard (10.6), 13 in the last six gameweeks. Fix algorithm predicts that the little Brazilian will land 6.3 points in the final gameweek of the season, and against a dejected Middlesbrough side who have conceded 11 goals in their last five games, this bodes well for a player who has been involved in 62.5% of his team's goals in the last six gameweeks. A double point haul is surely on the agenda here.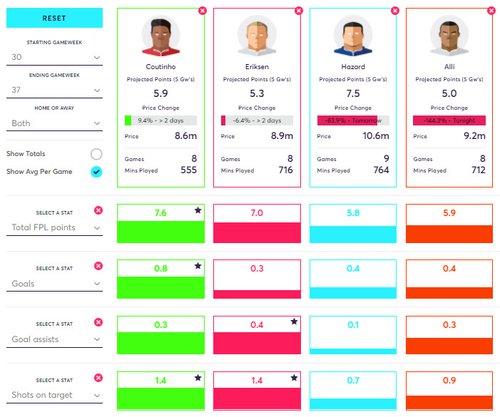 Alexis Sánchez
No other player in the game has contributed as many goals as Sánchez (11.6) has in the last six gameweeks, with his five goals and one assist. The Chilean has now been involved with an earth shattering 34 goals over the season, having scored 23 and assisted a further 11 from 37 games. What is even more astonishing is the fact that Sánchez has played 17 of these 37 games in midfield. The pivotal Arsenal midfielder has also had the most shots and shots on target of any midfielder in the last six gameweeks with 27 and nine. With the next best being our headline pick, Coutinho, with 23 and eight. Fix algorithm predicts a score of 6.1 for the South American on Sunday, but with Everton having conceded 2.5 goals a game on average across their last four games against "top six" clubs, we expect Sánchez to deliver further attacking returns for his owners having been involved in 50% of Arsenal's goals over the last six gameweeks.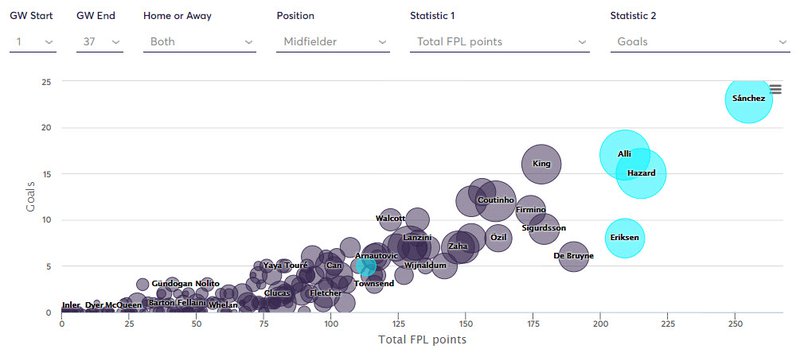 Jamie Vardy
Since Ranieri was sacked by Leicester 11 Premier League games ago, Vardy (9.9), has gone on to score seven goals and created another five goals for his teammates. Equating to an attacking return every single game. Truly brilliant form. Vardy's efficiency in front of goal has contributed heavily to this up-turn in good form with his superb goal conversion percentage of 24% bettering that of Kane (11.7) and Lukaku's (10.1) 23.2% and 23.1%. The late-blooming Englishman has racked up an average of 7.27 points over the last 11 gameweeks, supplying owners with a whopping 80 points within this period. Fix algorithm predicts a score of 4.9 points for the forward this gameweek versus Bournemouth. The Cherries have conceded 1.78 goals a game over the course of the season, so we expect Vardy to weigh in with at least one attacking return, and a score of 6+ looks like it should be on the cards.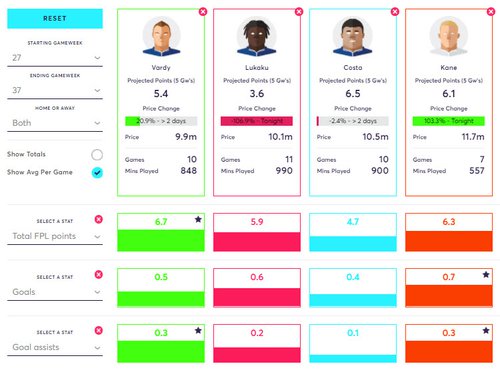 Nathaniel Clyne
Clyne (5.8) has averaged 5.17 points across the last six gameweeks. He even, surprisingly, received three bonus points in Liverpool's gameweek 32 fixture (away at Stoke), having conceded and not contributed towards a goal. Being in and around the bonus in such rare circumstances is merely testament to his attacking threat, which he has not quite delivered upon season. At home, Clyne has attempted more attempts at goal this season with his 12, than Azpilicueta's (6.4) seven, Monreal's (5.9) seven, Valencia's (5.9) five and Bertrand's (5.6) three – Highlighting his tendency to get forward. Over the course of the season Clyne has also managed to create more goal scoring chances, with 43, compared to Walker's (6.2), 39, Valencia's, 31, Bertrand's, 26, Alonso's (6.9), 23, and Monreal's, 12. He is also a guaranteed starter in a gameweek when rotation could potentially cause havoc to managers, with many clubs having little to play for. Our Fix algorithm predicts that he will score 4.7 points, but we feel he could finally deliver upon his attacking threat, given Middlesbrough's poor goals conceded record as highlighted above in our piece on Coutinho. Importantly, they have also only scored eight in their last ten games, so clean sheet points look a given in this must win game for Liverpool.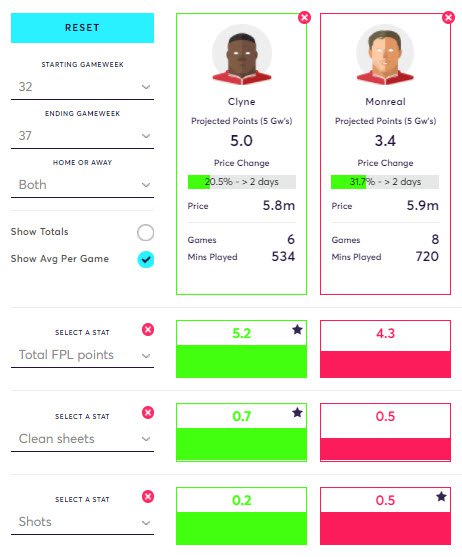 Differential - Cesc Fàbregas
Owned by just 3.3% of live teams as of the gameweek 37 deadline, Fàbregas (6.9) is likely to feature having been rested for most of their second game in double gameweek 37. The mercurial Spaniard has contributed to more goals in the last six games, with five (one goal and four assists), when compared to Eriksen, four, Sigurdsson, three, Pedro (6.8), two and Hazard, two. Cesc has also created a goal scoring chance for his teammates every 19.3 minutes during these last six games, bettering the in-form De Bruyne's (10.5) 23.3 minutes and beating every other player mentioned in the previous comparison above. His overall performance in a stop-start season has been staggering, having played 1,239 minutes, scoring five goals and assisting 13 - An attacking return every 68.33 minutes. Chelsea host the already relegated Sunderland on the last day of the season, and the Mackams have shipped in eight goals in their last five games, scoring none. Fàbregas could be on for a 7+ point return in this one.