Leighton Baines (MID)

Up until last season, Baines (5.5), was always considered fantasy gold dust, an absolute must if you will. The only first choice penalty taker classified as a defender in the game and one of only a handful of defenders that share free kick and corner spoils. So, what's the catch? Last season the dressing room appeared to be troubled under Martinez and although that can be argued either way, what can't be argued was their ineptness in defence. Baines was essentially a by-product of Everton's demise. With Koeman now occupying the managerial hot seat, a man cut from the same "defender who has a hand in goals" cloth as Baines, you'd expect an upturn. Proof of this is already clear to see. Across the first four gameweeks Leighton has managed to produce 10 crosses, 11 penalty area actions and five attempted assists. That level of output is no accident and is a direct result of both Koeman's attacking style of play - Where he expects his full backs to weigh in with attacking returns - and Baines talent to carry out said task. Baines pass completion percentage was also in the 90's in gameweek four. This grouped with a clean sheet and a strong volume of dangerous crosses etc. meant he added two bonus points to his tally. When you consider that Lukaku (9.2) managed a hat-trick and both Mirallas (6.6) and Bolasie (6.0) managed assists each, that BAP achievement for a defender is magnified even further.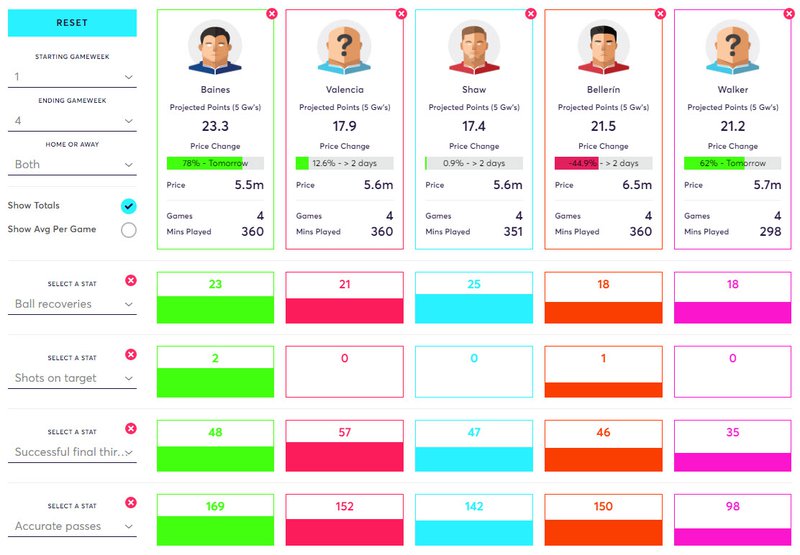 Hugo Lloris (SUN)
Lloris (5.4) would be a good player to turn to for clean sheet points in gameweek five. The agile Frenchman had to miss gameweeks two and three through injury and Tottenham's defence looked less sturdy without their gloved commander. Priced at a pinch under the 5.5 threshold that the other Spurs playing defenders will set you back, also turns our heads. With Sunderland posing little in the way of attacking output at present, with Defoe (7.2) only managing three shots on target in four games and Spurs wanting to make amends for a disappointing midweek result in the Champions League, we expect a win to nil. An ex-player revisiting his old club is always a daunting prospect, but, with their number one goalkeeper back in the fold, a full strength back four to pick from and the addition of Wanyama (5.3) to the already consistent Dier (5.4) / Dembele (5.5), you'd expect the Defoe Hoodoo to be quashed here. Lloris also proves to be a differential featuring in approx. 4% of teams.
Diego Costa (LIV)
Costa (9.9) will always draw attention, for the right and wrong reasons. His start to this season has once again been littered with drama, something Premier League fans have become overly accustomed to. We expect tonight to be no different with how he has started this season and would put our hat on him being in the thick of the action again when Conte's Chelsea face their first big test of this campaign. At the same time, Eastenders plays out over on BBC One, but, we're expecting more fireworks, plot twists and flair ups in this match day soap, than anything the Queen Vic could offer. The Brazilian born Spanish warrior is set to be the main draw for neutrals at 8pm this evening, when two teams possessing a number of goal getters and direct attacking players draw swords. Unlike Liverpool who build up play across their attackers and share positions more, Chelsea rely on Costa to spearhead their attack and if the Blues are to score you'd expect him or Hazard (10.3) to take down goal or assist points, more often than not. Liverpool have conceded six goals in their three away games this season, so, four goals in four games for Costa looks favourable when comparing these stats. He's certainly settled well under Conte - A manager that displays similar passionate outbursts to Diego -  and their developing relationship has so far helped the forward's exploits in front of goal. This, coupled with stiff competition in the striking department means Costa needs to keep pushing on.
Kevin De Bruyne (BOU)
De Bruyne (10.5) made a positional statement of intent in gameweek four's early kick off at Old Trafford. A friendly middle finger up to Pep and his decision to play him in a deeper role during the opening few games. His numbers at the Theatre of Dreams were simply astonishing with the Belgian midfielder contributing seven crosses, six attempted assists and six shots towards his side's winning display. Gameweek five presents De Bruyne with more familiar surroundings at the Etihad, up against a side who's style should favour City. Bournemouth's philosophy is to attack, not park the bus and De Bruyne should find himself presented with space and opportunities again. For the lucky few (approx. 6% currently) who own him, this could prove to be a huge differential. Iheanacho (7.0) has now proven on several occasions that he is able to step into Aguero's (13.0) gigantic golden boots and this helps De Bruynes prospects without question. Definitely one to consider captaining in gameweek five.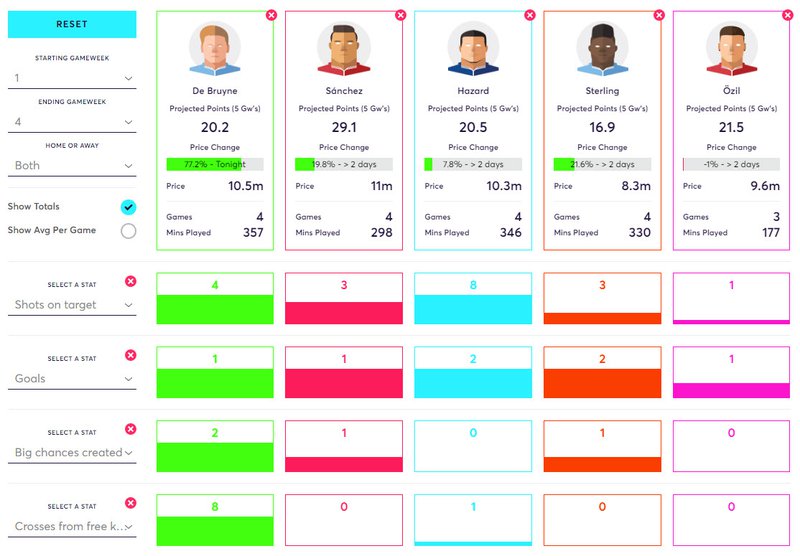 Harry Kane (BOU)
Kane showed last week that he was glad to see the back of August, a month in which he has never scored a Premier League goal. He will also be buoyed by the return of Dembele (5.5) this weekend. If stats don't lie Dembele's return could spark a goal spree for the traditional forward man. When playing in the same side as the Belgian last year Kane managed 24 goals in 27 matches compared to the solitary goal achieved in the 11 games without Dembele. Dembele's Lampard esq. movement with the ball, where he manages to create space at ease, clearly has a big barring on Kane's goalscoring. After Kane put in his first meaningful performance away at Stoke in gameweek four he shouldn't be discounted as captaincy material for gameweek five when you consider such trends. Sunderland haven't yet found their feet under Moyes and although Spurs old fan favourite Defoe is capable of finding a goal from nothing, we'd expect the defensive power and attacking prowess of Tottenham to be far too much for the Mackems on Sunday. With Dembele likely to feature from the off, this should shift Alli (8.3) further up the field, which brings the best out of Kane and with Alli and Eriksen (8.4) both adding a goal and two assists towards Spurs victory away at Stoke, confidence should be high. Great news for Kane and his owners.