Kyle Walker (mid)

Walker (5.8), earns a place in our Top 5 Key players this week after a very consistent start to his season. Spurs have begun this season much like they did last year, steady and effective. Their goal scoring averages have been conservative to say the least - When you consider that they scored four against a Stoke side who are looking all at sea - they have only managed four goals in the other four games, yet, have managed 11 points from 15 with no losses. So, it's their defensive ability under Pochettino that places Walker firmly on our radar. Their reassuring form at the back has ensured that a relatively low goals scored ratio has resulted in more points than you would typically expect. To put this into perspective, the white half of North London find themselves 15 places above West Ham who have surprisingly only scored one goal less. The Sheffield born, flying full back justifies his place in this week's key players furthermore as a result of his raids towards the opposition's goal mouth. He has accumulated five attempted assists, 13 crosses and 18 penalty area actions so far this season, dispelling any fears over the reliance on clean sheets alone. And unlike other similarly priced full backs it isn't a case of "all the gear and no idea" with Walker, backing up his impressive attacking numbers with two assists in five games. Away at Middlesbrough could be timely for Walker owners. Spurs defensive form should be steely enough against a team that has only averaged a goal a game so far and 'Boro could set up in a fashion that will suit the raids of Walker.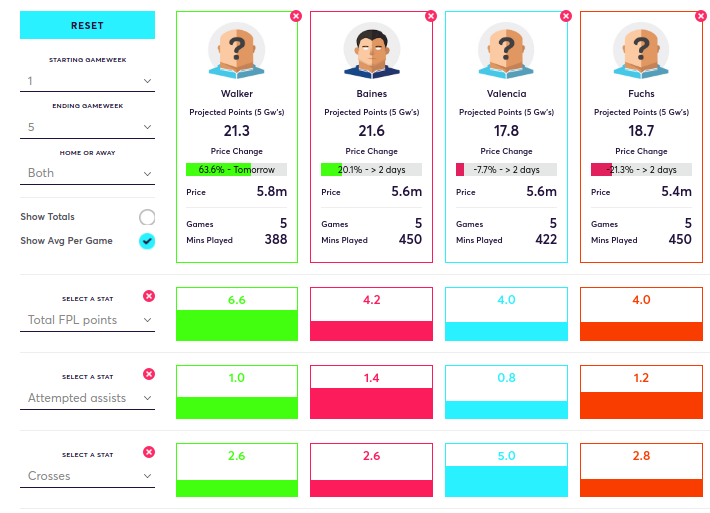 Sadio Manè (HUL)
The uber athletic, agile speedster that is Sadio Mane (9.0) muscles his way into our key player fold this week ahead of an enticing fixture at home to Hull. In truth, any one of Firmino (8.4), Coutinho (8.1), or even the more budget friendly Lallana (7.1) could muster a double point's haul in view of Klopp's "all for one" attacking style. However, Sadio edges this one for us given his potential for Aguero (13.0) style explosiveness that can result in the fastest ever Premier League hat-trick (two minutes, 56 seconds to be precise). Mane is frustratingly good, so, when he doesn't return any assist or goal points for a few games on the spin as he did at Southampton last year it can be (you guessed it!) frustrating to say the least. Particularly when in the next breath he fires home a hat-trick against Manchester City (which he did at the tail end of last season for Southampton). The Senegalese man of the moment is fast becoming the most exciting signing Liverpool have made since Luis Suarez and I don't say that lightly. In his only game in front of the Kop faithful since joining he has contributed a goal and an assist against reigning champions Leicester. In the process he picked up 12 points (being awarded two points bonus for his endeavours). A home tie against Hull should spell more handsome fantasy returns. He is Fantasy Football Fix's highest projected midfielder for gameweek six and it would take a brave man to bet against him backing that up this weekend.
Dmitri Payet (SOU)
Since touching down in the East end of London in the summer of 2015, it's fair to say that Payet (9.4) has surpassed all expectations, picking up from where he left off last season in his first few games. Having failed to make a big impact during his mid-twenties and subsequently moving from Lille to Marseille (in 2013) for an initial fee that was less than what Lille paid to acquire his services from Saint-Etienne (in 2011), he has finally lived up to his world class potential in the Premier League. Such form over the last year means there is plenty of suitors vying for his signature, even post summer transfer window. Real and Atletico Madrid are rumoured to be lining up big money bids to secure his wizardry come January, in time for Champions League final squad submissions. Although West Ham's poor recent form appears to suggest their move to a new ground may have been disrupting, Payet made light work of the move in his first game at the London Stadium. Up against Watford at home he managed to inject an impressive five shots, six attempted assists, 28 successful final third passes and eight crosses into a faltering performance from the Hammers, where they made the nigh on impossible, possible, by giving away a comfortable two goal lead, to lose 2-4. It was much of the same during Wednesday night's EFL Cup game at home to Accrington Stanley, a side plying their trade in League 2 some 61 places below West Ham. Payet was on hand again netting on 97 minutes to save the Claret and Blue's blushes, after coming on as a second half substitute. It's likely that they will need to call upon his deadly accurate feet again in the penultimate game of gameweek six at home against Southampton. Southampton's fortunes have picked up considerably over the last week with three wins in three across the Europa League, Premier League and EFL Cup, but, if anyone can bring that run to an end it's certainly a man who is being linked with a January move to Los Blancos.

Romelu Lukaku (bou)
Lukaku (9.3) has ruffled Ostrich sized feathers these last two gameweeks, in the absence of Aguero. Many a fantasy manager has been left rueing their decision to go Costa (10.0) over Big Rom with the former's impressive return of 18 points being quashed by Lukaku's mind boggling score of 29 points from two games. It's a magical return, so no surprises that it required a magical touch that wouldn't have looked out of place on the programme Domino: Magician Impossible. Bolasie's shot/goal inexplicably being "turned" in by the big Belgian frontman caused an outcry from non-owners wanting the decision overturned. The result stood and irrespective of whether it brushed Romelu's laces or not, his three other goals and assist across 180 minutes of football was unquestionable brilliance. Away at Bournemouth in gameweek six offers Lukaku the opportunity to continue this rich vein of form. The Cherries have returned to the south coast with their tail well and truly between their legs after the mauling Manchester City gave them last weekend and they could therefore opt for a different approach to stifle their opponents here. If a different style is implemented it could work in Lukaku's favour given that Koeman won't be experimenting too much with his winning formula that has seen Everton average two goals a game, dropping only two points from 15 in an unbeaten start to the season. He will also fancy his chances of scoring after bagging in the corresponding fixture last season and being in red hot form delivering 10 shots and three headed attempts in the last two gameweeks.

Sergio Aguero (swa)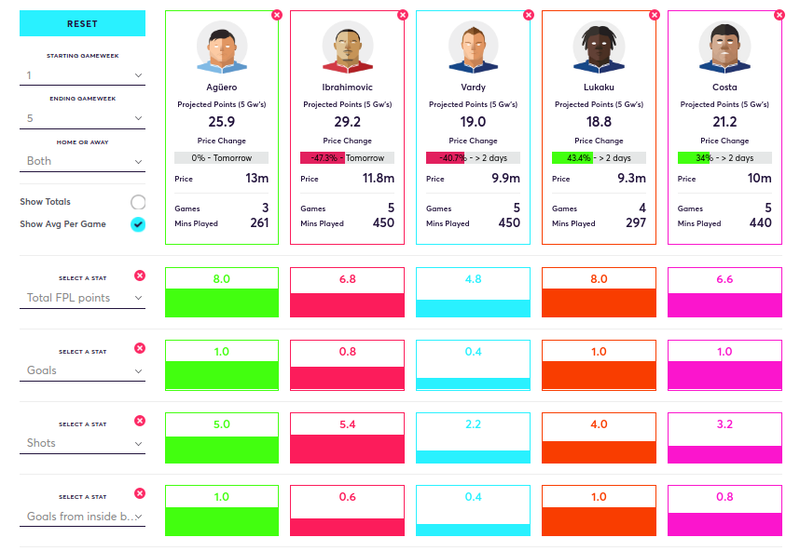 Aguero (13.0) has had an eventful few weeks. After beginning the Premier League season with three goals in three games Man City's blue-eyed boy looked all set to deliver another flawlessly proficient and profitable season leading the line. That was until Winston Reid managed to get a rise from the Argentine, which lead to what the FA deemed to be a deliberate elbow to the face. A three match domestic ban followed. Suffering withdrawals from his football fix (no pun intended) Aguero got his hit from the beautiful game with an aptly timed European fixture against Monchengladbach sandwiched in between the ban. So, what does he go an do with his European chance? He makes up for lost time by netting a hat-trick, of course. Yes, we don't have the last couple of Premier League games to assess form, but, the mercurial Manchester man doesn't need stats and form to make a case for his inclusion. Aguero is plain and simply the one and only player that is absolutely essential in all things fantasy. If you haven't managed to squeeze him in this week, be sure to have him in your line up next weekend at the latest. The returning talisman has averaged eight points in his first three games and up against a Swansea side who have conceded four goals in their two games at home already this season you'd expect Aguero to return further strong numbers. Man City have taken to Guardiola's winning methods like ducks to water and with other in form players in De Bruyne (10.8) and Sterling (8.4) in their ranks we expect them to go one better than those Liberty Stadium goal scoring averages. if a few goals are to go their way you can be sure Aguero will be involved.