Hector Bellerin  (bur)
Bellerin (6.5) is the highest priced defender alongside rival Alderweireld (6.5) from the other half of North London. With a premium price tag comes great expectations and Bellerin looks ready to prove his worth after an impressive showing in Arsenal's last game at home to Chelsea. That saw the speedster full back leave the defensively lethargic Hazard for dead on more than one occasion and return attacking points as a result. His assist which sat alongside Arsenal's clean sheet put Bellerin on the bonus point's podium once again, earning his owners a further two points. Upon analysis of the first six gameweeks this year's bonus points system certainly seems to benefit attacking full backs over central defenders with pass completion, crosses and successful final third balls all seemingly favoured metrics. The Spaniard clocked a quicker sprint time across 40 metres in 2015 than Usain Bolt's equivalent 40 metres when running his current record of 9.58 seconds in 2009, so, we expect further attacking returns as the young defender improves upon his points conversion off the back of his speedy runs forward. While Bellerin will be improving every week, given his slender age of 21, he has still mustered the most Premier League assists from defence since the turn of 2015. With favourable fixtures over the next four gameweeks (bur, SWA, MID, sun) we foresee clean sheet momentum building along with Bellerin's points impact further up the field.
Marcus Rashford (STK)
Rashford (6.9) flies onto our radar after once again emerging as a potential first team regular under Mourinho, as he eventually did under Van Gaal last season. Rooney's (8.8) poor form and lack of cutting edge which appears to be having a detrimental effect on attacking incisiveness for both club and country has been widely publicised over the last couple of seasons. Yet, it still takes something to drop your club captain even if the writing has been on the wall for longer than we care to remember. Perhaps Mourinho is finally beginning to pay more attention to United's fierce Scouse rivals along the M62. While Liverpool still aren't the complete article under Klopp, they have most certainly mastered the art of attacking tactics. Liverpool's management team haven't simply made books like "The Art of War" by Sun Tzu compulsory reading material to improve attacking strategies, it takes the right player. Sadly for Rooney, just like explosive young talents before him - Michael Owen as an example - his ailing years have now caught up on him. After years of smash, bang and wallop he appears to have fizzled out and just doesn't possess the speed for the modern game's high paced environment. We're not just talking about his movement across the pitch here, it's speed of thought that allows for fast interlinking passing which Liverpool's attackers possess akin to Barcelona's Messi, Suarez and Neymar (MSN). Rashford is certainly a step in the right direction. Fast feet, strong dribbler, good passing, and above all quick enough to be in the right place at the right time. If Jose has a backbone and sticks with the young Englishman this Sunday (which is still questionable), we would anticipate him getting in and amongst the goals. And Goals there should be. In fact we're expecting goals for starter, main, and desert against Stoke at Old Trafford on Sunday. With Stoke's confidence at rock bottom right now and United's attacking mojo back after their last home match Marcus could be an alternative for non-Zlatan owners to get a piece of the Red Devil pie.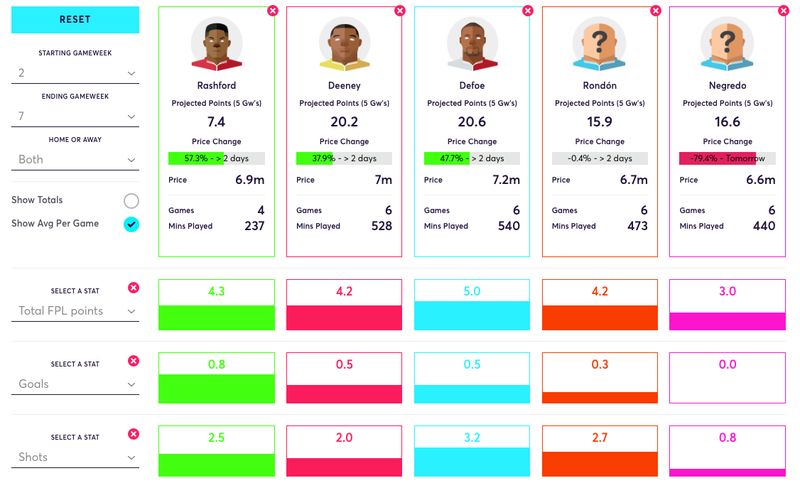 Philipe Coutinho (swa)
Speaking of Liverpool's fearsome attacking warriors, this week we focus our attentions on Coutinho (8.2). What Liverpool lack in defence - And I'm sure officials at the club are already working on placing Van Dijk onto the Southampton to Liverpool conveyor belt - they make up for in attack. Liverpool are second to Manchester City in the goals scored department this year by just a single goal, which says it all, when you consider the talent and form on show in Sterling (8.6), De Bruyne (10.7) and Aguero (13.0). As we mentioned last week, Mané (9.0) is exactly the type of explosive, game grabbing player Liverpool have been craving since the record breaking departure of Suarez. If we overlook Burnley away (which Mané incidentally missed through injury) the Scouse red army have been firing on all cylinders, making light work of top teams; Arsenal and Chelsea. Coutinho was integral in the win over both (bringing two goals and an assist to the table). The visit of Hull last week saw Coutinho add another goal and pair of assists to his season totals. Not only does he make our top five key player picks, but, he has also managed to squeeze into the top five best scoring midfielders in the game off the back of last week's performance. After a couple of quieter weeks, Coutinho's Gameweek six read; six shots, four attempted assists and 11 penalty area actions which even Don Aguero would find hard to muster. Liverpool travel to Swansea in gameweek seven and fortune really isn't favouring the brave at present (well, come on, do you all remember Sigurdsson's (7.2) Icelandic bravery at the Euro's? No? We've forgotten about it too). Swansea find themselves sitting firmly in the bottom half of the goals conceded table this season (11 in six games) and when you consider that seven of these goals have been shipped in at the Liberty Stadium it doesn't make for great reading when a team who are at the top end of the goals scored table are coming to town. Coutinho owner's should be licking their lips.
Dmitri Payet (MID)
Payet (9.4) maintains his place in our top five this week, which I'm sure will raise a few eyebrows, David Hemming style, given West Ham's current season woes. However, let's not get carried away with ourselves here. This is Payet we are talking about, a man who delivers a Premier League free kick with venom and precision that we haven't seen since the days of Bend it like Beckham. His crossing ability is also of a standard that old golden balls would be in awe of. With Middlesborough (who are without a win in four games) making the long journey south to the London Stadium this weekend, it would be foolish of us to discount such supreme talent. If the Hammers are to drag themselves away from what is fast becoming a cataclysmic drop in performance then surely their star man will be up for the challenge of saving his team. And whether he's loyal or not, with other powerhouse clubs sniffing around he'll need to be on his best footballing behaviour to secure a big money move in January. We don't just cling onto past glories either as the numbers fully justify his inclusion. Payet has had the most shots of any Premier League player this season (15) without managing to grab a goal. In gameweek six, where West Ham looked well off the boil and were up against an in form Southampton side he still managed three shots, 14 penalty area actions and 10 crosses. Numbers which suggest attacking returns are imminent. West Ham and Payet need to grab this second home game in a row by the scruff of the neck.
Alexis Sanchez (bur)
Sanchez (11.2) isn't a second best type of guy and we most certainly wouldn't be telling him that to his face. However, being the second most explosive player behind City's Aguero is definitely a title to be proud of. Of course, he will set you back a meaty 11.2 million, though right now he appears to be that essential midfielder as Aguero is in the striking department. With De Bruyne (10.7) out injured during a spell that sees the Chilean bulldog up against four of the bottom eight clubs over the next month, his inclusion in your sides becomes even more compelling. For those trying to plough on without him, we salute your bravery. Four goals and three assists in just over five games worth of football is a superb return. His form is well and truly hammered home when you consider that 41 points were earned in the last four gameweeks. Form that was only bettered by one other player across the game - The now crocked De Bruyne. Alexis is the most popular midfield transfer of gameweek seven and his new army of followers as well as existing owners will be pleased to know that he has secured 29 points on his his travels versus 17 at home. So, an away game at Turf Moor against a newly promoted side certainly looks pleasing on the eye.