Headliner - Theo Walcott (SWA)
Mr Walcott (7.7), where do we begin? Well, seasoned fantasy managers know that Theo is (when playing regularly) fantasy gold dust! For those new to the game, this isn't an early Halloween trick, Theo really is the real deal in terms of consistent fantasy football returns. Yes, we are talking about the same player that when deployed on the wing takes on the opposing defender with the same skilful efficiency as David Dunn performing a Rabona - Poorly. Though, while he lacks panache in one-on-one situations he makes up for it with clever off-the-shoulder runs, one-two passing (helping him evade those one-on-ones) and devilishly accurate finishing – Which in truth, still doesn't quite get the praise it deserves. His fantasy football points return over the years is absolutely astounding. That may sound strong, but, it's fully justified. During the last five years Arsenal's softly spoken forward man has averaged an immense 7.16 points per game played (when analysing minutes played vs. points earned). To really hammer that home, only Aguero (13.1) has trumped those numbers when you look at players that have earned their living in the Premier League for a similar amount of time, and only just with 7.31 points. Sanchez (11.3) who we often describe as explosive in terms of his points return has an average of 6.41 during his three year stint. With the fear that Walcott could be rotated slowly diffusing with every passing gameweek in which he returns points (two goals and two assists, in the last three gameweeks) he moves ever closer to all of our teams. A Walcott/Sanchez double up could be on the cards. Priced at a jaw dropping 3.6 less than Alexis makes him even more appealing. Especially when Theo has returned similar attacking figures as the Chilean in the last three gameweeks. A labouring Swansea side who are attempting to kick start their season with the appointment of Bob Bradley are presented with the challenging task of visiting the Emirates at a time when confidence is sky high for the Gunners. Walcott looks the most assured out of the midfield to last 90 minutes and therefore should be highly considered. Featuring in just over 7% of teams he will improve your rank considerably if he manages anywhere near his regular points per game average.
Virgil Van Dijk (BUR)
Van Dijk (5.4) was one of only a few shining oranje lights for the Netherlands in their home World Cup qualifier against France on Monday night. Sadly, for VVD, the French got the better of the Dutch on this occasion. However, Virgil did manage to limit the space for the French attackers to ply their trade, looked assured on the ball, passed well and was a threat from set pieces on several occasions, as he so often is. Southampton have now gone six games without conceding in all competitions and Van Dijk has most certainly played his part. The domineering centre back has made more clearances, interceptions and won more aerial duels in the Premier League than Koscielny (6.2) and Alderweireld (6.5), two of the very best defenders in the division. He is also going toe to toe with both North Londeners' fantasy form over the last three gameweeks (as you can see below). Such stats coupled with his goal threat from set pieces as well as occasional open play efforts on goal (which now totals five shots in the last seven games) means that if the Saints can make it seven clean sheets in seven, Van Dijk will no doubt be in the driving seat for bonus points as he so frequently was last campaign. Van Dijk is the real deal, having had to feel big Belgium shoes when replacing Alderweireld last year after the Belgium's performances got him his preferred move to the capital. He carried out his task with aplomb and duly won the club's player of the season. With Southampton finally looking more streamline and comfortable with Puel's tactics and strategies, a Saints defender could end up in the majority of manager's teams soon, as they have been over the last couple of seasons. And picking VVD this weekend would be a good starting point up against newly promoted Burnley at home and with numbers that show he poses the biggest goal threat across the back four.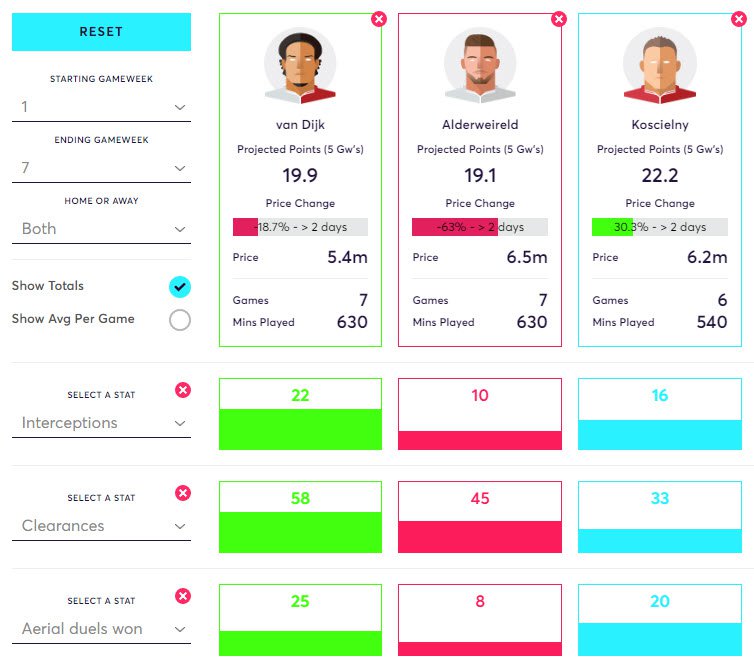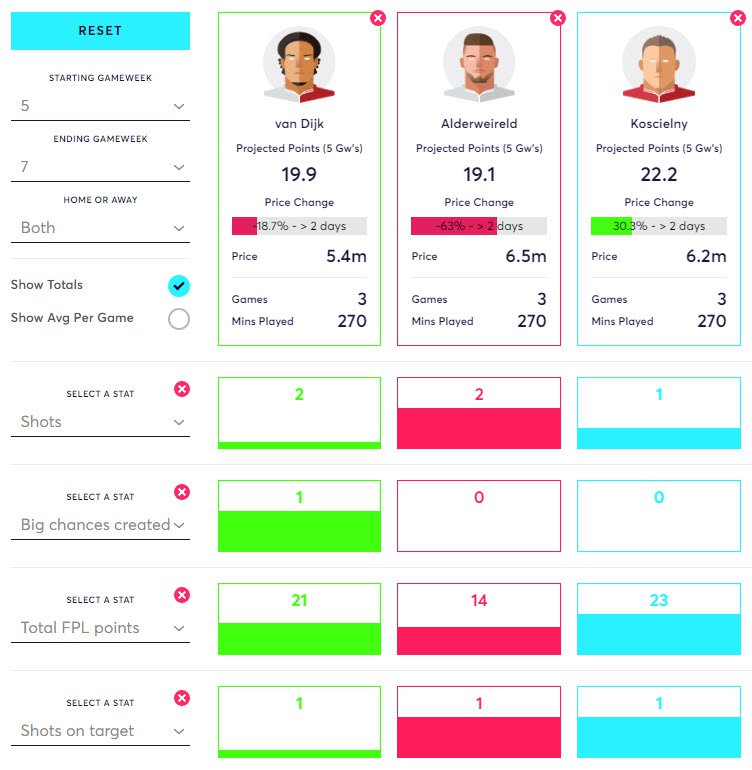 Roberto Firmino (MUN)
Firmino (8.4), or Bobby as he is affectionately known by die hard Kopites is just one of 'Pools midfield beneficiaries as a result of Klopp's "all-out attack" style. Yes, the German gentleman that sits in the managerial hot seat has certainly had a positive impact on Liverpool's goal scoring exploits, but, having the array of midfield talent that he has at his disposal is akin to Banksy having every single spray paint under the sun. One could call it a magical combination. Firmino affords his fantasy owners an "out of position" prospect from midfield, with Klopp regularly turning to Roberto for his "False 9" - Particularly against "tougher" opponents. A positive then, with Jose Mourinho's United up next in Monday night's showpiece. The Red Devils' yo-yo form is certainly something the Merseyside fluid attack can capitalise upon. Only City's injured De Bruyne (10.6) has created more 'big chances' than Firmino this season. In fact, the Brazilian has done just about everything right this year (bar adopting a samba style, top knot haircut, which is a no, no for any man) continuing in the rich vein of form he bestowed upon us at the end of last season. Sure, his Liverpool midfield counterparts have unfairly overshadowed him in some weeks and it's still a mystery to pick the right one each week, but Firmino was justly rewarded with 12 points (one goal and one assist) in gameweek seven. He is also averaging more shots and attempted assists at Anfield than when on the road, so he is our pick of the Scouse bunch this week and we are backing him to close out gameweek eight in style on Monday night.
Dusan Tadic (BUR)
If only Dusan Tadic (7.2) was being scored on his recent International exploits, he would without doubt be in every single manager's teams by now. The tricky Serbian midfielder has played a hand, sorry, foot in all of his nation's last 10 goals - four goals and six assists. An astonishing record that we would all be waxing lyrical about if it were a marquee player like Sanchez (11.3), Payet (9.4) or De Bruyne. With Southampton once again losing players that were integral to their 15/16 campaign this summer, no more so than Mané (9.0) and Graziano Pellé, (who between them contributed 22 goals and 14 assists), a playmaker as talented as Tadic (who out-performed both Mané and Pelle last year, weighing in with eight goals and 13 assists) is catapulted into essential Messi-like status for Southampton. Unlike his International form, this Premier League season has started conservatively from a fantasy points perspective (one goal and one assist), particularly since he has been involved in all games so far. Yet, Tadic will go into Southampton's home game against Burnley full of confidence off the back of another successful International break. Burnley have been surprisingly resilient at the back and have only conceded 1.29 goals a game so far, with Heaton (4.6) playing a huge part by turning away 29 shots at an average of 4.14 a game – More than any other Goalkeeper. After his withdrawal from International duty, Burnley fans will be waiting nervously on their number one's fitness in time for Sunday. Burnley will need to have a fully stocked squad for this tough away game at a ground where Southampton are unbeaten so far this term. Tadic is projected to be one of the top scoring midfielders in gameweek eight and if Heaton is ruled out there could be goals for the hosts down on the south coast. After all, Sunderland succumbed to an eight goal drubbing during gameweek eight two seasons ago and Tadic came away from that with 23 points (one goal and three assists). Can history repeat itself? Probably not. But, I'm sure Tadic owners and new suitors will be more than happy with just half of that tally.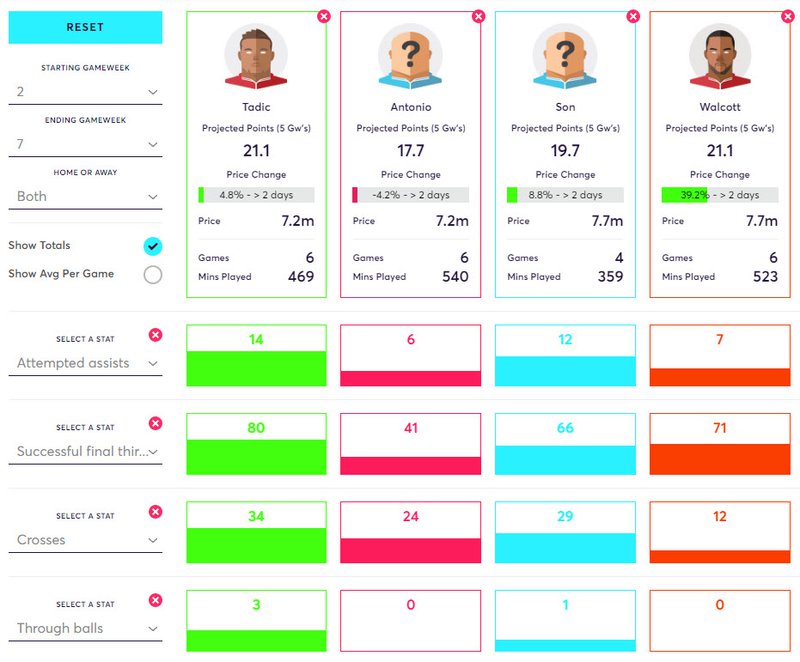 Diego Costa (LEI)
Diego Costa (10.1) has risen in price more than any other striker in the game. Only Man City midfielder Raheem Sterling (8.6) has risen at the same rate. Price rises mean new owners and new owners mean the kid ain't arf doing bad! Well, that couldn't be truer for Chelsea's lone striker. Diego is currently averaging 6.6 points a game over the last seven weeks, which is very good going when you factor in the minus points for the four yellow cards he has received, not to mention the missed bonus points as a result of such foul play. And we don't say "ain't arf doing bad" lightly, bad transcends to his behaviour too; Yellow cards are a given, but, no bans, or red cards in sight - Has Conte finally channelled the striking beasts aggressive mentality towards his footballing feet, it would certainly seem so. Costa has returned attacking points in six out of seven games so far. Chelsea will face Leicester in gameweek eight and if Chelsea are going to get anything from the game it would be a sure bet that Diego will have an involvement, as Chelsea look to come out on top in the battle of the two previous Premier League champions.