Headliner - Phillipe Coutinho (WBA)
While Coutinho (8.3) lacks a level of physicality we come to expect at the highest level, he certainly makes up for it, and then some, with his technical ability. Arguably the most gifted footballer in the Premier League at shifting the ball back onto his favoured right boot from wide positions. Not since the days of Bale, who mastered the same technique from the opposing wing have we seen someone perfect the move time and time again. Manchester United, just like clubs before them would have been fully aware of this strength, yet, they still failed to deal with it. If it wasn't for the heroics of big Dave De Gea, Phillipe's wondrous effort would have more than likely given the hosts three points and most importantly for Coutinho owners a 10+ point haul. With six shots, six attempted assists and 15 penalty area actions in his the last two games, the little Brazilian could well be the answer for those looking to invest in the Liverpool midfield ahead of an enticing home encounter against West Brom. Such numbers can't be rivalled by the higher priced stock of Mane (9.0) and Firmino (8.5) currently. So, it's the pocket rocket South American that is projected to score strongly in gameweek nine, which is aided by the loss of Jonny Evans (4.5) for the visiting Baggies. Evans brings plenty of experience to the table which could have helped nullify Coutinho's tricky and accurate footballing legs. In his absence Olsson (4.4) will have the unenviable challenge of dealing with Phillipe and co. The Swede has played only two games this season, so there could be plenty of goals to make up for the boring, tactical masterclass we witnessed on Monday.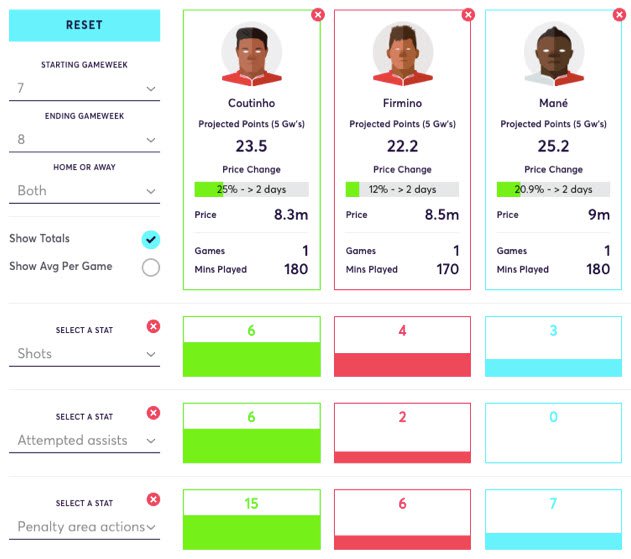 Nathaniel Clyne (WBA)
Clyne (5.5) and Liverpool should begin to benefit from a settled defence that is beginning to demonstrate that they are gelling nicely. Clean sheets appear to be around the corner with strong performances from their newly formed centre back partnership Lovren (4.9) and Matip (5.4) as well as Milner (6.7) demonstrating how bad and erratic Moreno (4.6) was at the start of this season since replacing him. From his early days at Crystal Palace Clyne showed an appetite to join attacks and is more than happy to shoot when given an opportunity in and around the box. On analysis of his points since his transfer to Liverpool it would be easy to assume he's gone backwards, but, he hasn't lost any confidence in his marauding runs, carrying the mentality across to both Southampton and Liverpool. Clyne has simply been a victim of Liverpool's poor defending as a team, picking up more clean sheet points while at Southampton across a similar amount of games enjoyed on Merseyside. His attacking threat from right back hasn't earned the level of returns you would expect over the last 12/18 months, but he has begun to show he's knocking on the door again with four shots and six attempted assists in the last three gameweeks. West Brom presents Nathaniel with an opportunity to make it two clean sheets in two this weekend, and if his Liverpool team can accomplish this, we could see him pick up further bonus points after gaining the maximum three from Liverpool's goalless draw with Man United on "Red Monday".

Mesut Ozil (MID)
Our Ozil (9.5) pick was based on his recent underlying numbers in FPL, after starting his season later than some…. Honestly! His exploits midweek have simply made this decision far easier and justifiable. With Sanchez (11.3) and Walcott (7.9) both vying for our attentions again, adding another goal each to their season tally against Ludogorets. Mesut, however, was on another level. Sure, the opposition wasn't as challenging as a Manchester City, but a hat-trick in the Champions League is not to be sniffed at. Ozil has contributed to 51 goals in 90 league games since joining the Gunners, a record that he matched, identically, after 90 games for Real Madrid. If the boggled eye boy is one thing, he's certainly consistent. Ozil was Arsenal's stand out man and virtually ever present in the Premier League last year, his points per 1 million spent equated to 23.52, a significantly better return than that of Sanchez (15.90). Sanchez hamstring injury didn't help his case (keeping him side-lined for 7 games), but on the flip side it's worth noting that Mr Consistent lives up to his name in avoiding the treatment room too. Ozil never fell foul to injury in his Madrid days and has only had one lengthy spell on the side-lines during his four seasons at Arsenal to date. Ozil's share of set pieces also give him a USP over other obvious midfield candidates at Arsenal. The season started slowly, but Mesut Ozil is finally starting to reward his owners. 23 points in the last three gameweeks, which includes two goals, is an excellent return from German football's golden child. The cannons are predicted to be ready for attack in gameweek 9, with Arsenal topping the attacking numbers looking at the Fix algorithms. Ozil could be an excellent captain differential this weekend, with current ownership at 8% (at the time of writing). When you dress in red and look like the iconic sports car creator, Enzo Ferrari, surely you're onto a winner. 'Boro will do well to keep his creative horsepower at bay.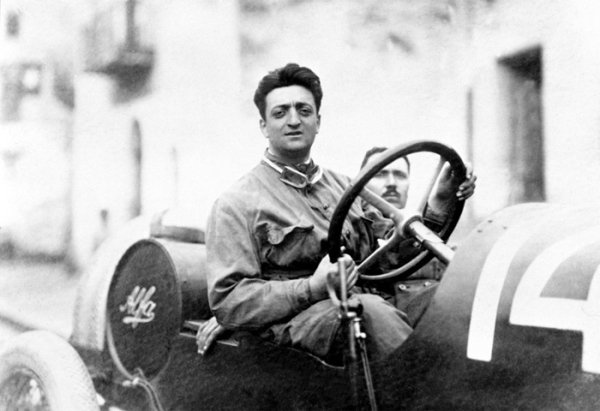 David Silva (SOT)
Our dark horse for gameweek nine, is Silva (8.7), who will face a jaded and somewhat dejected Southampton side after they failed to earn points at the San Siro in the Europa League, despite dominating much of the game. The cursed Thursday/Sunday Europa League/Premier League combination is one that could take its toll on Saints this weekend, having to make the long visit north to the Etihad. Silva and the blue moon boys will be ready and waiting to make amends for a miserable Champions League tie while looking to put a stop to a poor Premier League run that has seen them take just one point from a possible six. Silva will look to capitalise on tired legs, having had an extra days rest and half a day saved travelling, by building upon the 32 penalty area actions and 16 attempted assists that he has managed in the last three gameweeks. Often billed as the man that assists the assist, Silva, on his day can construct a goal or goal scoring opportunity with next to no help from his team mates. A left field pick given the fact he hasn't transferred those promising stats into significant FPL points yet, but we believe it's only a matter of time before he thrusts himself to the front of the differential queue. He's owned by just 2.4% and as long as the so called "rift" between Pep and Kun is no more than hearsay, the Silva/Kun partnership that has brought happy returns to the sky blue side of Manchester over the last few years should rekindle. Let's not forget that his points per game average over the last five seasons is 5.83.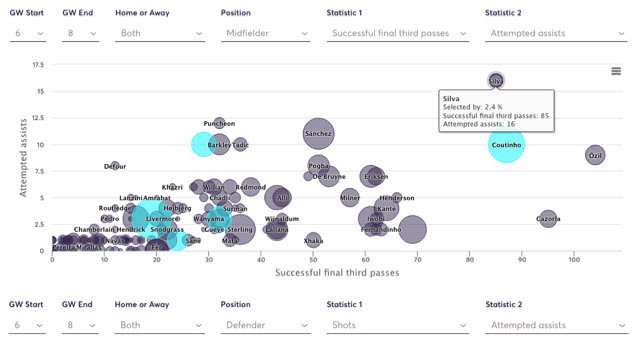 Jamie Vardy (CPA)
Vardy (9.7), must have over done the Cristal orders this summer, as he still appears to be shrugging off a champion's hangover based on recent performances in the league. One player shouldn't be solely blamed for a team's misfortunes though and generally speaking Leicester look like a side that urgently need a firework up the rear when it comes to the Premier League. Who can blame them though, having achieved an astonishing feat last season comparable to Wim Hoff's Everest ascent wearing just a pair of shorts. Understandably, it must be hard to motivate yourself in a competition you have just won when your team isn't considered a "top six" side, therefore unlikely to compete with the money boys who will have awoken from their slumber. For most of the squad, they will be participating in the world's best club competition - the Champions League - for the first time, so attentions will naturally wander. That said, Leicester are in danger of slipping into a relegation dog fight. With almost a quarter of the season already played, the Foxes find themselves just two points away from the dreaded drop zone. Their goal difference is also poor (minus six) and this weekend's fixture at home against Crystal Palace is a great opportunity for them to kick start their league campaign, with the Eagles yet to keep a clean sheet away from home. While their Premier League standing is poor, confidence in the camp will be high after securing their third Champions League win in as many games (an achievement only matched by Barcelona and Atletico Madrid). If Premier League fortunes are to turn around quickly Ranieri will be calling upon his key Vahrez duo and while Vardy's average points per game figure is down on his previous two campaign's average of 5.51 to 4.02, this season's average isn't totally shambolic when you consider that the whole team have been off the pace. Only Sergio Aguero is projected to score more than Vardy in gameweek nine according to our algorithm. His stats so far demonstrate he's more comfortable at home than on his travels and his pace should cause Delaney (5.0) all sorts of problems.