Premier League football is nearly back. Wildcards are flying around all over the place, with just as many injuries! Therefore, I think it's time to do some FPL myth busting.
· Should you start your Brentford attackers vs Chelsea?
· Is Raul Jimenez worth £1.9m more than Hwang Hee-Chan?
· Is it time to jump on Southampton's attacking assets?
· Is KDB worth a punt?
· Is Sanchez still the best goalkeeper on a wildcard? 
Should you start your Brentford attackers vs Chelsea?
Will you be starting Ivan Toney against Chelsea? 
Brentford have started the season in fantastic form, losing only once in their opening 7 Premier League games. In tough fixtures vs Arsenal, Wolves, Liverpool, and West Ham, Brentford have managed to score 9 goals from an xG of 7.17 which is fantastic. However, Chelsea are a different beast. Defensively, Chelsea have been an incredible unit since Thomas Tuchel was hired, and conceded an xG of 0.57 per game last season in 19 fixtures under the German. It's always tough trying to analyse a seemingly strong attack vs a strong defence, especially for those on a wildcard, as it would be far easier to pick a player with much better fixtures. 
Brentford xG using Opta Stats Sandbox
Despite being promoted through the play-offs, Brentford sit 7th in the league and 8th in the xG table. The great start has occurred due to, in no small part, their exciting strike partnership in Bryan Mbeumo and Ivan Toney. Mbeumo currently has the 8th highest xG in the league, with the highest xG amongst FPL assets priced at £7.5m or less. Ivan Toney has the 2nd highest xA in the league behind only Bruno Fernandes, which is a truly incredible stat after 7 Premier League fixtures. When players put together numbers like this, I personally believe that it is fact that you should start them against any defence in the league. Buying them them on a wildcard, however, is a slightly more difficult decision. 
Is Raul Jimenez worth £1.9m more than Hwang Hee-Chan?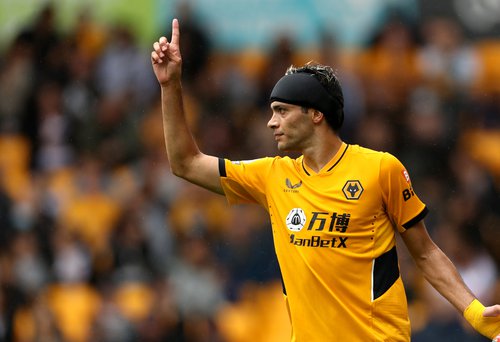 Wolves have a strong run of fixtures coming up with Villa, Leeds, Everton, Palace, West Ham, Norwich & Burnley in the next 7 weeks. The decision on a wildcard between the safe pick of Raul Jimenez vs the new signing Hee-Chan Hwang is a real head scratcher for anyone on a wildcard or signing a new striker this week. Raul Jimenez has so far played every minute of the season, scoring once and assisting 2 goals in GW7 vs Newcastle. Whereas, Hwang in only 252 minutes has managed the exact same amount of attacking return, scoring 3 times.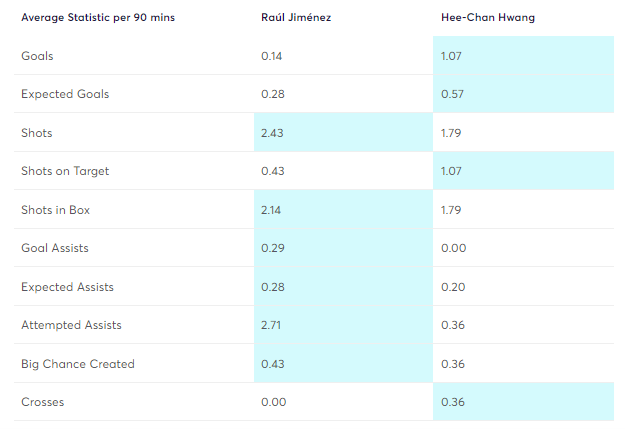 Jimenez vs Hwang using Player Heatmaps
When we compare the stats per 90, Hwang comes out on top for goals, xG, shots on target, and crosses. Jimenez is clearly the more creative player, putting up great numbers for expected assists, attempted assists, and big chances created. Jimenez is also likely to take penalties, which are of course can occur against a weaker opposition. You're going to pay a premium price for a reason: Jimenez is taking penalties, creating the most chances, and also taking the most shots of any Wolves player. I am going to say that it is fact that Jimenez is worth £1.9m over Hwang as he has a proven track record in the league, scoring 181 & 194 FPL points in his 2 full seasons. 
Is it time to jump on Southampton's attacking assets?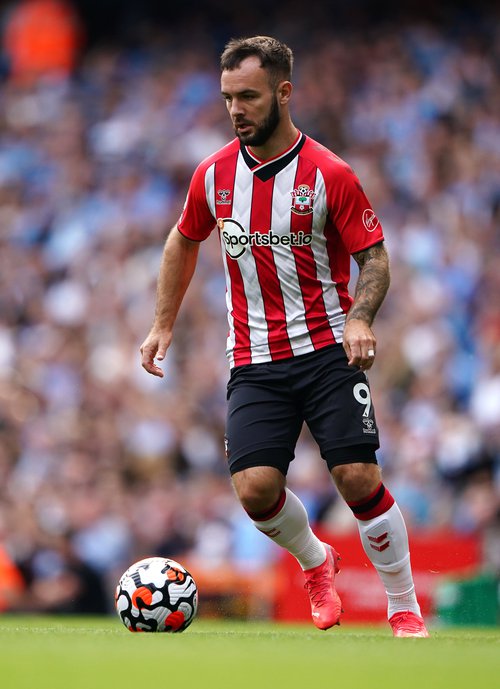 Is Adam Armstrong in your transfer plans? 

Southampton are about to start one of the best runs of fixtures that any side in the league will have all season. Over the next 5 weeks, Southampton will face Leeds, Burnley and Villa at home, along with trips to newly promoted Watford and Norwich. Despite this great run, it is tough to pinpoint any Southampton midfielders or strikers to jump on.

Southampton fixtures using Fixture Analyser
An interesting asset is £5.5m midfielder Mohamed Elyounoussi who has some cracking per 90 stats, taking 2.98 shots per game, with 1.49 on target, along with some decent creative stats, attacking 1 assist per 90. His xGI90 is 0.48, higher than the likes of Raphinha, Greenwood, Son, and Ollie Watkins! Prior to the tough fixtures vs Chelsea, Elyounoussi played 90 minutes 4 times in a row.
Adam Armstrong is also one to monitor, as the ex-Blackburn striker is likely to be on penalties for the next 3 fixtures due to James Ward-Prowse being suspended. He has also managed a decent amount of shots with 3.08 per 90 including 1.03 on target. His stats in the Championship were fantastic, taking over 50 shots more than any other player, and against weaker opposition Adam Armstrong could be the perfect cheap differential! However, I am going to say that it is fixtion  that you need to buy a Southampton attacker. They're worth taking a punt on or keeping your eye on, though.
Is KDB worth a punt?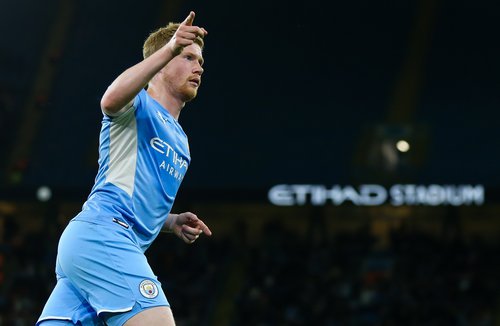 Is it now time to bring De Bruyne in?
A big issue facing FPL managers is Pep Roulette. It's quite clear than Manchester City are one of the best sides in the division, if not the best. However, picking a player that is likely to get consistent minutes week in week out is always a tough decision. Kevin De Bruyne when fit seemingly eradicates that nightmare, as he plays pretty much every minute. Is he therefore worth a gamble at £11.9m?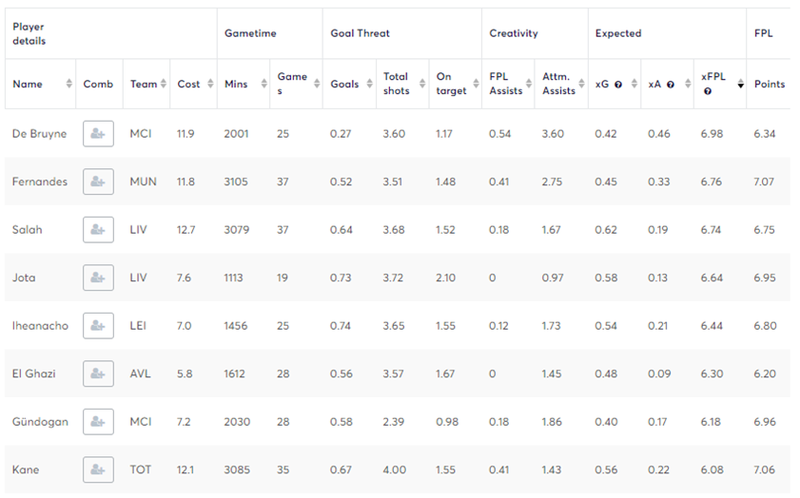 xFPL per 90 in 2020/21 using Opta Stats Sandbox
Kevin De Bruyne had more FPL assists, attempted assists, xA, and xFPL points per 90 than any other player in the league last season. When he plays, he is an elite asset that all of us should have in our sides. Off the back of a goal away at Liverpool to salvage a late draw and a brace of assists for Belgium vs France, it looks like De Bruyne is back to his best. With Burnley, Brighton, and Palace to come in the next 3 fixtures, a punt could be a fantastic way to jump up the ranks. Especially in a run of games where Ronaldo faces some tough opposition, you could easily move your money across to the Belgian in midfield. I am going to say that it is factthat you should take a punt on KDB! 
Is Sanchez still the best goalkeeper on a wildcard?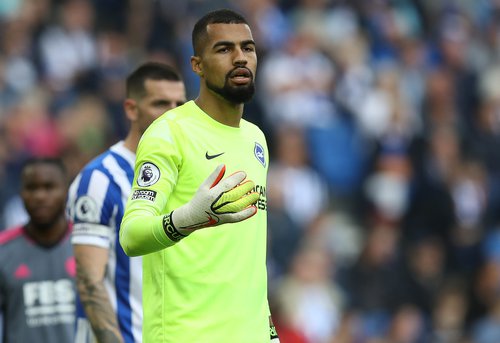 Are there now better options that Robert Sanchez? 
Robert Sanchez was definitely the "template" keeper amongst the cheaper assets at the start of the season, not only due to Brighton's solid defensive numbers last season, but also due to their great opening fixtures. That run is now coming to an end with City and Liverpool to come in GW9 and GW10. So for several managers on a wildcard, is now the time to move him on for the likes of Sa or Meslier at £5.0m, or Raya, Guaita and Ramsdale around the £4.5m mark? 


Goalkeepers priced £4.5m-5.0m based on xFPL using Opta Stats Sandbox

Using the Predicted Points algorithm, Meslier and Sa are projected to score 34.7 points in the next 8 GW's, with Raya and Sanchez coming next with 30.4. The big upside of Sanchez is his passing ability, which usually helps him to gain extra bonus points. For example, despite picking up a yellow card and conceding a goal, Sanchez picked up a bonus point vs Crystal Palace. However, he is averaging less than 2 saves per game, which is worrying for owners despite strong xGC numbers. Meslier, Guaita, and Sa have accumulated more than 20 saves already, but all 3 have less clean sheets.
The reason that I would say that it is fixtion is because of Aaron Ramsdale, who seems to have nailed down his spot as the Arsenal number one. Thus far, he has kept 3 clean sheets in 4 games, made 9 saves, and has picked up 2 save points, 2 bonus points, and 24 points in total. 
@FplIrons
Luke Boarer