Toney is likely to miss the next two Premier League fixtures due to illness and his replacement options are compared below, taking a look at the last four gameweeks using the Fix Comparison Matrix.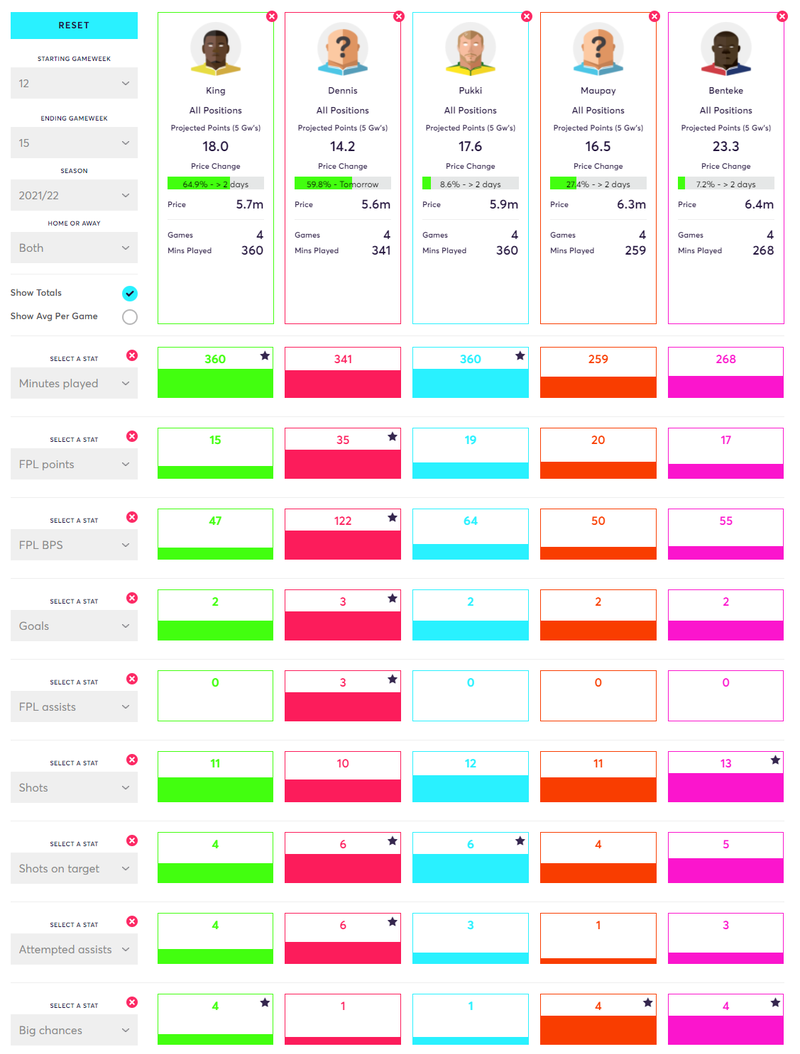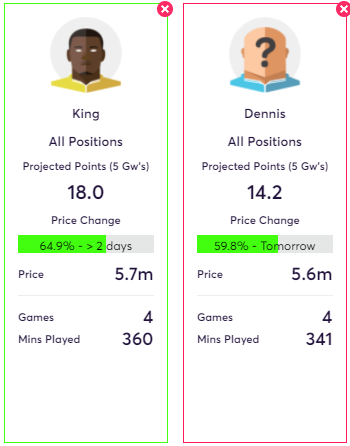 The Watford duo of King and Dennis are already being bought in droves with over 250,000 managers transferring them in. Dennis has outscored King for FPL points (35 to 15), goals (three to two), assists (three to zero), shots on target (SoT) (six to four) and attempted assists (six to four) but it is interesting to note that the latter has been afforded four 'big chances' to the Nigerian's one. It is also worth mentioning that Dennis may well be called up by Nigeria for the African Cup of Nations around gameweek 20, so while he presents the better value, the safer pick may well be King for the longer-term.

Pukki is second only to Dennis for goals scored (three to two) over the last four gameweeks and is joint-first for SoT (six). The Canaries have picked up eight points in their last five matches and have shown signs of a revival under D. Smith. Norwich's fixtures are a bit tricky though with Man. Utd, West Ham and Arsenal in three of their next four. This alone could be enough to discourage new acquisitions of the Finn.

Maupay has scored late goals in back-to-back matches and is joint-first for 'big chances' (four) in the comparison. However, he has the lowest number of SoT (four) and has attempted just one assist. The underlying numbers are not very promising, and with Brighton's squad carrying a lot of injured players it might affect their attacking output in a negative way.

Despite playing almost 100 minutes fewer than some of the players in the comparison, Benteke posts some great numbers. The Belgian is joint-first for 'big chances' (four) and is also first for shots (13). He is the top projected scorer as per our Fix Algorithm (23.3) from the whole group, and Palace are top of our Fixture Analyser for Attack Difficulty. Although rotation with Edouard is a concern, he could be a great pick for the gameweeks ahead.