Caveat: This blog was written at 09:00 BST on 28/09/21, all data (unless stated) has been collated around this time.
Benrahma and Rüdiger were the only players to go up in price overnight and there were price-falls for Ruddy, Lindelof, Coleman, Saul and Chalobah. Rüdiger has played every minute of the campaign so far for Chelsea and is rated at 100% to start as per our Predicted Lineups feature.

Antonio (95%) is the only player likely to go up in price tonight based on current transfer traffic (progress/hour).

Harrison (-99%), Thomas (-99%), Lacazette (-95%) and Mount (-97%) are the players most likely to drop in price overnight but this projection updates throughout the day depending on transfer traffic (progress/hour).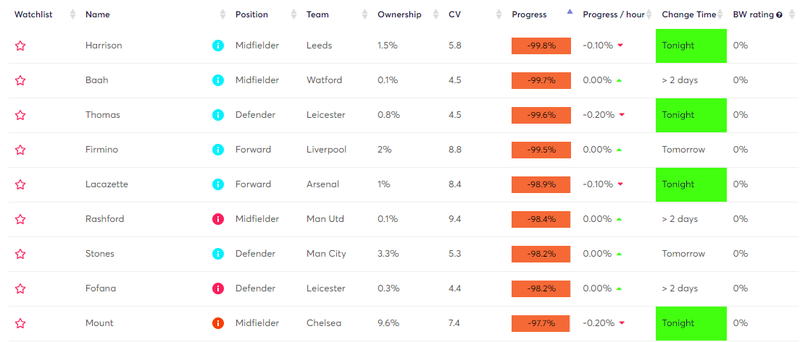 Other players to keep an eye on today (position | name, price | progress | progress / hour):

Rising:

D | Alonso, 5.9 | 16% | 0.40%
M | Saka, 6.2 | 52% | 0.70%
F | Lukaku, 11.7 | 28% | 0.30%

Falling:

D | Shaw, 5.5 | -86% | -0.30%
F  | Bamford, 7.9 | -60% | -0.30%
M  | Torres, 7.0 | - 15% | -0.40%